Introduction
1.        In his widely-used Traveller's Guide Through Switzerland (1818), Johann Gottfried Ebel (1764-1830) begins his account of 'the valley of Chamouny' by noting that it 'is far distant from all high roads, isolated, and as it were separated from the rest of the world'. [2]  As Ebel's discussion of Chamonix-Mont Blanc itself attests, however, the ostensibly remote location of the valley had not prevented it from becoming, by the end of the eighteenth century, one of the premier attractions of the European Grand Tour and a key site of enquiry in those branches of natural philosophy which would develop into geology and geomorphology. Indeed, Ebel himself estimates that 'during 1780, and every successive year to 1792, from 800 to 1200 travellers resorted thither', drawn by the spectacular glacial scenery and, of course, by Mont Blanc (4808 m): the highest mountain in Western Europe. [3] 
2.        As many contemporary accounts, including Description, observe, the 'discovery' of Chamonix-Mont Blanc was in the early nineteenth century generally attributed to two English travellers, William Windham (1717-61) and the celebrated Richard Pococke (1704-65), who mounted an expedition to the valley in June 1741. The extent to which Windham and Pococke were venturing into the unknown is evidenced by the fact that they went heavily armed and prepared to camp out rather than to risk staying with the locals, precautions which Windham urged subsequent travellers to repeat – and which, as Glover observes, seems to have made Windham's party the butt of some enduring jokes amongst the native Savoyards. Windham described the expedition and its findings in his Account of the Glacieres or Ice Alps in Savoy, in Two Letters (Ipswich, 1747). He provides there the earliest detailed observations of the Mer de Glace glacier, which a guidebook of 1816 would, almost a century later, identify as 'infinitely better worth seeing' than almost anything else at Chamonix, and where Victor Frankenstein and his creature would debate the creature's right to a mate in the second chapter of the second volume of Mary Shelley's Frankenstein (1818). [4] 
3.        Following Windham and Pococke's lead, the next major expedition to the valley was led in the late 1760s by the Swiss traveller Marc-Théodore Bourrit (1739-1819), one of the pioneers of modern Alpinism, who conducted a much broader survey of the area than Windham and Pococke had done. Bourrit's Descriptions des Glacières de Savoye (1773), which was translated into English as A Relation of a Journey to the Glaciers in the Duchy of Savoy (1775, 1776), contained more than twenty illustrations by Bourrit himself and offered detailed descriptions of what would become, by Samuel Glover's day, the key sites of the valley, including the Mer de Glace, the source of the Arveyron, the Brévent, and the Bossons glacier. The corrected English edition of 1776 featured on its nineteen-page list of subscribers influential cultural figures including Edmund Burke (1729-97), David Garrick (1717-79), Joshua Reynolds (1723-92), and Horace Walpole (1717-97).
4.        Bourrit's Relation also speculates about the possibility of an ascent of Mont Blanc, something which Bourrit tried and failed to do in 1785, 1786, and 1788. The honour of the first ascent was reserved for Jacques Balmat (1762-1834), a local guide and hunter, and Michel-Gabriel Paccard (1757-1827), a local doctor, who reached the summit on 8 August 1786 after Balmat had earlier discovered a practicable route: the circumstances of this discovery, widely-circulated in contemporary writing about Chamonix-Mont Blanc, are also described by Glover. The following year, the famous Swiss natural philosopher Horace-Bénédict de Saussure (1740-99), who had been trying to reach the summit since 1774, made a successful attempt, guided by Balmat, and published detailed accounts of his experiences in the fourth volume of his Voyages dans Les Alpes (1779-96) and in his Relation Abrégée d'un Voyage à la Cime du Mont Blanc. En Août 1787 (1788).
5.        As Ebel notes, it was the works of Bourrit and Saussure which 'so forcibly drew public attention' to Chamonix-Mont Blanc in the latter part of the eighteenth century. [5]  By 1819, however, the valley had been made the subject of a myriad of factual and fictitious treatments, in prose, verse and drama, including, of course, such now canonical responses as those by William Wordsworth (1770-1850) in Descriptive Sketches (1793) and Book V of The Prelude (1805), by Mary (1797-1851) and Percy Shelley (1792-1822) in their co-authored History of a Six Weeks' Tour (1817), by Percy Shelley in his poem 'Mont Blanc' (1816), and by Mary Shelley in Frankenstein (1818). [6]  One striking fact, then, is that by the time that Samuel Glover came to publish his Description of the Valley of Chamouni, in Savoy, Chamonix-Mont Blanc was a place which no longer really needed to be described at all. So why do so? Well, Glover seems to have had two main motives: to promote a contemporary exhibition of models of the area by the Swiss modeller Jean-Baptiste Troye and to rebuff atheistic responses to the Alpine sublime, and those of Percy Shelley in particular.
*
6.        A Description of the Valley of Chamouni, in Savoy was printed in 1819 by Thomas Harvey, of 22 Great Surrey St., Blackfriars, London. Attached to the inside of the front cover is a fold-out, two-page pencil sketch, presumably by Glover himself, but possibly by Jean-Baptiste Troye, of the view towards Mont Blanc from the northeast side of the valley. This sketch is not particularly accurate in point of detail, but the general outline is recognisable. A single copy of a second edition, 'printed for the author', and dated 1821, survives in the National Library of Scotland, Edinburgh. It was printed by C. Handy, 50 Brewer Street, Golden Square, London. It is identical in all respects to the edition of 1819 except that it lacks the fold-out pencil sketch.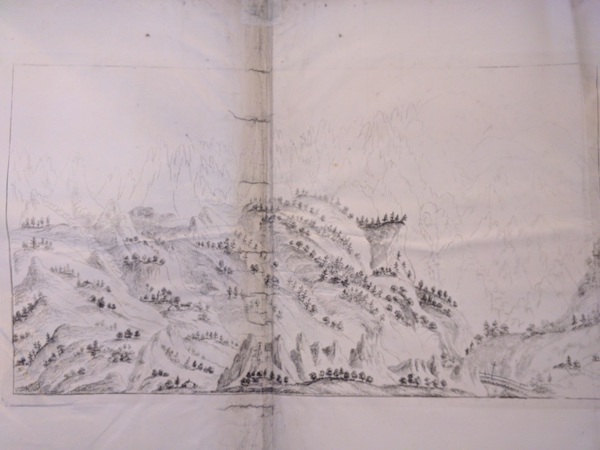 In the NLS copy, an unknown hand has written 'Second Edition' on the frontispiece and again on the title page. The same hand has altered, on the title page, 'printed for the author' to 'printed for J. B. Troye', and appended the address 'No 8 Soho Square'. The date and provenance of these inscriptions it is impossible now to determine. It would seem reasonable to conclude that Troye was then resident at 8 Soho Square. The unknown hand could be either Glover's or Troye's, or that of some other person altogether. That no other copies of this 'second edition' are extant, and that it was produced by a different printer from the edition of 1819, raises the possibility that the NLS copy was a 'one off' rather than a second edition proper, printed either for Troye or at his request. On the basis of the available evidence (discussed later), the alteration to the title page is unlikely, I think, to be intended to signal that Troye
was
in fact the author and 'Samuel Glover' only a pseudonym – although the possibility cannot be ruled out that whoever made the inscription believed this to have been the case.
*
7.        A Description has three distinct parts: a preface, in which Glover attacks the rise of atheism; an account of the glacial outburst flood which devastated the Valley of Bagnes, near Chamonix-Mont Blanc, on 16 June 1818; and an account of Chamonix-Mont Blanc itself, which describes the main sites of the valley and an ascent to the summit of Mont Blanc. Throughout, the text is peppered with quotations from the Bible and from English literary sources, notably including John Milton's (1608-74) Paradise Lost (1667), Joseph Addison's (1672-1719) Cato, a Tragedy (1712), and James Thomson's (1700-48) The Seasons (1730). As will be apparent from the editorial notes, Glover is often liberal in his handling of these sources, extracting and actually rewording in some cases in order to increase the devotional tone. On occasion, and especially in his borrowings from Thomson's Seasons, Glover even goes so far as to splice together entirely unrelated parts of the original text in order to form a new composite quotation, more suited to his rhetorical purposes. This liberal use of quotation, together with Glover's substantial reliance on unacknowledged sources (described below), means that Description is a highly intertextual work – and in some places, little more than an assemblage of acknowledged and unacknowledged quotations. For that very reason, it is all the more fascinating and significant.
*
8.        Throughout A Description, Glover attributes atheism, or 'irreligion', to the 'corruption of manners' and 'the reasonings of false philosophy', and connects it directly, as both cause and consequence, with 'the blood-stained scenes of revolutionary France'. In attacking this 'false philosophy', Glover makes clear his conviction that atheists either mistakenly or deliberately misread and misrepresent the natural world, attributing to 'chance' those phenomena which are, in his opinion, clear evidence of design. Foremost amongst these phenomena are 'the anatomy of the human frame' and wonders of the Alpine landscape visible at Chamonix-Mont Blanc.
9.        Glover's Description is, in this respect, part of a tradition well-established by 1819 of seeing the Alpine sublime as evidence, by design, for the existence of a creator-god. This tradition is present in both eighteenth-century philosophical aesthetics – it finds prominent expression, for example, in Essays on the Nature and Principles of Taste (1790), by the Scottish priest Archibald Alison (1757-1839) – as well as in more popular genres, such as the novels of Ann Radcliffe. It is perhaps most familiar to scholars of romanticism today from Samuel Taylor Coleridge's 'Hymn before Sun-Rise, in the Vale of Chamouni' (1802), with its repeated insistence that 'God!' is everywhere visible (and even audible!) in the landscape. [7] 
10.        Although Samuel Glover never mentions Percy Shelley by name, Glover's epigraph to Description nevertheless makes it clear that Shelley's critiques – in Six Weeks' Tour and 'Mont Blanc' – of such pietist responses to Chamonix-Mont Blanc were foremost in his mind whilst he wrote. Glover takes as his epigraph a quotation from the attack on Percy Shelley by John Taylor Coleridge (1790-1876) in his review of Leigh Hunt's (1794-1859) Foliage (1818) in the Quarterly Review for January 1818:
if we were told of a man, who, placed on a wild rock among the clouds, yet even in that height surrounded by a loftier amphitheatre of spire-like mountains, hanging over a valley of eternal ice and show, where the roar of mighty waterfalls was at times unheeded from the hollow and more appalling thunder of the deep and unseen avalanche,—if we were told of a man who, thus witnessing the sublimest assemblage of natural objects, should retire to the cabin near, and write άθεος after his name in the album, we hope our own feeling would be pity rather than disgust; but we should think it imbecility indeed to court that man's friendship, or to celebrate his intellect or his heart as the wisest or warmest of the age.
 [8]
The context here is, of course, the controversy – now well known to scholars of the romantic period – surrounding the inscriptions made by Percy Shelley in the guestbooks and registers of various hotels and tourist sites around Chamonix-Mont Blanc in the summer of 1816, in which he signed himself atheist, democrat, and philanthropist, and gave his destination as hell.
11.        One of the actual pages on which Shelley wrote – in the register of the Hôtel de Londres at Chamonix, where the Shelleys stayed in July 1816 – has recently been discovered in the library of Trinity College, Cambridge. It makes clear the kind of pietist sentiment to which Shelley was responding. At the top of the page survive seven lines which seem to be only the conclusion of a lengthier enthuse about the landscape and the divinity and which end with the affirmation that 'Such scenes as these, these most forcibly inspire the love of God!'. Shelley was evidently not the only one to be provoked by this. An earlier respondent has written immediately beneath the above: 'Why are people so anxious to make themselves ridiculous in the eyes of everybody? What nonsense!'. Shelley's own response follows further down the page.
12.        Gavin De Beer was the first to make a detailed study of these inscriptions and the immediate response to them. [9]  As De Beer notes, one of the most important contemporary responses in print to Shelley's inscriptions was given by the English historian and protestant minister Thomas Raffles (1788-1863) in his Letters During a Tour (London, 1818). Raffles claims to have seen for himself the inscription made by Shelley in the visitor's cabin at Montenvers, beside the Mer de Glace:
Yet, amid these scenes – surrounded by the sublimest demonstrations of the eternal power and Godhead of the Almighty, a wretch has had the hardihood to avow and record his atheism, having written over against his name in the album at Montanvert, "
an atheist
". It seems as if some emotions of shame touched him at the time, for he has written it in Greek. It caught the eye of a divine who succeeded him, and he very properly wrote underneath, in the same language, "
If an atheist, a fool – if not, a liar
".
 [10]
Glover was evidently familiar with Raffles's
Letters During a Tour
: Glover's attacks on atheism in his preface to
Description
(see Note 3 to Preface), and his description of the Mer de Glace in the main text (see Notes 62 and 94 to
Description
), both draw unmistakably from Raffles' work, and it is actually possible that the two had met or had at least some acquaintance in common (see below). What is clear, then, is that Glover's attacks on atheism in
Description
, and on atheistic responses to the Alpine sublime in particular, were motivated in part by a desire not only to rebuff such responses but also by a desire to reply quite specifically to Shelley's inscriptions, to
Six Weeks' Tour
, and to 'Mont Blanc'.
Description
is thus part of the reception history of the Shelleys' responses to Chamonix-Mont Blanc and of the wider legacy of the so-called '
Frankenstein
summer' of 1816. Of course neither John Taylor Coleridge nor Thomas Raffles actually names Shelley, but Glover would have been left in no doubt from the
Quarterly Review
, at least, about the identity of the 'wretch' in question. And whilst it cannot be proven on the basis of the evidence now extant, it remains just possible that Glover actually had some more direct connection with the Shelley circle than his familiarity with these second-hand reports and his reading of
Six Weeks' Tour
.
13.        One tantalising possibility concerns the responses made to Percy Shelley's inscriptions on site, at Chamonix. As Gavin de Beer first noted, a letter to the editor of the Christian Observer for October 1824 discusses those inscriptions, specifically in order to correct an earlier number of the Christian Observer which had attributed them not to Shelley but to Byron. [11]  The correspondent substantiates this correction by explaining that they had themselves been with 'an English party' which 'visited the mountains and glaciers around the mighty Mont Blanc' in July 1816:
In several of the albums or registers at the hotels, they had the pain of reading the autograph of
Percy Bysshe Shelley
, with the uniform appendix of impious sentiments expressed in studious boldness of phrase, sometimes in dogmatical brevity, and sometimes with declamatory affectation.
 [12]
The correspondent goes on to explain that it was they who had written the riposte, in Greek, to Shelley's inscription in the album at Montenvers, alluding to
Psalm
xiv 1: 'The fool hath said in his heart there is no God'. The letter is signed 'S'. Could this 'S' have been Samuel Glover? Could Samuel Glover have seen and responded to Percy Shelley's inscriptions, on site, at Chamonix, and subsequently done so again in
Description
? Or could Samuel Glover have been the author of the enthusiastic entry about the landscape 'forcibly' inspiring 'the love of God' in the register of the Hôtel de Londres? Samuel Glover's claim, in
Description
, that it was 'twenty years' since he had been to Chamonix would seem to invalidate either possibility out of hand, but of course that claim could be defensive, not least since Shelley's inscriptions were clearly one, though certainly not the only, motive for the composition of
Description
.
*
14.        The second part of Glover's Description provides an account of the devastating glacial outburst flood of 16 June 1818, when a dam of ice which had been formed across the Dranse de Bagnes river by the increase of the Giétro Glacier gave way, sending a substantial body of water at high speed down the Valley of Bagnes towards the town of Martigny. Forty four people were killed and widespread destruction caused. A detailed verbal report on this disaster was given to the Helvetic Society of Natural Science at Lausanne on 29 August 1818, by Hans Conrad Escher von Der Linth (1767-1823), a Swiss natural philosopher and engineer who had been involved in the last-minute attempts to avert the flood. This report was transcribed by Marc-Auguste Pictet (1752-1825), another Swiss natural philosopher, and supplied by him in English translation to Blackwood's Edinburgh Magazine, which carried it in the number for October 1818. Thereafter, reports were widely circulated and travel guides from the 1830s and 40s still routinely referred to the disaster.
15.        Glover's account of it in Description is substantially a reprint of a 16-page pamphlet on the subject which he had already published in 1818: A Description of the Inundation of the Valley of Bagnes in Swisserland. This earlier pamphlet opens with a two-page 'fearful dream' – of the destruction of the valley where the author has been a welcome guest – which presages the factual account of the actual disaster. [13]  It was printed by I. Reed of 14 Green Street, Blackfriars, London. The publisher and seller, however, is given as 'I. B. Troye: Modeller and Sculptor to Her late Royal Highness the Princess Charlotte; and Pupil of the celebrated Mr. Exchaquet, Geometrician to his Majesty the King of Sardinia; No. 20, Frith Street, Soho'. [14]  This is the Swiss emigrée Jean-Baptiste Troye (dates unknown), father of the American painter Edward Troye (1808-74), who exhibited in the second decade of the nineteenth century, in both Geneva and in London, relief models of various parts of the Alps, including Chamonix-Mont Blanc. Little information survives about Troye. Thomas Raffles reports that he saw relief models of the Alps at Geneva in 1817 (presumably by Troye) and had actually purchased one of them – which raises the aforementioned possibility that Glover and Raffles also met, either in Switzerland or in London (see Raffles 155n.). The Scottish industrialist William Archibald Caddell (1755-1855) reports in his Journey in Carniola, Italy, and France, In the Years 1817, 1818 (1820) that Troye was in May 1818 still living 'in one of the suburbs of Geneva' and so the relocation to England must have taken place later that year, and presumably after the disaster in the Val de Bagnes in June. [15] 
16.        The frontispiece of Glover's Inundation, which depicts a peasant praying upon a ridge whilst flood waters rage through the valley beneath him, is almost certainly the work of Troye. The exact grounds for Troye's claim to be 'modeller and sculptor' to Princess Charlotte of Wales (1796-1817), the wife of the prince regent, who died in childbirth in November 1817, are less certain. If any formal connection was made, then this was presumably during one of Charlotte's European tours in 1815, 1816, or 1817. Thomas Raffles reports that his guide at Chamonix-Mont Blanc, whom he met at Geneva, and by whom he there was shown one of Troye's relief models, had also served as guide to Princess Charlotte – so it seems likely that she had also seen, and had perhaps also purchased one of the models. [16]  Glover in any case repeats the title in a footnote to Description where he notices Troye's exhibition at 20 Frith Street, Soho, in London.
17.        A handbill advertising this exhibition, dated 27 February 1819, survives in the collection of the Victoria and Albert Museum, in London, and in 1819, Troye published to accompany his exhibition A Short Account of Mont Blanc and the Valley of Chamouni. Now Exhibiting in Models, in Relief, by J. B. Troye, 20, Frith Street Soho. This Short Account was also printed by I. Reed, the printer of Glover's Inundation, who had by then relocated to 6 Red Lion Court, Fleet Street. In it, Troye confirms that: 'he can, from the experience he has had, offer with confidence his services to amateurs in general, for executing, in a similar manner, and with similar accuracy' models of various Alpine scenes, including Mont Blanc and 'the Valley of Bagnes, lately inundated'. [17] 
18.        The success and continued popularity of Troye's exhibition is amply spoken for by the review of 'the ingenious Swiss artist' which featured in the London Magazine for May 1825:
It is to this gentleman that we are now indebted for an exhibition in Soho Square, of models of the most interesting points in Switzerland, upon a larger scale than that on which any have hitherto been constructed. The one of Mont Blanc with the vale of Chamouni is remarkably well executed, with regard both to accuracy and to effect. The proportion between the horizontal and vertical scales has been well judged, and is admirably calculated to convey to the spectator just impressions of the magnificence of Swiss scenery. To have constructed a model of the whole of Switzerland upon such a scale would have required by far too large a space for an exhibition, and M. Troye has preferred confining it to the most interesting objects. The greater part of the other models in this exhibition are also upon a large scale, and are equally beautiful : the most striking are the road over the Simplon, the Mont Righi, with the fall of the Rossberg, and the town of Geneva. In short, the extreme accuracy observed with regard to the forms of the objects, the striking imitation of nature, and the powerful effect of the ensemble, procure for this collection of models a decided superiority over every other exhibition of the kind.
 [18]
As the joint billing on Glover's
Inundation
, and the promotion of Troye's exhibition in Glover's
Description
, make clear, Glover evidently had some close connection with Troye and his exhibitions, although the precise nature of their relationship is impossible now to determine.
 [19]
One cannot rule out the possibility that Troye's
Short Account of Mont Blanc
was in fact written by Glover. What seems clear, however, is that the two men, having had some prior acquaintance during Glover's residence in Switzerland (see below and
Description
), worked together to promote each other's work, and the Frith Street exhibitions in particular, after Troye's arrival in London. Glover's
Description
, then, was motivated not only by a desire to rebuff atheistic responses to the Alpine sublime but also had its origins in this commercial collaboration.
*
19.        In the third part of Description, Glover begins finally to provide the detailed account of Chamonix-Mont Blanc which the reader might reasonably have been led by the title to expect rather earlier. As will become quickly apparent from the editorial notes, this portion of the text is highly derivative and based largely on existing writings about the valley, most notably on the accounts given by Horace-Bénédict de Saussure in volumes two and four of his Voyages dans Les Alpes. The compellingly 'virtual', first-person description of an ascent of Mont Blanc with which Glover concludes Description is all but a translation from the account given by Saussure of his ascent in August 1787, in volume 4 of Voyages. Editorial collation confirms that Glover took as his source the extended account given by Saussure in Voyages rather than the shorter version which Saussure published as Relation Abrégée in 1788 (and later included in Voyages). This makes Glover's Description in fact the earliest English language translation of that key section of Saussure's Voyages, albeit unacknowledged by the translator!
20.        The little of this third part of Description which seems to be properly Glover's own is almost entirely concerned with the rebuttal of atheism. The pre-eminent instance, here, is the wonderful, if rather sadistic, Dante-esque vision of an Alpine inferno, in which Glover imagines different parts of the sublime landscape being apportioned as prisons to punish those guilty of various transgressions. Atheists are condemned to be suspended in icicles high above the surrounding landscape, 'doomed eternally to behold those magnificent works of nature they ever affected to despise'. Also striking in this vision of an Alpine hell, however, is the harsh criticism of members of the political establishment: of 'sovereigns [...] forgetful of their first, great duty, the happiness of their subjects', of 'Court parasites', and of 'evil Counsellors, of Ministers' who ignore public good and pursue only their own 'interest' and 'ambition'. Both the targets of this criticism and the tone in which it is offered seem markedly at odds with the ostensibly pietist rhetoric of Glover's Description and rather closer, in fact, to Radical critique of the establishment by figures like Leigh Hunt and Percy Shelley. And then there is the account of an accident on Mont Blanc which Glover introduces into his description of the ascent – it is not present in Saussure's account, nor in any other account which I have read – which seems pointedly to contrast the self-indulgence of 'an English nobleman' with the heroism and stoicism of the local guides.
21.        The presence of such politically incongruous material in Description, albeit in very limited quantities, poses some interesting questions about what exactly Glover might have been attempting to achieve in his book – beyond its commercial connection with Troye and its ostensible desire to criticise atheistic responses to the Alpine sublime. Such questions would of course admit rather more easily of answers if we could be sure of who Samuel Glover was, but on that subject, alas, considerable difficulties present themselves and only speculation is really possible.
*
22.        Little definitive information concerning Samuel Glover has survived and the few concrete details which are available are either provided by, or in connection with, Description. Some of these details are explicitly stated in the text, assuming it to be reliable. Most notable are Glover's claims that it was 'twenty years' since he had been to Chamonix and that he had then had 'a long residence in Swisserland', during which he first met Jean-Baptiste Troye. The connection with Troye seems indisputable. But if we take the first of these claims at face value, that would place Glover in Chamonix in 1798-99, that is, around about the time of the invasion of Switzerland by French Republican armies (March-June 1798) and the failed Austro-Russian attempts to drive those armies back into France (May-October 1799). That is not impossible, of course, but somehow it seems unlikely.
23.        A 'Glover' did accompany the Scottish traveller Patrick Brydone (1736-1818) on his tour of Sicily and Malta in 1770, and, as Brydone makes clear in his preface to his Tour Through Sicily and Malta (1773), this Glover had already been in Europe with William Beckford of Somerely (d.1779). [20]  For Brydone's Glover to be Samuel Glover, however, the author of Description would have to have been in his late sixties or early seventies in 1819: again, not absolutely impossible, but perhaps unlikely.
24.        Another potential candidate might be the jeweler Samuel Glover (1774-1822), who operated out of Bull & Mouth St. (now St. Martin's-le-Grand / Angel Street) in the City of London. A mourning ring made by this Samuel Glover on the occasion of the assassination of the British Prime Minister Spencer Perceval (1762-1812) on 11 May 1812 survives in the Victoria and Albert Museum, in London. But could he really have been the author of Description? A connection with Troye is certainly possible, but a long residence in Switzerland or even a trip to Chamonix-Mont Blanc seem less plausible.
25.        And then there are the clues implicit in the text concerning its author. He evidently had some, if not necessarily an extensive education in the Classics. He evidently also had some familiarity with the works of Shakespeare, Milton, and Thomson, whom he may quote at least in part from memory – perhaps because he did not have access to the texts whilst he composed Description. He seems also to have been very well-versed in contemporary writing about Chamonix-Mont Blanc, to have read French fluently, and to have had access to a copy of Saussure's Voyages dans Les Alpes whilst he composed Description – although of course Troye might have been of use in various ways here. And most of all, if also most subjectively, the author of Description certainly had an appreciable personal investment in Chamonix-Mont Blanc: his fondness and enthusiasm for the place are everywhere apparent in the text. Could these facts, taken together with the alterations to the title page of the 'second edition' of Description, suggest that 'Samuel Glover' was, after all, a pseudonym of Jean-Baptiste Troye?
26.        One further, equally-speculative possibility remains to be considered: that for all its ostensibly ultra-pietist rhetoric – indeed, perhaps because of that rhetoric – A Description of the Valley of Chamouni is in fact a kind of parody or satire, intended to ridicule, through the very extent of its hyperbole, those conservative responses to the Alpine sublime which it ostensibly seeks to promote. In favour of this hypothesis we have the Radical sentiments which creep in, every now and then, to Description, and the apophatic engagement with 'romance', whereby the author both denies and affirms his commitment to 'fabulous history'. There is a playfulness about this material which undercuts the ostensibly solemn tone of the text. And then there is, finally, the admittedly-remote possibility that 'Samuel Glover' had some closer acquaintance with the works of Mary and Percy Shelley than one might expect from an average reader in 1818-19 (see Notes 2 and 11 to Glover's Preface, and Notes 3, 98, 114, and 116 to the Main Text of Description).
27.        Pietist hymn? radical squib? coterie piece? promotional exercise? – there seems to be no way, now, for us to reach a definitive conclusion. What Description undoubtedly does show us, however, is the range and the richness of romantic-period writing about Chamonix-Mont Blanc and the continued influence of that writing on academic and popular engagements with the area today.
Notes
[2] Johann Gottfried Ebel, A Traveller's Guide Through Switzerland, ed. Daniel Wall (London, 1820) , p. 375 BACK
[3] Ebel, Traveller's Guide, p. 376. Detailed academic histories of various aspects of the development of interest in the so-called 'natural sublime' during the eighteenth century and romantic period include: Marjorie Hope Nicolson, Mountain Gloom and Mountain Glory: the Development of the Aesthetics of the Infinite (Ithaca: Cornell University Press, 1956); Samuel Holt Monk, The Sublime: a Study of Critical Theories in Eighteenth-Century England (Ann Arbor: University of Michigan Press, 1960); Thomas Weiskel, The Romantic Sublime (Baltimore: Johns Hopkins University Press, 1976); Peter De Bolla, The Discourse of the Sublime: Readings in History, Aesthetics, and the Subject (Oxford: Oxford University Press, 1989); and Cian Duffy, The Landscapes of the Sublime, 1700-1830: Classic Ground (London: Palgrave, 2013). For a more popular discussion of the growth of Alpine tourism during the same period, see: Jim Ring, How the English Made the Alps (London: Murray, 2000). BACK
[4] Henry Coxe, The Traveller's Guide in Switzerland (London, 1816), p. 38. BACK
[5] Ebel, Traveller's Guide, p. 376. BACK
[6] For recent discussions of the various responses by the Shelleys, see Benjamin Colbert, Shelley's Eye: Travel Writing and Aesthetic Vision (London: Routledge, 2005), pp. 95-115; and Duffy, Shelley and the Revolutionary Sublime, pp. 84-122. BACK
[7] For more detailed discussion of the tendency, in the late eighteenth century and Romantic period, to read the natural sublime as evidence of divine design, see, for example, Nicolson, Mountain Gloom and Mountain Glory, pp. 143, 392-3 and passim; and Duffy, The Landscapes of the Sublime, pp. 46-50. As Thomas De Quincey was the first to observe, Coleridge's 'Hymn' is of course freely adapted from an earlier work on the same topic by the Danish poet Friederike Brun (1765-1835). BACK
[8] John Taylor Coleridge, 'Foliage, by Leigh Hunt', in The Quarterly Review, Vol. 18, No. 36 (January 1818), pp. 325-35 (329). Glover's choice of epigraph was first noted, but only in passing, by William St. Clair in The Reading Nation and the Romantic Period (Cambridge: Cambridge University Press, 2004), p. 292, n.79. BACK
[9] Gavin De Beer, 'An "Atheist" in the Alps', Keats-Shelley Memorial Bulletin 9 (1958), pp. 1-15. BACK
[10] Thomas Raffles, Letters During a Tour Through Some Parts of France, Savoy, Switzerland, Germany, and the Netherlands in the Summer of 1817 (London, 1818), p. 168n. As Raffles observes, the first clause of this response alludes to Psalms xiv 1: 'The fool hath said in his heart there is not God' (p.168n.). BACK
[11] The Christian Observer, 24 (1824), p. 619. BACK
[12] Ibid. (original emphasis). BACK
[13] Samuel Glover, A Description of The Inundation of the Valley of Bagnes in Swisserland (London, 1818), p. 6. BACK
[14] Glover, Inundation, title page. The 'celebrated Mr. Exchaquet' is Charles François Exchaquet (1746-92), a cartographer, Alpinist, and model-maker. A relief model of Mont Blanc made by Exchaquet in 1786-7 can be seen here. BACK
[15] William Archibald Cadell, A Journey in Carniola, Italy, and France, in the Years 1817, 1818, 2 vols. (Edinburgh, 1820), ii p. 205. BACK
[16] See Raffles, Letters During a Tour, p. 137. BACK
[17] Jean Baptiste Troye, Short Account of Mont Blanc and the Valley of Chamouni. Now Exhibiting in Models, in Relief, by J. B. Troye, 20, Frith Street Soho (London, 1819), p. 4. BACK
[18] 'Models of Switzerland', in The London Magazine, 12 (May 1825), pp. 43-4. BACK
[19] As noted, Glover mentions Troye and his exhibition in a footnote to Description; an advertisement for the exhibition is also featured on the back cover of Description. BACK
[20] Patrick Brydone, A Tour Through Sicily and Malta, In a Series of Letters, 2 vols. (London, 1773), i, 2. BACK