An Introduction to Mary Tighe's
Verses Transcribed for H.T.
1.         This electronic edition makes available a tremendous archival deposit: Mary Tighe's Verses Transcribed for H.T. (1805), a 266-page two-volume bound autograph manuscript collection of 121 original Tighe poems and 72 original Tighe illustrations the National Library of Ireland acquired in 2004 (MS 49,155/2). Tighe began transcribing and illustrating Verses as she was contemplating the publication of a volume of poetry that would feature her epic romance "Psyche; or, the Legend of Love" accompanied by a selection of her lyrics, a project her husband Henry Tighe (H.T.) and friends such as Thomas Moore urged her to pursue while she was in England seeking treatment for a consumptive cough from June 1804 to August 1805. Generally averse to commercial publication, but happy to circulate her work among the members of her various literary coteries, [1]  Tighe opted to print 50 copies of Psyche; or, The Legend of Love (1805) without any additions from Verses in a small private edition that she dedicated and distributed to family and friends. That private edition of Psyche; or, The Legend of Love made Tighe famous: hundreds of enthusiastic readers borrowed and shared copies of the poem (often making their own manuscript copies and thereby increasing the poem's circulation). Although readers and critics frequently recommended the publication of Psyche, and Tighe found the calls to publish flattering, she remained a coterie poet till the end of her days. Had she only pursued the larger project urged by Henry Tighe and Thomas Moore in 1804-1805, she would have prepared her own version of what became the subsequently posthumous edition of Psyche, with Other Poems that her family published with the Longman group in 1811. That edition offered a carefully culled selection of 29 lyrics from the 120 in Verses as well as another 10 lyrics not included in Verses. [2]  The multiple printings of Psyche, with Other Poems established Tighe's literary reputation for good and ill throughout the nineteenth and twentieth century, bringing her notable attention for Psyche, but barely hinting at the lyric range of the "Other Poems" displayed in Verses. [3] 
2.         A beautifully and self-consciously constructed aesthetic artifact, Verses Transcribed for H.T. radically revises our prior knowledge of Tighe's literary, visual, and material production:
65 of the 121 poems had not appeared in any known print sources as of yet;
17 of the 121 poems contain significant variants from the published versions;
72 of the 121 poems are illustrated with elegant tailpieces that cast light on the poems they illuminate and provide a visual travelogue of the spas, sites, and ruins the Tighes visited in the 1790s and early 1800s;
39 of the 121 are translations or imitations of Latin, Italian, French, or German writers which Tighe scholars thought were lost;
35 of the 121 are sonnets, including a distinct set of 30 that are showcased in a numbered "Sonnets" section suggesting a sonnet cycle;
at least 15 of the 121 are written in the voice of characters from Tighe's 1803 manuscript novel

Selena

, versus the 11 of the 15 that are printed in the novel;
dozens attest to Tighe's full-scale engagement with contemporary poetics and politics: the discourse of sensibility, Della Cruscan poetry, coterie culture, the sonnet revival, Romantic antiquarianism, the 1794 Treason Trials, the 1798 Irish Rebellion, the 1801 Act of Union, and more.
Verses
reveals a Tighe we have never seen: beyond the new poems it introduces to literary history, beyond the new information it provides about the dates, places, and sources of already published poems, beyond the images it makes visible, it presents Mary Tighe as the determining editor of her own collected poems.
3.         Tighe arranges the lyrics in Verses in clusters or sets of poetic experiences, unlike the genre-based structure of Psyche, with Other Poems (epic, sonnets, occasional lyrics), or the chronological structure of the lyrics presented in Mary, a Series of Reflections During Twenty Years, a second privately printed posthumous family edition of Tighe's lyrics that appeared in 1811 (with lyrics written between 1789 and 1809). [4]  And she foregrounds her representation of herself as a poet articulating the dilemmas of Petrarchan desire, versus the sober classical scholar mourned in Psyche or the spiritually redeemed soul elegized in Mary. Volume I begins with a set of coterie poems that include poems of friendship and poems of sorrow, moves nearly seamlessly to the poems from or for the characters in Selena, and concludes with a firmly designated section of sonnets. Volume II dramatically shifts from the more internal gaze of the sonnets to the more external gaze of a series of poems concerned with history, politics, and the world, then presents an extended section of continental translations, and ends with a return to more personal poems (interspersed with additional translations). Although many of the poems towards the end of the second volume date from the latter period of Tighe's life (1804 on), including six written after the 1805 title page inscription, the careful juxtaposition of earlier poems from the late 1790s and early 1800s among the later poems indicates deliberate design. [5]  In Verses Tighe establishes the contours and contents of a definitive collection of her poems.
Tighe's Determination Not to Publish
4.         The extraordinary quality of the material in Verses makes it particularly unfortunate that Tighe rejected the prospect of editing her own Psyche, with Other Poems in 1805 or sharing Verses Transcribed for H.T. (or her novel Selena) with the reading public. But as a relatively privileged member of the Anglo-Irish gentry, Tighe experienced no economic need to publish and some social constraint not to publish. Born in Dublin on October 9, 1772, she was the second child of Marsh librarian Rev. William Blachford (1730-1773) and Methodist leader Theodosia Tighe Blachford (1744-1817), 20 months younger than her brother John (1771-1817). Her father died seven months after her birth, leaving her mother a wealthy widow who focused on educating her children and engaging in charitable activities. Many members of Tighe's family published, including her mother, who translated The Life of the Baroness de Chantal (1787), her uncle Richard Tighe, who wrote a life of William Law, her uncle Edward Tighe, the theater critic "Melantius," and her cousin William Tighe, author of Statistical Observations Relative to the County of Kilkenny (1802) and The Plants (1808). But as many or more members of the family and well-placed friends engaged in a thriving coterie culture of shared manuscripts, albums, and commonplace books, often centered at Rossana, the Wicklow county home of Tighe's aunt and mother-in-law Sarah Fownes Tighe. Tighe grew up in a generously intellectual familial environment that offered multiple models for expression and immediate access to appreciative readers in Ireland, England, and Wales. After she and Henry Tighe consummated their troubled courtship with an equally troubled marriage in 1793, they spent most of the 1790s in London and its environs, a move that expanded Tighe's literary and social network and caused her some spiritual agony as she rued and reveled in the pleasure she took in being admired (she was renowned for her great beauty). [6]  When the Tighes resettled in Ireland in 1801, Tighe focused intensively on her writing, completing Psyche in 1802 and Selena in 1803.
5.         In January 1804 Tighe exhibited symptoms of the consumption that took her to England that August, where her ongoing commitment to her work prompted family and friends to suggest publication. She took the suggestion seriously but declined. Surprisingly, in light of the plenitude of verses in Verses, one of the reasons Tighe opted not to publish her own version of Psyche, with Other Poems in 1805 centered on her fear that the lyric poems would serve as mere ballast to Psyche, or "the straw appendages of a kite," as she put it in a Christmas Eve 1804 letter to her friend and sometime mentor Joseph Cooper Walker, the Irish antiquarian:
I have myself been on the very verge of a most frightful auspice & had almost been persuaded to expose to the mercy of the reviewers, Edinburg butchers & all, my poor little Psyche & a volume of smaller poems which I was advis'd to add, as I might, to serve like the straw appendages of a kite, that she might not fall to the ground by her own weight — however after a few nights agitation I found that I have not nerves for it, let my stock of self conceit be as great as it may. (TCD MS 1461/7/194,
Collected Poems and Journals
xxxiii)
Tighe's important invocation of the "butchers" at the
Edinburgh Review
provides a crucial context for her fears. No matter how much she enjoyed the approbation of her coterie readers, she was not prepared to risk her reputation as a "proper lady" and be reassigned to Richard Polwhele's band of "unsex'd females" by exposing the sensuality of
Psyche
and the eroticism of her lyrics to reviewers who might see her stepping beyond the bounds of female decorum.
 [7]
Her 1802 preface to
Psyche
had already made those concerns explicit in contrasting the potential reception of a general reading public with that of her coterie readers, acknowledging her anxiousness that even her coterie readers might condemn her depiction of love:
The author, who dismisses to the public the darling object of his solitary cares, must be prepared to consider, with some degree of indifference, the various reception it may then meet. But from those, who write only for the more interested eye of friendship, no such indifference can be expected. I may therefore be forgiven the egotism which makes me anxious to recommend to my readers the tale with which I present them . . . . I had some fears lest my subject might be condemned by the frown of severer moralists; however I hope, that if such have the condescension to read through a poem which they may perhaps think too long, they will yet do me the justice to allow, that I have only pictured innocent love, such love as the purest bosom might confess. (iii-iv)
 [8]
6.        Despite the concerns Tighe expressed in the 1802 preface—and the 1804 Christmas Eve letter to Walker—she did continue to think about commercial publication throughout the spring of 1805, while she was preparing the private edition of Psyche. On April 19, 1805 she described her frustration with the taxing process of print production in another letter to Walker that wonders how much worse it would be if she were "publishing":
Longman has not advertised the work about which I feel much interested — I suppose it has been retarded by the disputes of the printers; poor Psyche continued her literary journey under very unfavourable auspices; in the course of two months I have had just four sheets! — I find correcting the proofs very sickening & quite endless, for as often as I get a revise as I still see something to alter, I will not say I amend it, but it goes back cover'd with scratches — Mr. Carpenter threatens me with ruin, but I cannot help it. What should I do were I publishing? (TCD MS 1461/6/74)
7.         Printing the private edition would not have precluded publishing a commercial volume that paired Psyche with selections from Verses, the initial impetus spurring its more pleasurable, handcrafted production. But the very act of transcribing poems for Verses must have made Tighe realize how difficult it would be to select enough appropriate smaller poems and maintain her status as a proper lady. Readers might easily misconstrue imagination for experience, a dilemma she dramatizes in Selena, when the characters Selena Miltern and Lady Emily Trevallyn discuss the implications of Angela Harley's passionate poem "The Picture" (transcribed in Verses and Selena, and ultimately included in the 1811 Psyche, with Other Poems):
Oh where is the sweetness that dwelt on that lip?
And where is the smile that enchanted my soul?
From those roses no sweet dew of Love can I sip,
Nor meet the soft glance that with magic control
O'er the chords of my heart so bewitchingly stole.
. . . . . . . . . . . . . . . . . . . . . . . . . . . . . . . . . . . . . . . .
Yet come to my bosom oh image adored!
And sure thou shalt feel the soft flame of my heart,
The glow sympathetic once more be restored
Once more it shall warm thee, Ah cold as thou art,
And to charms so beloved its own feelings impart. (6-10, 15-20)
Selena takes the poem as direct evidence of Angela's fall from grace: "'if poor Angela did indeed write those verses, I fear she is lost not only to happiness and her poor Mother, but even to innocence. What virtuous girl could bear thus openly to boast a passion for which it is evident she even then doubted of meeting a faithful return?'" (324). Lady Trevallyn assures Selena that Angela very certainly wrote the poem—because Angela, like Tighe, filled the pages with her own scratches—but disagrees with Selena's conclusion, citing the power of imagination to enhance feeling during the act of poetic composition: "'I know when the fit of writing seizes a person who is in the habit of this dangerous indulgence, one is inclined to express in even stronger language than the heart at other times feels the sentiments we scarce allow ourselves in plain prose to speak'" (325). Although Lady Trevallyn probably voices Tighe's aesthetic position, Tighe scripts Lady Trevallyn as a victim of excessive sensibility whose reputation suffers when she misreads a set of social cues that the morally sensitive Selena more accurately assesses.
 [9]
8.         Any doubts as to the predictive accuracy of assessments like Selena's would have been laid to rest when Tighe witnessed the infamous reception of Moore's Epistles, Odes, and Other Poems (1806), a reception mortifying to Tighe on several fronts. [10]  As a close friend Tighe was pained by the reviewers' cruel castigations of Moore as a "pander of posterity" (Annual Review 499), a "literary pimp" (Eclectic Magazine 811), "a pander to loose thoughts and foul actions" (Monthly Mirror 182), or "the most licentious of modern versifiers . . . [devoted] to the propagation of immorality" (Edinburgh Review 456). [11]  As a coterie companion Tighe correctly recognized that publishing her lyric exchanges with Moore in her Verses could subject her to an equally painful and perhaps even more disciplinary critique, especially since he had already published his poems to her in his Epistles (as well as his 1801 The Poetical Works of the Late Thomas Little, Esq.). The Literary Journal sternly reproved the "ladies of fashion" who allowed Moore to use their names in his poems, equating them with courtesans in a brothel:
What surprised us most was to see the names of several ladies of fashion, who, it would appear, favour the author with much intimacy, inscribed at the head of some of the poems. He does not indeed talk b-----y in the pieces which he immediately addresses to these ladies; but such is the tenor of the surrounding poems that we should think it equally delicate in these ladies to permit their portraits to be suspended in a public bagnio, with this inscription: "Hung up here by her ladyship's permission." (648)
Better and worse, the
Critical Review
specifically attacked Moore for having the audacity to publish a poem praising Tighe's
Psyche
—"To Mrs. Henry T-ghe, on reading her Psyche"
 [12]
—and positioned Tighe as the moral antithesis to Moore in the concluding paragraph of the review:
How could such a writer, if thoroughly known, have presumed to offer a compliment to Mrs. Henry T—ghe, the authoress of Psyche? That poem, intended to give pleasure only to a private circle of friends, and concealed from the public eye by the timid modesty of a lady who blushes even at her own perfections, spreads its wings too wide for the nest, and will soon, it is hoped, be permitted to escape from privacy and confinement to that general admiration which awaits it. The incense offered by Mr. Moore could not have had a pleasant savour to a poetess, who, in treating the subject of love, becomes the championess of delicacy and purity; and who inculcates sentiments so chaste, tender, and moral, that no better antidote to the poison of these poems could be devised, than the precepts and the poetry of "Psyche." (123)
What might the
Critical Review
say about Tighe's "delicacy and purity" if they saw the
Verses
poems she shared with Moore? What might the
Edinburgh Review
say, which had warned about the pernicious influence of Moore's
Epistles
on women just like Tighe, who were venturing "more freely and largely into the fields of literature":
It is upon the other sex, that we conceive its effects may be most pernicious; and it is chiefly as an insult upon their delicacy, and an attack upon their purity, that we are disposed to resent its publication . . . . women are now beginning to receive a more extended education, to venture more freely and largely into the fields of literature, and to become more of intellectual and independent creatures, than they have yet been in these islands. In these circumstances, it seems to be of incalculable importance, that no attaint should be given to the delicacy of purity of their expanding minds; that their increasing knowledge should be of good chiefly, and not of evil; that they should not consider modesty as one of the prejudices from which they are now to be emancipated; nor found any part of their new influence upon the licentiousness of which Mr Moore invites them to be partakers. (458-59)
 [13]
Tighe never gave the reviewers the chance to say anything at all. She reluctantly considered going forward with a commercial edition of
Psyche; or the Legend of Love
in February 1806 when she heard that an unlicensed edition had been advertised in London, but directed Carpenter to threaten prosecution and thus successfully averted unintentional publication:
I have been told that Psyche is advertis'd in London, & tho I do not believe it, yet I write at Mr Tighe's desire to request, that should this be the case either now or in the future, that you will
immediately
take whatever steps can be taken towards preventing the publication if possible & if not for commencing a prosecution — If it is to be publish'd I would certainly do all in my power that you might be before hand with an edition of our own, & as you have express'd yourself in so obliging a manner on the subject I hope for both our sakes that you will not neglect this request, nor allow Psyche to appear with such disadvantage to herself & to us. (12/58)
Although Tighe continued to receive public and private requests to publish her work, she never did, remaining, as she put it in a letter to Walker, "a great coward as to publication" (c. 1804, 1461/7/221).
The Posthumous
Psyche

and

Verses

9.         After Tighe's death in March 1810 the family decided to go ahead with the project Tighe never pursued and published Psyche, with Other Poems in May 1811. [14]  They prominently demarcated it as a posthumous edition "by the late Mrs. Henry Tighe" with a note to the reader that justified the publication of her poems as not just a monument to her good taste (and her physical suffering) but to her capacity to "improve the best sensations of the human heart," presumably the guiding principle that governed their selection of the "smaller poems":

To possess strong feelings and amiable affections, and to express them with a nice discrimination, has been the attribute of many female writers; some of whom have also participated with the author of Psyche in the unhappy lot of a suffering frame and a premature death. Had the publication of her poems served only as the fleeting record of such a destiny, and as a monument of private regret, her friends would not have thought themselves justified in displaying them to the world. But when a writer intimately acquainted with classical literature, and guided by a taste for real excellence, has delivered in polished language such sentiments as can tend only to encourage and improve the best sensations of the human heart, then it becomes a sort of duty in surviving friends no longer to withhold from the public such precious relics.

The copies of Psyche printed for the author in her lifetime were borrowed with avidity, and read with delight; and the partiality of friends has been already outstripped by the applause of admirers.

The smaller poems which complete this volume may perhaps stand in need of that indulgence which a posthumous work always demands when it did not receive the correction of the author. They have been selected from a larger number of poems, which were the occasional effusion of her thoughts, or productions of her leisure, but not originally intended or pointed out by herself for publication. (iii-v)

Although the editor begs indulgence for the smaller poems because they lacked Tighe's final corrections, the resulting implication that the 29 lyrics from

Verses

were less polished than

Psyche

is misleading on two counts. First, the 1811

Psyche

published in the Longman edition offers a lightly revised version of the 1805

Psyche

printed by Carpenter, without explaining whether Tighe herself corrected the 1805 version or, more likely, the 1811 editor. Second, the 29 lyrics from

Verses

were highly finished and painstakingly transcribed by Tighe for H.T. in direct relation to publication (initially as prelude and subsequently as alternative to publication).

10.         Unfortunately Tighe's worry that the "smaller poems" might serve as simple ballast or a tail for Psyche was borne out by the reviews the posthumous edition received, which offered a great deal of praise for Psyche but paid minimal if any attention to the lyrics, often dismissing them after citing the editor's apologia (Monthly Review 149) or seeing them as a light "wreath" at the end of the volume, "lovely indeed, but scarcely worth the brow of Psyche" (Eclectic Review 228). [15]  Thus Tighe's reputation rested primarily on Psyche during most of the nineteenth and twentieth century, without much attention to or awareness of her lyrics. One can only wonder what might have happened had Tighe gone forward with her project and prepared her own version of Psyche, with Other Poems, and which of the poems from Verses she would have selected for inclusion.

11.         As a highly wrought material object it is curious that the two substantial volumes of Verses remained largely invisible for more than 200 years (akin to the comparable history of Tighe's five-volume manuscript novel Selena, although Selena only disappeared for a century or so). Neither Tighe's mother Theodosia Blachford nor her cousin and sister-in-law Caroline Hamilton mention Verses in their biographical essays on Tighe, the primary sources for contemporary information about Tighe's life and literary production, although Hamilton may be pointing to it in her comment on the tailpieces Tighe designed for her manuscripts: "the only use she made of her skill in drawing was to ornament with appropriate tail pieces, her occasional little Poems of which she has left many neatly written manuscripts" (252). [16]  It is also possible that Hamilton used Verses as the source text for the many Tighe poems she copied into her numerous albums (however Hamilton's versions often vary from the versions in Verses and might have been transcribed from memory). [17]  It's clear that eight of the 13 poems family friends Henry and Lucy Moore transcribed in their 1809 and 1811 albums come from Verses; almost all the poems transcribed in the 1811 album contain an endnote that states "copied from Mrs Tighe's M.S. Innistiogue - May - 1811." [18]  Half of the 16 previously unpublished poems privately printed in Mary come from Verses without any attribution (as well as 10 of the 14 poems reprinted from Psyche). [19]  Verses also provides the most likely source for the 12 unpublished poems E. I. Fox transcribed in "Poems by Mrs. H. Tighe. Including Twelve Poems not published with Psyche" [20]  and probably provides the source for the four poems printed in The Churchman's Monthly (1847) by an anonymous reviewer of William Howitt's Homes and Haunts of the Most Eminent British Poets who notes that the poems are unpublished. [21] 

12.         Most intriguingly, and ironically, Verses might well be one of the Tighe memorials Felicia Hemans lamented reading in her 1834 sonnet "On Records of Immature Genius: Written after reading Memorials of the late Mrs. Tighe" because the memorials transformed Hemans's sense of Tighe as a proper lady and role model:

Oh! judge in thoughtful tenderness of those,

Who, richly dower'd in life, are called to die,

Ere the soul's flame, through storms, hath won repose

In truth's divinest ether, still and high!

Let their mind's riches claim a trustful sigh!

Deem them but sad sweet fragments of a strain,

First notes of some yet struggling harmony,

By the strong rush, the crowding joy and pain

Of many inspirations met, and held

From its true sphere:—Oh! soon it might have swell'd

Majestically forth!—Nor doubt, that He,

Whose touch mysterious may on earth dissolve

Those links of music, elsewhere will evolve

Their grand consummate hymn, from passion-gusts made free!

 [22] 

Hemans first wrote about Tighe as the unnamed woman poet in her 1827 "The Grave of a Poetess" (subsequently published as the concluding poem of her 1828 sequence

Records of Woman

), imagining herself looking at Tighe's gravesite with admiration and envy because she envisioned Tighe as a spiritual exemplar who transcended the vicissitudes of life and art through death. Her impression of Tighe dramatically changed after she moved to Dublin in 1831 and actually visited Tighe's grave (commemorated in her 1831 lyric "Written after Visiting a Tomb, Near Woodstock, in the County of Kilkenny"). During the visit to Woodstock she not only met Henry Tighe, who failed to impress her by presenting her with his Latin translation of her "The Graves of a Household," but she learned details about Tighe's life that caused her to "give up my beau ideal of Mrs. Tighe's Character . . . much of her domestic sorrow I learned, was caused by her excessive passion for shining in Society, which quite carried her away from Home-enjoyments, until her Health gave way, and she was compelled to relinquish this career of dissipation" (Letter to Clara Graves, July 1831).

 [23] 

13.         Although Hemans' several letters about this visit do not mention Verses, Henry Chorley's 1834 Memorials of Mrs. Hemans notes that Hemans wrote "Records of Immature Genius" after "reading some of [Tighe's] earlier poems in manuscript" (2:219). [24]  If Chorley means Verses, it is inaccurate (at best) for Hemans to consider the lyrics Tighe collected in 1805—when she was nearly 33—as records of immature genius except insofar as they shatter the image that she was finally "from passion-gusts made free!" (14). [25]  That image and story—of a Tighe who turns from seducing passions to sober spirituality—is constructed by the posthumous edition of Psyche, with Other Poems, and perhaps not untrue biographically, but very different from the impression conveyed by the often unsettling and unsettled poems in Verses.

14.         The Mary Tighe who shapes her poetic performance in Verses is neither ready to be buried as the unnamed pattern poetess in Hemans' "The Grave of a Poetess" nor beatified as the late Mrs. Henry Tighe in Psyche, with Other Poems, which concludes with the plaintive final request of "On Receiving a Branch of Mezereon Which Flowered at Woodstock. December, 1809" to be remembered "with fond regret" and "lingering thoughts" (311). The Mary Tighe of Verses is a passionate, playful, ambitious poet whose most powerful poems pulsate with the frustrated energies of unfulfilled Petrarchan desire voiced from a complex feminine position.
The Structure of
Verses
15.         Tighe positions herself first and last as a practicing poet in Verses. In the opening lyric, "The Vartree," she dedicates herself to the pastoral pursuit of poetry versus the "vain bustle of the senseless crowd" (29), emphasizing her identity as a poet by referring to herself via her coterie name "Linda," [26]  and affiliating herself with a particular set of poetic forebears through the epigraph from Molza's "La Ninfa Tiberina" (incorrectly attributed to Poliziano):
Sweet are thy banks, Oh Vartree! when at morn
Their velvet verdure glistens with the dew;
When fragrant gales by softest Zephyrs borne
Unfold the flowers, and ope their petals new.
. . . . . . . . . . . . . . . . . . . . . . . . . . . . . . . . . . . . . . . . . .
Beneath the fragrant lime, or spreading beech,
The bleating flocks in panting crowds repose,
Their voice alone my dark retreat can reach,
While peace and silence all my soul compose.
Here Linda rest! the dangerous path forsake
Where Folly lures thee, and where Vice ensnares,
Thine Innocence and Peace no longer stake,
Nor barter solid good for brilliant cares.
. . . . . . . . . . . . . . . . . . . . . . . . . . . . . . . . . . . . . . .
Here woo the Muses in the scenes they love,
Let Science near thee take her patient stand,
Each weak regret for gayer hours reprove,
And yield thy soul to Reason's calm command. (1-4, 21-28, 45-48)
In the closing lyric, "Sonnet In reply to M.
rs
Wilmot," which elegantly thanks Lady Dacre for her complimentary sonnet "To Psyche, on Reading Her Poem,"
 [27]
Tighe expresses regret for her languishing lyre even as she firmly situates herself as the author of
Psyche
and a sister poet:
Lady! forgive, if late the languid lyre,
At length responsive to thy sweetest lay,
Breathe the low, trembling strain with weak essay
To utter all which grateful thoughts inspire;
Forgive, if vacant of poetic fire,
I seem with frigid heart, and dull delay,
The flattering summons careless to obey;
Woo'd, kindly woo'd, so highly to aspire,
And echo the soft name of friend. For me,
Alas! for me, in anguish & in fear,
The darkling days have since roll'd heavily;
But let my Psyche in thy partial ear,
Whisper the sad excuse, & smiling see
In hers the lovely sister form most fair, most dear. (1-14)
16.         The poems that follow "The Vartree" and precede the "Sonnet in reply to Mrs. Wilmot" further Tighe's projection of herself as a coterie poet. She follows the dedicatory pastoralism of "The Vartree" with the Della Cruscan sensuality of "The Kiss," one of several "kiss" poems she and Moore wrote in conversation with one another: [28] 
I see the dew of Love just glisten in her eye,
And her bosom gently swell with the stifled, tender sigh:
Oh rapture breathing sigh! inestimable tear!
Which first could whisper hope that to Florence I was dear.
Oh! moment still most priz'd, that embolden'd me to seek
With lips too fondly daring her half averted cheek!
The sweet electric force which shot thro' every nerve (15-21)
Right after the demonstrative poetics of "The Kiss," "The Hours of Peace" reasserts the theme of "The Vartree" as Tighe/Linda celebrates a literary life that consists of producing work like "The Kiss," to be shared during pleasurable social evenings at home, listening to Moore/Anacreon sing his songs instead of pursuing the temptations of idle society:
Stay hours of peace! awhile delay,
Awhile with grateful Linda stay,
And hear her yet contented say
Stay hours of peace!
What tho' no more the midnight ball
Lures me to answer Folly's call,
I shun well pleas'd th'illumin'd hall
For hours of peace.
. . . . . . . . . . . . . . . . . . . . . . . . . . . . .
The young Anacreon too shall sing,
And as he wakes the magic string,
Charm'd by his notes on hov'ring wing
Stay hours of peace! (1-8, 21-24)
Similarly, the poem that precedes the final sonnet to Lady Dacre, "Sonnet to W. Parnell written at Avondale 1808," commemorates another coterie member, William Parnell,
 [29]
regretting that the worldly business that calls him from his estate on a summer evening prevents him from experiencing "the Muse's gentler influence," which Tighe makes manifest in the sonnet itself:
We wish'd for thee, dear friend! for Summer eve
Upon thy loveliest landscape, never cast
Looks of more lingering sweetness than the last.
The slanting sun, reluctant to bereave
Thy woods of beauty, fondly seem'd to leave
Smiles of the softest light, which slowly past
In bright succession o'er each charm, thou hast
Thyself so oft admir'd; and we might grieve
Thine eye of taste should ever wander hence
O'er scenes less lovely than thine own; but here
Thou wilt return, & feel thy home more dear
More dear the Muse's gentler influence,
When on the busy world, with wisdom's smile,
And heart uninjur'd thou hast gaz'd awhile. (1-14)
Tighe not only situates herself again as a poet, who displays the favor of the Muse's influence, her invocation of Parnell in this penultimate poem subtly calls attention to her status as a known literary figure in Ireland. When Parnell published an Irish edition of William Smyth's
English Lyricks
(Dublin, 1806) in a larger effort to restore the business of printing to Ireland after the destructive impact of the Act of Union, he dedicated the edition to "Mrs. Henry Tighe":
Amongst many injuries of greater magnitude which the Union has inflicted on the civilization of Ireland, the destruction of the business of Printing has had an effect sufficiently pernicious to excite an interest in any mind capable of appreciating the value of local literature. . . . The propriety of inscribing these Poems to you, must be generally felt: my particular design in so doing, is to express the admiration of gratified taste, and the homage of sincere friendship.
Thus the poems that initiate and conclude
Verses Transcribed for H.T.
insistently frame Tighe's representation of herself as a poet who undertakes her lyric journey with an act of dedication to the muses and ends with a bittersweet affirmation of the journey's success.
17.         The journey Tighe transcribes in Verses follows a thematic versus chronological or strictly genre-based structure, organized in sets or clusters of poetic modes. If there is a story the two volumes tell, the story begins with a group of coterie poems that map physical and emotional landscapes Tighe visited during the mid- to late-1790s and early 1800s (the first 17 poems), modulates into a set of poems ostensibly voiced by the characters from Selena (most of the next nine poems), introduces a mini-cluster of four translations, and offers a transitional poem that returns to the present and Tighe's personal lyric voice ("Verses Written in Sickness Dec.r 1804") before showcasing the 30-poem sonnet cycle that completes the first volume (61 poems in all). The second volume opens with 10 poems focused on history and politics followed by a set of 29 translations; the remaining 21 poems fall into mini-clusters of political poems, thank you poems, translations, and sonnets (60 poems in all). Neither volume adheres rigidly to a particular pattern—Tighe doesn't place all the sonnets in the sonnet cycle, or all the translations in the translation section, or all the Selena poems in a Selena cluster—but there is a clear design ordering her presentation. The slight messiness of the trajectory towards the end of volume two might indicate that Tighe lost some steam towards the culmination of this major project, which she began in 1805 but continued to work on through 1808 (as her health declined). But her inclusions and omissions at the end of the second volume maintain the intentionality of the volumes' comprehensive construction. She not only juxtaposes early and late poems in the final sequence of nine poems (dated 1804, 1806, 1801, 1808, undated, undated, 1799, 1808, 1807), she omits six late lyrics that her coterie readers appreciated enough to copy into their own commonplace books. She could have added these poems, given the blank pages at the end of both volumes of Verses, to transform our sense of the ending. [30]  Tighe ends as she begins: as a self-reflexive poet delimiting the parameters of her collection.
The Contents of
Verses
18.         The contents of Verses open up multiple new ways of thinking about Tighe's contributions to literary history. First and foremost, Verses provides manuscript access to some exceptional poems that illustrate Tighe's strength as a poet. A prime example is her previously unpublished ekphrastic lyric on "The Faded Flowers," which offers a thoughtful meditation on the relation between nature and art that shifts from querying the potential of the imitative arts to capture nature to pondering the role of memory in containing or recreating past desire, Tighe's great theme. In the first five stanzas the poem describes the speaker's efforts to sketch a group of flowers before they die; in the pivotal sixth stanza the poem allusively cites Shakespeare's inconstant lover Proteus before offering another five stanzas that reflect on the cheating power of memory to create the temporary illusion of restoration:
Lovely objects of decay,
Lo! before th'admiring eye,
How your beauties fade away!
How your brilliant colours fly!
Fondly valued, vainly lov'd,
Why so quickly must you droop?
E're my envious pencil prov'd
How your lustre mocks its hope.
Yet a little longer live,
'Till my powerless art has tried
Immortality to give
To your transitory pride.
Still my imitative care
Sought to keep what I deplore,
And what Nature could not spare,
Fain would Art for me restore.
Scarcely sketch'd the outlines lie,
Faintly trac'd with mimic hues,
E're my lovely models die,
And their glowing tints refuse.
Image of my joys, alas
E're remembrance marks their stay!
Thus my brilliant pleasures pass,
"Glories of an April day!"
Memory lend thy magic art,
Let thy renovating power,
On the tablets of my heart
Stamp each lov'd, regretted hour.
Images of past delight
May I you at least preserve!
Still let joy's illusion bright
Thrill thro' each enchanted nerve!
Paint the voice, the look, the smile,
All that charm'd my cheated soul
All that sorrow could beguile,
Soothing cares with soft control.
Ah they fade! the charm is o'er,
Faint, and yet more faint they grow,
Tones belov'd, but heard no more,
Beams of bliss, and Love's own glow!
Essence of such subtle power,
Sure no chemic art can seize,
And the sweets which charm this hour
Once exhal'd no more can please. (1-44)
As with so many lyrics in Tighe's oeuvre, "The Faded Flowers" speaks with characteristic ambivalence on the power of memory and art to recover or control desire, like Sonnet VIII ("As one who late hath lost a friend ador'd"), where the "shivering heart" seeks to re-experience "bliss once tasted" through portraits and poems that revive memories which initially beguile but then enhance present loss of those "scenes from which it wept to part" (11-14).

So too "Address to my Harp," where the "sickening heart" hopes to simulate the function of an absent harp to relieve "secret pain" (23) yet induce "pensive, pleasing pain" (15) through memories that ultimately return that pain: "Yet still thy strings, in Fancy's ear, / With soothing melody shall play, / Thy silver sounds I oft shall hear, / To pensive gloom a silent prey" (37-40).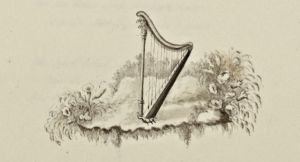 The tailpieces that follow all three poems nicely complement the verbal paradoxes with an additional visual ambiguity by depicting vibrant images of static objects and scenes: the scentless flowers of "The Faded Flowers" (figure 1), the unwalkable landscape of "Sonnet VIII" (figure 2), and the silent harp of "Address to my Harp" (figure 3). Thus "The Faded Flowers," like "Sonnet VIII" or "Address to my Harp," manifests success and failure at once: as poet and artist Tighe powerfully immortalizes the image of the flowers before they droop, but her perfect representation of their "lustre" still "mocks" her "hope" in that her "imitative care" can never reproduce or replace experience itself, can only memorialize and thereby heighten loss.
19.         Verses also provides manuscript access to poems that demonstrate Tighe's engagement with the poetic, aesthetic, and political concerns of her cultural moment, unlike the lyrics selected for Psyche, with Other Poems, which largely refer to local places or personal acquaintances. [31]  In Verses Tighe leaves a direct and indirect trail of references to a wide range of contemporary or near-contemporary poets through title dedications, epigraphs, translations, and invocations that cite Thomas Gray, Francis Greville, Thomas Warton, Salomon Gessner, William Cowper, James Beattie, James Macpherson, Hannah More, Anna Seward, Charlotte Smith, Jean-Pierre Claris de Florian, Évariste de Parny, Vincenzo Monti, Mary Robinson, Charles Demoustier, William Bowles, Lady Dacre, Samuel Taylor Coleridge, and Thomas Moore (as well as Metastasio). Sometimes those invocations operate with great subtlety, as in the August 15, 1804 sonnet "Addressed to the Rev.d W: L: Bowles" (XV), which concludes with the classic image of "the sad nightingale soft [who] pours her throat / While the thorn presses on her wounded breast" (13-14). That image does not appear in Bowles's 1789 Fourteen Sonnets [32]  but appears with great frequency in Smith's Elegiac Sonnets (1784-1811), which Tighe was thinking about in 1804. A letter to Walker dated January 28, 1804 mentions "Charlotte Smith's distresses" (1461/5/156). Sometimes those invocations suggest an ongoing conversation, such as "Verses Imitated from Du Moustier," which presents a fairly loose verse translation of Demoustier's lyric "Je vais boire l'onde glacée," his version of Sappho's stanzas to Phaon before she takes the leap of Leucata (in Lettres à Émilie, sur la mythologie [1786-98]), but also speaks to Robinson's more significant and more radical sonnet cycle Sappho and Phaon (1796). Similarly Tighe's sonnet "Addressed to the Ladies of Langollen Vale" (XIV) not only addresses Butler and Ponsonby but participates in a dialogue with Seward's "Llangollen Vale" (1796), which prompted Seward to offer rare praise for Tighe's sonnet (rare for Seward, that is). [33]  So too Tighe's sonnet "Written on the acquittal of Hardy &c — Dec:r 1794," which not only celebrates Thomas Erskine's successful defense of Thomas Hardy, John Thelwall, and John Horne Tooke in the 1794 Treason Trials but speaks to Coleridge's complementary sonnet "To Erskine," published in the Morning Chronicle on December 1, 1794 (when the Tighes were living in England). [34] 
20.         The sonnets to Bowles/Smith and the Ladies of Llangollen/Seward reflect Tighe's contemporary aesthetic commitment to the sonnet revival, [35]  a demonstration made more potent through Tighe's clustering those two sonnets with two Petrarch imitations at the very heart of her sonnet cycle (XII-XV). Tighe's central engagement with the discourse of sensibility is also made more explicit in Verses through poems like "The Kiss," with its display of Della Cruscan eroticism, "Verses Written for Emily 1799," which begs "Insensibility" to "Stop the streams which feeling hallows / Smother each impassioned sigh" (39-40), "Song to Oberon," which models itself on Greville's "A Prayer for Indifference," "To Tranquility," which asks "Ador'd Tranquillity! / This fever'd heart to health restore, / Or lull to Apathy" (30-32), or "Sensibility," which follows More's poetical epistle "Sensibility" (not to mention the poems that cite Gray, Warton, Macpherson, or Beattie and other such exemplars). In tandem with poems that evince the discourse of sensibility are poems that exhibit Tighe's antiquarian bent ("Cleuen An Elegy" or "Morven and Miruna from Ossian") and her interest in ballads and songs, captured in at least 14 lyrics, such as "Song Post nublia Phoebus," "Forget me not!" (based on Mozart's version of Lorenz Schneider's lied "Vergiss Mein Nicht"), "Song to Oberon," or "Song to my Harp 1798." [36] 
21.         Perhaps most interesting are the poems that overtly or covertly address contemporary political events—the 1794 Treason Trials, the 1798 Rebellion, the 1801 Act of Union—which Tighe sets in two clusters in volume two, effectively encouraging more politicized readings of poems that might otherwise seem ahistorical but for their clustered proximity. Tighe positions the first cluster at the very beginning of volume two with six poems that invite close attention to Ireland's historical moment through suggestive dates and references: "Cleuen An Elegy," "Written in an Almanack 1805," "The World," "Imitation from Jeremiah Chap XXXI. Ver 15. Nov:r 1800," "Psalm CXXX. Imitated. Jan.y 1805," and "Verses Written when a detachment of Yeomen were sent against the rebel army" (dated Dublin, July 13, 1798). In the first poem, "Cleuen An Elegy," Tighe's speaker narrates the fatal consequences of a doomed love triangle, but frames that narration against the backdrop of England's colonization of Ireland, made visible in the ruins that line the Nore river:
There aged Cleuen moulders into dust
To time a victim, tho' a victim slow,
Where once the hardy chief repos'd his trust,
And frown'd defiance on his threat'ning foe.
Tho no proud architect the pile adorn'd
Or taught the graceful column to ascend,
Its haughty strength opposing battle scorn'd,
Firm to resist, and well the prey defend.
When Britain drove her outcasts on this shore,
They rear'd those castles on the blood-strain'd field,
The pillage from the helpless natives tore,
And forc'd the trembling combatants to yield.
Hither they came a fierce and lawless band,
And met a foe tho feebler, not more rude;
Oppression lorded o'er the groaning land,
And Discord revell'd in continual blood. (9-24)
Given Tighe's family position as a member of the Anglo-Irish gentry, she sometimes sides with the oppressor. While the politics of Cleuen critique England's imperialism, the narrative offers a mostly sympathetic portrait of the heartbroken young Englishman Aldred who joins a "daring and adventurous crew, / With them from Albion's friendly coast was born, / And plough'd the waves Hibernia to subdue" (130-32). The closing poem in the sequence, "Verses Written when a detachment of Yeomen were sent against the rebel army," prays for the success of Wicklow yeomen like her husband against the "savage" rebels
 [37]
(Henry Tighe led a troop of cavalry through the Wicklow mountains in the summer of 1798):
When, to meet a savage foe,
Each exulting hero armed,
Weeping I beheld them go,
Every fear my heart alarmed.
. . . . . . . . . . . . . . . . . . . . . . . . . . . . .
In the hour of doubt and terror,
For myself I felt no fear,
But I mourned my country's error,
Shed for her the bitter tear.
And for you, beloved Yeomen!
Oh! what tears I shed for you!
Save them Heaven! from foes inhuman,
Shield those breasts so firm, so true. (5-20)
22.         Tighe positions four poems between "Cleuen" and "Yeoman": "Written in an Almanack 1805," "The World," "Imitation from Jeremiah Chap XXXI. Ver 15. Nov:r 1800," and "Psalm CXXX. Imitated. Jan.y 1805." All four lend themselves to politicized readings by being placed between these two overtly political poems. "Written in an Almanack 1805" seems particularly apolitical as a simple 12-line poem that appears to be a copy of an inscription Tighe wrote in a gift book. But the most popular almanac in Dublin, The Gentleman's and Citizen's Alamack, provided an annual listing of "The Marriages and Deaths of the Princes of Europe. The Names of the Lord Lieutenant; of His Majesty's Most Honourable Privy Council, and of the Lords and Commons of Parliament, (Printed by Authority:) Also, the Judges, and several other Persons in Places of High Trust, and Office in Ireland, both Civil and Military." Coming right after "Cleuen" and that poem's depiction of the colonization of Ireland, "Written in an Almanack 1805" invites attention to the transitory (or transitioning) nature of political power. Similarly, the spiritual rejection of "The ungrateful World!" (2) voiced in "The World" takes a political cast through Tighe's loaded use of the word "votive" — "Oh! sacrifice no more thy peace, thy joys / To the ungrateful World! it but insults / Thy wasted anguish, and thy votive cares" (1-3) — a potential reference to the Tighe family's futile votes against the Act of Union. That subtle reference becomes sharper as Tighe follows "The World" with the pointedly dated "Imitation from Jeremiah Chap XXXI. Ver. 15. Nov:r 1800," which implicitly aligns the promised restoration of Rachel's children to their own border with the pending dissolution of the Irish Parliament. Like the imitation of Jeremiah 31:15, Tighe's verse translation of Psalm 130 resonates with the politics of her times as she invokes mercy for all God's children: "And still at mercy's sacred seat / Let all thy children; Lord! be found" (33-34). Without the context of the cluster "Psalm CXXX. Imitated. Jan.y 1805" reads as a prayer for inward peace; within the context of the cluster the prayer extends that call to the nation.
23.         A comparable effect occurs towards the end of volume two as Tighe sequences the powerful political ballad "Bryan Byrne founded on truth" within a cluster that includes "Song 1806," "Bryan Byrne," "Written for Angela," Song to my Harp 1798," and "Song" ("Still as on Liffey's banks I stray"). While "Song 1806," "Written for Angela," and "Song" seem to read as simple love songs—invoking renewal ("Song 1806"), cherishing the moment that is about to pass ("Written for Angela"), and anticipating an uncertain return ("Song")—Tighe juxtaposes those three songs with two songs that speak to the troubles of 1798, as if to weave a larger tale about the intersection of personal history and national strife. "Song 1806" begins the sequence by asking a beloved to turn his blue eyes on her and smile as he did long ago, "Oh! smile, as when / Our youthful loves were in their spring, / And teach this thrilling heart again / The song of joy to sing!" (14-16). But if the next song was inspired by the beloved's smile, it is anything but joyful in relating the tragic tale of Bryan Byrne's violent death at the hands of a loyalist mob in 1798, a murdered nonpartisan still mourned by his grieving widow Ellen, his son and his father-in-law (who also mourn the deaths of Ellen's brother and three cousins). To turn from "Bryan Byrne" to "Written for Angela" is to turn from Ireland's history to a poem intended for Tighe's novel Selena, seemingly nonpolitical except in its rendering of the speaker's desperate valuing of the moment before parting from another blue-eyed beloved. That parting suddenly takes on greater political heft when followed by "Song to my Harp 1798," a second harp poem in Verses that now notes how Tighe's/Linda's harp foregoes pleasure to focus on the dark times at hand with "prophetic power" (24):
Ah! why my soft-ton'd, plaintive harp,
Art thou to pleasure's voice so mute?
. . . . . . . . . . . . . . . . . . . . . . . . . . . . . . . . . . . .
Is it, that taught by grief too well,
Thou still must sigh tho' grief be past?
As the vex'd waves still heave & swell,
Tho' the wild winds are hush'd at last.
Or rather, does each trembling string,
Now sad, with true, prophetic power,
O'er future sorrows murmuring,
Foretel the darkly, coming hour. (1-26)
By the time the sequence concludes with "Song," what might otherwise read as simple anxiety about the faithfulness of a returning beloved becomes fraught with political implications as the speaker thinks about "banishment" on the banks of the Liffey (the location of the Four Courts,
 [38]
whose distinctive dome Tighe images in "La Cittadina"):
Still as on Liffey's banks I stray,
And tread my weary, lonely way,
I muse on thee, my friend,
And wish the tedious moments past,
And wish, beloved! that at last
This banishment might end. (1-6)
24.         Akin to the political clusters and the poems that reference contemporary or near-contemporary poets, the stunning visual displays of ruins, prospects, spas, monuments, landscapes, scenery, and assorted tourist sites in the tailpieces situate Tighe more actively in the physical environs of her time and place: at Glendalough in Wicklow, at Muckross Abbey in Killarney, at the Devil's Bridge in Cardiganshire, at the Avon River in Bristol, at Harling Hall in Norfolk, or at Plas Newydd in Llangollen. They also demonstrate her keen engagement with the picturesque and her participation in the burgeoning verbal-visual print culture of views, tours, sketches, and guides. [39]  If one of the signal revelations of the collection lies in the simple fact that Tighe did illustrate so many of her lyrics, one of the greater pleasures Verses provides is the opportunity to see how Tighe illustrated some of her most famous poems, including sonnets of named places such as "III Written at Scarborough Augt 1799," "IX Written in the Church yard at Malvern," and the three Killarney sonnets, "XVIII Written at the Eagle's Nest Killarney July 26. 1800" (figure 4), "XIX Written at Killarney July 29. 1800" (figure 5), and "XX On Leaving Killarney August 5. 1800" (figure 6).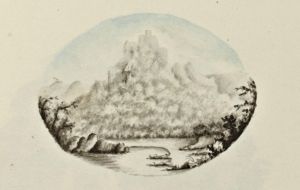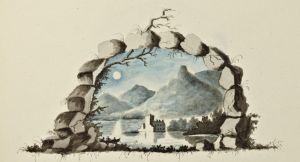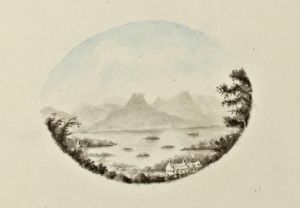 Like the complex ekphrasis of "The Faded Flowers" Tighe's visual images sometimes complement and sometimes controvert the mental landscapes depicted in the lyrics. Thus while the illustrations for the Killarney sonnets elegantly capture the views and moments celebrated in the lyrics, the sheer corporeality of the images that accompany the Scarborough and Malvern sonnets provide a surprising contrast to the delicate ephemerality of the psychological states the lyrics articulate. Similarly, the tailpiece to the first sonnet in the sonnet sequence, "I. Composed on the White Sands near Arklow" (figure 7), deceptively images the landscape of the remembered past (the caves and cliffs between the Dawlish and Exe rivers) rather than the named landscape prompting the recollection (the caverns and white sands of Arklow).

25.         Other illustrations provide tantalizing interpretive suggestions, as in the tailpiece for Sonnet VI ("Poor, fond deluded heart! wilt thou again"), where the monument's inscription ("Credule, quid frustra simulacra fugacia captas? / Quod petis est nusquam") directs us to Ovid's Metamorphosis and the tale of Echo and Narcissus, or "Sonnet XXII Written for Angela 1802," whose tailpiece rendering of Muckross Abbey at Killarney hints at directions Tighe might have contemplated pursuing in the plot of Selena (the character Angela Harley never visits Killarney, a crucial location in the fifth volume). [40]  Just as the tailpiece for "Sonnet XXII" images an alternate narrative development for Selena, Tighe's dedicated sequence of Selena poems in volume one calls attention to the ways in which the characters Angela Harley and Lady Emily Trevallyn mirror one other's emotional, sexual, and traumatic situations via a cluster of six poems that modulate back and forth between their voices, from "The Picture Written for Angela. 1802" to "Elegy Written for Emily 1802," "Stanzas Written for Angela 1800" to "Verses Written for Emily 1799," and "Verses Written for Angela 1804" to "Song to Oberon." Although Tighe's mother claimed that Tighe completed Selena by the end of 1803, the dating of "Verses Written for Angela 1804"—not printed in the manuscript of the novel—indicates that Tighe continued thinking about and working on Selena after 1803; and the tailpiece's illustration of a child leaning against a monument inscribed to Angela (figure 8) offers an intriguing glimpse of different outcomes Tighe might have considered.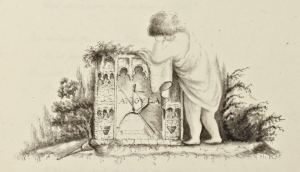 26.        In addition to scenes, prospects, monuments, and ruins, the illustrations evidence Tighe's interest in botany, [41]  displayed in the beautifully detailed (and sometimes labeled) specimens of flowers and trees in "Forget me not!," "V Written in Autumn 1795," "XVI Written at Rossana. Novr 18, 1799," or "Written in an Almanack 1805" (figure 9).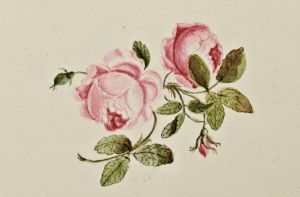 So too her attention to the emblem tradition, materialized in the numerous images of cupids, harps, helmets, garlands and more that appear in the tailpieces to "The Kiss," "The Hours of Peace," "The Picture Written for Angela. 1802," "Verses Written for Emily 1799," "The Minstrel," "Verses Written in Sickness Dec.
r
1804," "Cupid's Quiver," or "Song Adapted to an Air by Mozart 1806."
27.         Just as Verses documents Tighe's energetic participation in the verbal-visual print culture of the Romantic era, it showcases Tighe's work as a translator with 37 verse imitations of classical and contemporary poetry and prose selections originally written in Latin, Greek, Italian, French, and German (nearly one third of the total contents of the collection). [42]  Hamilton's biographical essay on Tighe notes that Tighe began translating French and Italian literature as a child under her mother's direction (252-3) and took up a serious course of Latin studies after her marriage to Henry, whose daily instructions enabled her to translate "with his help, a variety of authors" (254). When and where Tighe acquired knowledge of Greek and German is not known (and seemingly minimal), but her letters to Walker and her reading journal are rich resources recording her lifelong study of Italian, the more linguistic aspects of her interest in antiquarian studies (including a belated attention to Gaelic), and the degree to which members of her literary circle shared or commented upon each other's verse translations (notably Thomas Moore's Anacreon, Lady Dacre's Petrarch, Henry Boyd's Dante, and Walker's Monti, among others). [43] 
28.         The translations Tighe includes in Verses do not simply showcase scholarship, however; they trace affinities with other writers whose works and passions resonate with hers, offering a discreet or safe venue to express what might be otherwise inexpressible. While Tighe only presents three translations from Petrarch in Verses, those three imitations underscore the larger Petrarchan sensibility that operates in so many of the translations and original poems, voiced from the position of the tormented lover who has lost at love, who desperately struggles to resist succumbing to the emotional and spiritual paralysis of despair, who understands too well the danger of seeking solace and basing poetry in memories of past pleasure, but whose very prayer to experience relief through forgetfulness undermines that potential relief by recalling the source of present pain. Thus "Verses Imitated from Du Moustier" begins and ends with a command to forget, but the six stanzas between the opening and closing injunction viscerally catalogue and make manifest all that is impossible to forget, not only transforming the more conventional listing of Petrarchan physical attributes into affective experiences but showing how the wise and moral framework fails to regulate or contain emotional embodiment:
Submit at length, poor struggling heart,
To drink the cold Lethean draught,
With every fond memorial part,
Tear from thy bleeding breast the shaft.
That bleeding breast, this weeping eye,
The balm of peace shall then restore,
And thou may'st then forget to sigh,
And think of him so lov'd no more.
And must I think of him no more?
With trembling transport own his voice?
Nor bless the joy-admitting door
Which opening bad my soul rejoice?
The morn no more shall see me rise
Eager to watch his hop'd return,
And stretch in vain my longing eyes,
And all the day impatient mourn.
Must I no more expect him here,
And count the weary hours in sorrow,
And sigh as evening shades appear,
Hope whisp'ring still "he comes to-morrow?"
Must I no more indulge the dreams
Which oft could solitude beguile?
Where seated by me yet he seems,
And fancy paints th'enchanting smile.
Must I, alas, no longer now
Image delights where he appears?
And breathes for me the tender vow,
And marks with soften'd eye my tears.
Delusions, whose bewitching power
Supported oft my widow'd heart,
And thou, who gladden'd sorrow's hour,
False, flattering Hope! with all I part.
But worse than every varied pain,
Than all the ills I suffer'd yet,
And sure the hardest to sustain
Is the chill voice which says Forget. (1-36)
Similarly, in "Verses Imitated from the Chev. Du Parney Il est tems mon Eleonore!&c 1798" the lover repeatedly insists on the twinned duty of parting and forgetting but through the course of the poem comes to understand that absence will not produce oblivion: "Accustom'd to this cruel pain / My heart may absence learn to bear, / But still thy image shall retain / 'Till life shall throb no longer there!" (37-40). And just so the fervent plea for oblivion versus a hopeless wish for the return of a lost beloved's affection that materializes in Tighe's translation of Catullus's "Si qua recordanti" (
Carmina
76) — "I ask not Heaven with purely, constant fire / That cold and faithless bosom to inspire, / My own relief is all I now implore, / This suffering soul at last to health restore; / From these indignant pangs in mercy save, / And steep my anguish in oblivion's wave" (33-38) — is answered in her translation of Metastasio's "Il Primo Amore," which once again shows the impossibility of forgetting:
In vain to seek relief I fly,
To secret shades, or crowds, or noise,
Her form still swims before my eye,
My heart still hears alone her voice.
Ah! what avails corporeal flight?
Some object, whereso'er I turn,
Brings her loved image to my sight,
And busy memory bids me mourn. (29-36)
Like Petrarch, Parny, Dumoustier, or Metastasio, many of Tighe's greatest lyrics set out to offer peaceful resolutions to tortured souls but ultimately reincarnate loss (and sometimes perversely exult in the intense emotion that reincarnation produces): the lost romantic joy of "The Faded Flowers," the dead child of "Verses Written at the Commencement of Spring. 1802," the silent harp of "Address to my Harp," the mourning lover of "Verses Written at the Devil's Bridge in Cardigan," or the formerly exiled friend of "To ----," whose glance reawakens every hushed feeling, so that "Once more my melting heart with love o'erflows, / Laments its former loss, and weeps forgotten woes" (lines 31-32).
29.         The Petrarchan sensibility that underscores so many of the translations provides an even more important trajectory in shaping the arc of the sonnet cycle, which also owes a great deal to Smith in beginning with a set of nine elegiac poems that lament lost love and youth as well as the teasing power of memory to provide the illusion of a return to the past that therein deepens the pain of the present. The cycle continues by turning from the temporary and deeply problematic panacea of memory to more enduring possibilities: the passage of time that lessens all loss (X), the coming of death, which loosens all ties (XI), and the production of poetry, which potentially transforms the present into eternity (XII-XV, which directly invoke Petrarch and Bowles). With the turn to poetry as the pivot point of the cycle, Tighe looks to present pleasures, contemplating solace in the calm of domestic love and the possibility of creating new memories and moments in the now of Rossana and Killarney (XVI-XX). But it is sonnet XXI's address to William Hayley's biographical representation of William Cowper and Mary Unwin that provides transition to the cycle's most dramatic shift as Tighe suddenly introduces a named speaker for XXII and XXIII—the tragic Selena character Angela Harley—who vocalizes experiences and perspectives that sound exactly like those informing the regrets and longings of the unnamed speaker of the first nine sonnets. Rather than a coded regression to the torments of the past, Tighe's use of a named persona marks her staging her progressive journey as a poet who has learned how to sublimate and recast the seemingly autobiographical as art. Though Tighe only marks XXII and XXIII as "Written for Angela 1802," and designates XXVI as an Angela poem through the tailpiece, XXIV, XXV, XXVII, XXVIII and XXIX easily fit the framework and plot of Selena. [44]  The introduction of Angela as an external persona masterfully complicates the performing identity Tighe constructs for the last third of the sonnet cycle until she firmly re-establishes herself as speaking subject in the final sonnet "XXX. Addressed to my Brother 1805," which concludes both the sonnet cycle and the first volume of Verses.
Brother beloved! if health shall smile again
Upon this wasted form, and fevered cheek;
If e'er returning vigour bids these weak,
And languid limbs their gladsome strength regain;
Well may thy brow the placid glow retain
Of sweet content, and thy pleased eye may speak
Thy conscious self-applause; But should I seek
To utter what this heart can feel, Ah! vain
Were the attempt! Yet kindest friends, as o'er
My couch ye bend, and watch with tenderness
The being whom your cares could even restore
From the cold grasp of death; say can you guess
The feelings which this lip can ne'er express?
Feelings deep fixed in grateful memory's store! (1-14)
This sonnet's acknowledgment of the fragility of mortality and the grateful appreciation it expresses for an interested reader even as Tighe is transcribing
Verses
serves as a powerful forerunner to the sonnet to Lady Dacre that will ultimately conclude
Verses
as a whole to insist on Mary Tighe's identity as poet.
Not a Conclusion but a New Beginning
30.         Verses Transcribed for H.T. provides a remarkable opportunity to re-evaluate our historical understanding of Mary Tighe and her place in the literary, visual, material, and cultural productions of Romanticism. Its rich array of sonnets, translations, illustrations, political poems, coterie poems, poems for Selena, and references to contemporary poets and poetics not only showcases Tighe's power as a lyric poet, it foregrounds her representation of herself as a lyric poet, just as she foregrounds herself as a visionary poet in Psyche; or, The Legend of Love. Like Tighe's 1805 private edition of Psyche, Tighe's 1805 manuscript edition of Verses asserts her vision of herself as the designing poet, shaping her own story.
Notes
[1] EDITOR'S NOTE: Tighe shared her work with an extended network of family, friends, and literary acquaintances in Ireland, Wales, and England, including Joseph Atkinson, John Blachford, Theodosia Blachford, Henrietta Bowdler, Henry Boyd, Lady Eleanor Butler, Catherine Maria Fanshawe, William Hayley, Alicia LeFanu, Henry Moore, Thomas Moore, Hannah More, Sydney Owenson/Lady Morgan, William Parnell, Sarah Ponsonby, William Roscoe, Anna Seward, Charlotte Smith, Caroline Tighe Hamilton, Elizabeth Tighe Kelly, George Tighe, Sarah Tighe, William Tighe, Barbarina Wilmot/Lady Dacre, Joseph Cooper Walker, John Wesley and others (Linkin, "Mary Tighe and the Coterie of Women Poets in Psyche," 303-04). BACK
[2] EDITOR'S NOTE: The ten lyrics from Psyche, with Other Poems not included in Verses are "Written in a Copy of Psyche which had been in the library of C. J. Fox. April, 1809," "To the Memory of Margaret Tighe, Taken from Us June 7th, 1804, Etat 85," "Written for Her Niece S. K.," "To Fortune, From Metastasio," "The Shawl's Petition, To Lady Asgill," "To Lady Charlemont, in Return for Her Presents of Flowers, March, 1808," "Hagar in the Desert," "The Lily, May, 1809," "Sonnet Written at Woodstock, in the County Kilkenny, the Seat of William Tighe, June 30, 1809," and "On Receiving a Branch of Mezereon Which Flowered at Woodstock, December, 1809." BACK
[3] EDITOR'S NOTE: For a comprehensive overview of Tighe's reception see Linkin, "Mary Tighe and Literary History: the Making of a Critical Reputation." BACK
[4] EDITOR'S NOTE: Like Psyche, with Other Poems the identity of Mary's editor is unknown. Only two of the twenty copies have been located to date, at the National Library of Ireland and Harvard. BACK
[5] EDITOR'S NOTE: Tighe provides dates for six poems composed after 1805: "Song Adapted to an Air by Mozart 1806," "Song 1806" ("Turn on me, Love, thine eye of blue"), "To W. Hayley. In return for a copy of Cowper's life sent with a sonnet. 1806," "The Myrtle Written at West Aston. 1808," "Sonnet to W. Parnell written at Avondale 1808," and "Sonnet In reply to Mrs Wilmot. 1807." It is possible that some of the undated poems might have been composed after 1805. BACK
[6] EDITOR'S NOTE: One of Tighe's surviving journal entries dated March 25, 1796 (or 1797) confesses that she is "Very unhappy in my mind—Yet I find it impossible to resist the flattering temptation of being admired, & showing the world that I am so. My conscience this day has been disturbed—I feel uneasy at the vanity, the folly, the dissipation in which I am engaged. Yet without the power to wish myself disengaged from it" (Collected Poems and Journals, 221). BACK
[7] EDITOR'S NOTE: Richard Polwhele dedicated his polemical poem The Unsex'd Females (1798) to T. J. Mathias, who used that phrase in his conservative satire The Pursuits of Literature (1794). Although Mathias recommended that Tighe publish Psyche, she cited prudence in a letter to him dated August 2, 1806: "I am not insensible to the value of praise from such a pen, so that if the resolutions now made by prudence & timidity shall ever be conquer'd, he will have to reproach himself, in a grand degree, for the ill-success of a publication he has so powerfully encourag'd" (BL 22976: 248-9). For the validity of Tighe's fears see Andrea Bradley's insightful discussion of the Edinburgh Review essay on Amelia Opie's 1802 Poems in its inaugural issue, and the way the reviewer demarcates gendered expectations and boundaries for form, style, and sentiment. BACK
[8] EDITOR'S NOTE: Tighe dates the preface to the 1805 Psyche "Rossana, Jan. 1802" (viii). In the March 1804 manuscript copy of Psyche Tighe transcribed for Lady Eleanor Butler and Sarah Ponsonby (the Ladies of Llangollen) she positions the preface as a postscript and further emphasizes her personal connection to her readers through a telling underline: "I must therefore be forgiven the egotism which makes me anxious to recommend to my readers the tale with which I now present them" (NLW MS 22985B/69). BACK
[9] EDITOR'S NOTE: In Selena Tighe weaves a complicated courtship plot around three inter-connected young women and the men who love and/or leave them. In the main plot the title character Selena Miltern is coerced into marrying her cousin Lord Dallamore and subsequently falls in love with Dallamore's cousin Sidney Dallamore. In an important corollary plot Selena's friend Lady Emily Trevallyn continues to long for her cousin Lord Henry Ortney after she marries the significantly older Lord Trevallyn to fulfill her mother's deathbed request. And in an equally important subplot Lord Henry seduces Angela Harley, who was raised by Lady Trevallyn's (and Lord Henry's) aunt Lady Anne Ortney. Four of the characters write poetry, including Lady Emily, Angela, Sidney Dallamore, and Edwin Stanmore, one of Selena's suitors. BACK
[10] EDITOR'S NOTE: See Linkin, "Mary Tighe, Thomas Moore, and the Publication of Selena" for an extended discussion of how Tighe's relationship with Moore affected her publication history. BACK
[11] EDITOR'S NOTE: Tighe indicates how offended she was by these reviews in a September 1806 journal entry on the Edinburgh Review in her reading journal: "his work is cruelly abus'd & the personality it contain'd provok'd him to call for the author when Mr Jeffrey came forward - I cannot speak with candour or impartiality of an article which has so much wounded my feelings" (NLI MS 4804). BACK
[12] EDITOR'S NOTE: Tighe transcribed an early draft of Moore's "To Mrs. Henry T-ghe, on reading her Psyche" for the manuscript copy of Psyche she prepared for the Ladies of Llangollen in 1804 (NLW MS 22985B). BACK
[13] EDITOR'S NOTE: Interestingly, the next article in the Edinburgh Review offers a mostly favorable review of Opie's Simple Tales for expressing appropriately gendered merits that reproduce the natural pathos of her Mother and Daughters: "There is something delightfully feminine in all Mrs. Opie's writings . . . . very amiable and very beautiful; and exhibit virtuous emotions under a very graceful aspect. They would do very well to form a woman that a gentleman should fall in love with" (467, 471). A poet like Tighe would be caught between the Scylla and Charybdis of Moore and Opie. While Tighe resists commenting on the specifics of the ER's review of Moore, she does comment on the Opie review in her reading journal: "Mrs Opie's simple tales they praise fully as much as they deserve & they give as a specimen a letter I thought very poor & some of the poetry which I did not think very good - yet they are pathetic & tender" (NLI MS 4804). BACK
[14] EDITOR'S NOTE: Although Rev. J. Whitelaw and Rev. Robert Walsh began the trend of naming William Tighe as the unidentified editor in their History of Dublin (2:1214-15), Averill Buchanan offers compelling evidence that Henry Tighe edited the collection with the assistance of Tighe's brother John Blachford (120). BACK
[15] EDITOR'S NOTE: For more discussion of the reviews see Linkin's "More than Psyche." BACK
[16] EDITOR'S NOTE: Caroline Hamilton was a skilled artist who received private lessons from Jonathan Spilsbury (as did her sisters) while her brother Henry Tighe studied at Harrow (1781-1788). After the Tighes returned to Ireland Sarah Tighe engaged the Spilsburys to continue instructing her children in drawing and music and to engage in evangelical work (1789-1790). It is likely that Mary Tighe took occasional lessons from the Spilsburys. See Charlotte Yeldham 21-26. BACK
[17] EDITOR'S NOTE: The National Library of Ireland has dozens of Caroline Hamilton's commonplace books. BACK
[18] EDITOR'S NOTE: The Methodist minister Rev. Henry Moore was very close to Theodosia Blachford; he was one of the fifty friends and family members to receive an inscribed copy of the 1805 Psyche. BACK
[19] EDITOR'S NOTE: Buchanan suggests this second posthumous collection was edited by Theodosia Blachford (based on the inscriptions in the two extant copies at the National Library of Ireland and the Harvard University Library). BACK
[20] EDITOR'S NOTE: Fox includes "The Faded Flowers," "XXVII" ("Or do I dream, or do I view indeed")," "If Slander sting thy swelling heart" (titled "La Guêpe"), "See while the Juggler Pleasure smiles" (titled "Stanza's"), "Il est tems mon Eleonore," "Hope" (titled "Le Retour"), "II Written at Scarborough 1799" (titled "Le Someil"), "Song to Oberon" (titled "Addressed to Oberon"), "Stanzas Written at the Hotwells of Bristol July 1804" (titled "Verses Written at the Hotwells Bristol July 1804"), "The Superannuated Guide's Farewell to the Seven Churches," "Forget me not!" and "The Hours of Peace," as well as a commemorative elegy "To the Memory of Mrs. Henry Tighe Who Died January 1810. Etat 37" and another eight poems transcribed from Psyche, with Other Poems. BACK
[21] EDITOR'S NOTE: The reviewer includes "To Tranquility" (778-79), "Written in a Horace, Presented to her by Dr. ---- on her Birth-day, 1804" (779-80), "Psalm CXXX Imitated.—January, 1805" (780-81), "Address to the West-Wind. Written at Parkgate, Sept. 1805" (781-82), devoting only 10 of the review's 25 pages to a discussion of Howitt's chapter on Tighe (versus Tighe's poems). BACK
[22] EDITOR'S NOTE: This 1834 sonnet was posthumously published in Hemans's Poetical Remains (1836). BACK
[23] EDITOR'S NOTE: Later Hemans comments "Mr. Tighe, the widower of the Poetess, was amongst our party; he had just been translating a poem of mine into Latin, which I am told is very elegant. He is very intelligent & gentlemanly, nevertheless, 'I did not like this Dr. Fell'" (Wolfson 515). BACK
[24] EDITOR'S NOTE: Hemans's sister Harriet Hughes similarly notes "The sonnet 'On Records of Immature Genius' (published in Mrs Hemans's Poetical Remains), was written after reading some of the earlier poems of Mrs Tighe, which had been lent to her in MS" (1.239). BACK
[25] EDITOR'S NOTE: Hemans transcribes a copy of the poem under the title "On the relics of immature genius: written after reading some unpublished pieces by Mrs. Tighe" in Hamilton's Hamwood Album (22984C/49). BACK
[26] EDITOR'S NOTE: In addition to "The Vartree" Tighe identifies herself as "Linda" in "The Hours of Peace," "Verses Written when a detachment of Yeomen were sent against the rebel army," and "Song to my Harp 1798." Sarah Ponsonby names her "Linda" in a manuscript poem praising Psyche ("Sweet Linda! Meditate thy charming song"), as does E. I. Fox in a tribute at the end of "Poems by Mrs. H. Tighe," noting that Linda was "Her own poetic appellation" (no page). BACK
[27] EDITOR'S NOTE: Lady Dacre, then Barbarina Wilmot, sent Tighe a complimentary sonnet after reading Psyche in April 1806. BACK
[28] EDITOR'S NOTE: Moore published two poems titled "The Kiss" in The Poetical Works of the Late Thomas Little, Esq. as well as his "To Mrs. ----. On Her Beautiful Translation of Voiture's Kiss," which praises Tighe's "The Kiss. Imitated from Voiture," printed in volume two of Verses. BACK
[29] EDITOR'S NOTE: William Parnell (1780-1821), later Parnell-Hayes, was a family friend and MP for Wicklow perhaps best known for his An Inquiry into the Causes of Popular Discontents in Ireland (1804) and An Historical Apology for the Irish Catholics (1807). BACK
[30] EDITOR'S NOTE: She did not include "Hagar in the Desert" [April 1807], "To Lady Charlemont, in Return for Her Presents of Flowers. March, 1808," "Written in a Copy of Psyche Which Had Been in the Library of C. J. Fox. April, 1809," "The Lily. May, 1809," "Sonnet Written at Woodstock, in the County of Kilkenny, the Seat of William Tighe. June 30, 1809," and "On Receiving a Branch of Mezereon Which Flowered at Woodstock. December, 1809," all printed in Psyche, with Other Poems. BACK
[31] EDITOR'S NOTE: The Psyche poems name Rossana, Woodstock, Avondale, Killarney, Scarborough, and Malvern (places Tighe inhabited or visited in Ireland or England) and family and friends (her brother John Blachford, her aunt Margaret Tighe, her cousin William Tighe, her niece Sarah Kelly, and her friends Lady Asgill, Lady Charlemont, and William Parnell). The few exceptions include the patriotic sonnet on Charles James Fox, the ballad on the atrocities of 1798 ("Bryan Byrne, of Glenmalure"), the Metastasio imitation "To Fortune," epigraphs from Statius ("Morning") and Poliziano/Molza ("The Vartree"), and incidental references to Senegal ("Pleasure") and Persia ("The Shawl's Petition, To Lady Asgill"). One could also include Tighe's invocations of the Bible in "A Faithful Friend is the Medicine of Life," "Imitated from Jeremiah" and "Hagar in the Desert." BACK
[32] EDITOR'S NOTE: Bowles makes one reference to an unidentified bird in "Sonnet XIII": "As some poor bird, at day's departing hour, / Sings in the sunbeam, of the transient shower / Forgetful, tho' its wings are wet the while" (lines 10-12). BACK
[33] EDITOR'S NOTE: In a letter to Rev. Henry White dated April 7, 1795 Seward mentions meeting Tighe while visiting Butler and Ponsonby and notes that "She left an elegant and accurate sonnet, addressed to Lady E. Butler and her friend, on leaving their enchanting bowers" (4:108). Tighe postdates her sonnet 1796 in Verses, perhaps to align more closely with Seward's poem. BACK
[34] EDITOR'S NOTE: In 1794 the British government sought to cripple the radical and reform movement of the 1790s by rounding up suspected revolutionaries and charging them with treason. More than 30 radicals were arrested; habeas corpus was suspended in May. The Treason Trials began in October and concluded in December. Thomas Hardy, John Horne Tooke, and John Thelwall were tried separately. Each one was exonerated with great public rejoicing, which forced crown lawyers to drop charges against the remaining prisoners. BACK
[35] EDITOR'S NOTE: During much of the eighteenth century use of the sonnet form declined and was even scorned by Pope, Dryden and Johnson. In the 1770s and 1780s the sonnet began to regain popularity through the work of Thomas Gray, Charlotte Smith, Anna Seward, and William Lisle Bowles. BACK
[36] EDITOR'S NOTE: In addition to the four songs named, the other ten include two songs that are attributed to the character Edwin Stanmore in Selena, "Hope" and "The Minstrel," another Mozart song, "Song Adapted to an Air by Mozart 1806" (Mozart's rendition of Christian Adolf Overbeck's "Komm lieber Mai"), an "Imitation from Colardeau," which François-Adrien Boieldieu set to music in 1801, and "Bryan Byrne founded on truth," "Dirge Written at Brompton January 12 1805," "Song 1801," "Song 1806," "Song" ("How hard with anguish unreveal'd"), and "Song" ("Still as on Liffey's banks I stray"). BACK
[37] EDITOR'S NOTE: The Wicklow Yeomen were part-time soldiers (mostly gentry) loyal to the British government who fought against the United Irishmen, the "savage" rebels who sought to end British rule over Ireland. Although the outbreak of military action in Dublin was deterred, fighting in the county of Wicklow was fierce. BACK
[38] EDITOR'S NOTE: The Four Courts, built along the river Liffey in Dublin in 1786-1796, housed the four courts of Chancery, King's Bench, Exchequer and Common Pleas. BACK
[39] EDITOR'S NOTE: Tighe's reading journal entries in 1806 and 1807 evidence her ongoing interest in painting and the picturesque: on September 17, 1806 she expresses disappointment in Charles Bell's 1806 Essays on the Anatomy of Expression in Painting; on May 15, 1807 she notes that "a young artist might reap much instruction" from Salomen Gessner's 1804 The Letters of Gessner and His Family; and on October 12, 1807 she praises Uvedale Price's 1798 Essays on the Picturesque (NLI MS 4804). BACK
[40] EDITOR'S NOTE: This sonnet is one of the four poems clearly intended for Selena but not included in the novel. The other three are "Stanzas Written for Angela 1800," "Verses Written for Angela 1804," and "Written for Angela." Additional poems such as "The Scissars a Riddle" seem to illustrate moments in the novel, as do several sonnets, but are not definitively marked as Selena poems. BACK
[41] EDITOR'S NOTE: Like thousands of women in the eighteenth century Tighe participated in the botanizing craze, collecting specimens, classifying them, and drawing images of them. In an undated letter to her cousin Caroline Hamilton she writes "I botanise a great deal & when I come home loaded with exquisite beauties & wonders, I say to myself with a degree of triumph & self satisfaction 'the world scorns these & calls them by the indiscriminate name of weeds'" (Collected Poems and Journals 260). BACK
[42] EDITOR'S NOTE: Not included in the 37 are Tighe's imitations from the Bible ("Imitation. from Jeremiah Chap XXXI. Ver 15. Nov:r 1800" and "Psalm CXXX. Imitated. Jan.y 1805") and her imitation from Ossian, "Morven and Miruna." BACK
[43] EDITOR'S NOTE: See Tighe's letters to Joseph Cooper Walker, MSS 1461/5-7, Trinity College Library, Dublin and Tighe's reading journal, MS 4804, National Library of Ireland, Dublin. BACK
[44] EDITOR'S NOTE: Tighe only prints one of the sonnets written expressly for Angela in Selena—XXIII—and has the narrator declare that it serves "as a specimen of the whole" (493). BACK