Written On the acquittal of Hardy &c -- Dec:
Page 24

Written
On the acquittal of Hardy &c --
Dec:
r

1794. [1] 

Oh! Erskine! say does not thy generous breast

Beat high with triumph at thy country's love?

Thy strong exertions dost thou not approve,

And deem thy virtue and thy labours blest?

When proud Oppression heard thy nervous voice

5

He shrunk behind the shield which Falsehood rear'd;

The injur'd sufferer then no longer fear'd,

And Truth and Justice bad the world rejoice.

But who for thee shall twine the laurel bough

While sanction'd Murder stalks in martial shew?

10

What heav'n-taught numbers in thy praise shall flow?

And who prepare the wreath to bind thy brow?

Sweeter, far sweeter task to raise thy fame

Than his, whose tribute conquering tyrants claim!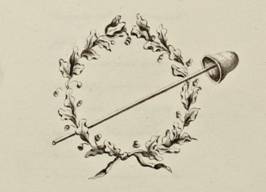 Notes
[1] EDITOR'S NOTE: "Written On the acquittal of Hardy &c -- Dec:r 1794" does not appear in Psyche, with Other Poems or Mary (or Collected Poems and Journals); the sonnet celebrates Thomas Erskine's successful defense of Thomas Hardy, John Thelwall, and John Horne Tooke against the charge of high treason for attempting to overthrow the monarchical system. Coleridge's sonnet "To Erskine" was published in the December 1794 Morning Post:
When British Freedom for a happier land
Spread her broad wings, that flutter'd with affright,
ERSKINE! thy voice she heard, and paus'd her flight
Sublime of hope! For dreadless thou didst stand
(Thy censer glowing with the hallow'd flame)
5
An hireless Priest before th' insulted shrine,
And at her altar pourd'st the stream divine
Of unmatch'd eloquence. There thy name
Her sons shall venerate, and cheer thy breast
With blessings heaven-ward breath'd. And when the doom
10
Of Nature bids thee die, beyond the tomb
Thy light shall shine: as sunk beneath the West
Tho' the great Summer Sun eludes our gaze,
Still burns wide Heaven with his distended blaze.
BACK