Page 13
Address
to my
HARP [1] 
Oh my lov'd harp! companion dear!
Sweet soother of my secret grief,
No more thy sounds my soul must cheer,
No more afford a soft relief.
When anxious cares my heart opprest,
5
When doubts distracting tore my soul,
The pains which heav'd my swelling breast
Thy gentle sway could oft control.
My sickening heart saw hope deferr'd
And sought with thee to cheat the hours,
10
Thy voice my ear delighted heard
And conquer'd felt vexation's powers
 [2]
Each well-remember'd, practis'd strain,
The cheerful dance, the tender song,
Recall'd, with pensive, pleasing pain,
15
Some image lov'd and cherish'd long.
Where joy sat smiling o'er my fate,
And mark'd each bright, and happy day,
When partial friends around me sat,
And taught my lips the simple lay.
20
Page 14
And when by disappointment griev'd,
I saw some darling hope o'erthrown,
Thou hast my secret pain reliev'd,
O'er thee I wept, unseen, alone.
Oh must I leave thee, must we part,
25
Dear partner of my happiest days!
I may forget thy much lov'd art,
Unus'd thy melody to raise.
But ne'er can memory cease to love
Those scenes where I thy charms have felt,
30
Tho' I no more thy power may prove,
Which taught my soften'd heart to melt.
Forc'd to forego with thee this spot,
Endear'd by many a tender tie,
Where rosy pleasure bless'd my lot,
35
And sparkled in my cheated eye.
Yet still thy strings, in Fancy's ear,
With soothing melody shall play,
Thy silver sounds I oft shall hear,
To pensive gloom a silent prey.
40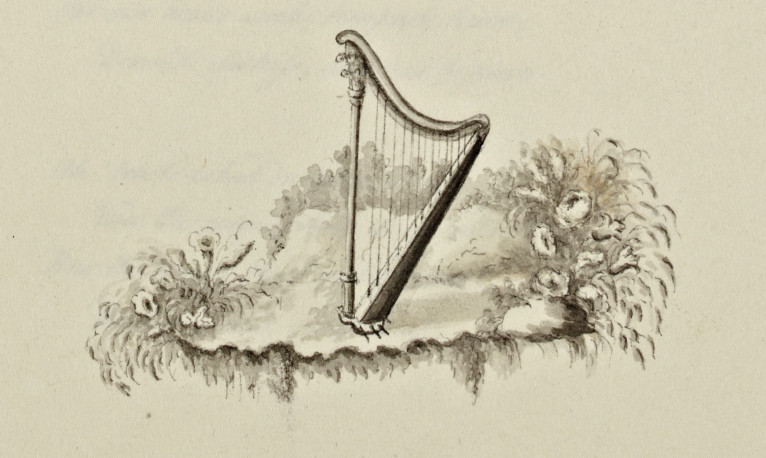 Notes
[1] EDITOR'S NOTE: "Address to my Harp" is printed in Psyche, with Other Poems and is not dated there or in Verses but may have been written in 1804 when Tighe travelled to England to seek a cure for her failing health. The illustration depicts Tighe's harp, made by Sebastion Erard c. 1787. Miranda O'Connell notes "This instrument was a treasured possession and travelled with her whenever possible because it had been made specially for her by Sebastian Erard, who had first established himself in Paris in 1768 as a piano and harp maker and opened a branch in London in 1786 at 18, Great Marlborough Street and another later (after the French Revolution, when he left Paris) in Regent Street. His name and his first London address are inscribed on Mary's harp" (192). BACK
[2] EDITOR'S NOTE: Psyche, with Other Poems does not include this stanza. BACK