II. Cupid's Quiver "Diversos animos &c"
Page 56

II.
Cupid's Quiver
"Diversos animos &c" [1] 
To fix the conquest of each varying mind
The Idalian Boy has various arms assigned;
If eagle plumage cleave the sounding air
Then heroes' hearts are doomed to amorous care;
But if the peacock's gaudy tail supplies
5
A lighter wound, the coxcomb Cotta dies;
And still, loquacious girl! to paint thy words
The chattering pie his ready plume affords.
But when enamoured on his Lesbia's strain,
The languid lover hangs with thrilling pain
10
'Tis Philomela wings the softer dart,
And bids each liquid note dissolve the heart.
While 'mid the wanton youth he hurls his arrows,
Light fly the feathers of his Mother's sparrows.
But when my Celia's heart he sought to move
15
He chose the plumage of her favorite dove,
And gently stole from the unguarded nest
This softest down that cloathed his faithful breast.
Ah! who can hope to shun the crafty Boy
Who can so sweetly wound, such different arms employ?
20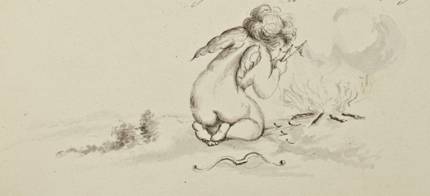 Notes
[1] EDITOR'S NOTE: "Cupid's Quiver" does not appear in Psyche, with Other Poems or Mary (or Collected Poems and Journals) and is undated in Verses. It presents a verse translation of the 14-line Carmina quadragesimalia poem "Diversos animos" ("The varying minds") under the heading "An Effectus requirat Agentem sibi proportionatum? Affirmatur":
Diversos animos ut vincere possit amantuum,
Diversa Idalius dirigit arma Puer.
Instruat emissas aquilae si penna sagittas,
Magnanimi herois saucia corda dolent.
Sin alam telo pavonis cauda ministrat
5
Versicolor, molli vulnere Cotta perit.
Credula multiloquo cùm virgo cedit amanti,
Pennatam praebet garrulus ales opem.
Accelerat jaculum Philomela; pluma per auras?
Languentem captat Lesbia voce procum.
10
Cum ruit in venerem juvenum lascivior aetas,
Ictum communem passeris ala regit.
Hinc passim nullo discrimine sternit amantes,
Tela gerens cordi cuilibet apta, Puer.
BACK