THE DOVE Anacreon Ode 15.
Page 25

THE DOVE
Anacreon
Ode 15. [1] 
Graceful dove, on pinion light,
Whither dost thou bend thy flight?
Whence the fragrance thou dost bear
Breathing thro' the perfumed air,
Showering from thy rapid wing
5
All the odours of the spring?
Fond enquirer, let me go
Sappho's dove thou sure shouldst know.
To Bathylus, to her love,
Sappho sends her faithful dove,
10
To Bathylus who all hearts
Rules by soft bewitching arts.
Gift of Venus for a song
I to Sappho now belong,
And to both forever true,
15
Love I serve, and Sappho too.
Soaring thro' the liquid air
See the tablets which I bear
Promised for my swift return
Page 26

Liberty which yet I spurn.
20
Wherefore should I wander wide
O'er the mountain's pathless side,
Or weary seek the tender shoot
To crop the wild wood's tasteless fruit,
When now from Sappho's hand, at will,
25
I snatch my food with fearless bill,
From the full bowl allowed to sip
Just kissed by Sappo's ruby lip;
A weary wanderer thro' air,
What greater freedom could I share,?
 [2]
30
While hovering sportive o'er her head
My fluttering pinions thus I spread,
Or resting on her lyre I hear
Its magic sounds with ravished ear.
Enough - farewell - loquacious grown,
35
Sappho will her dove disown.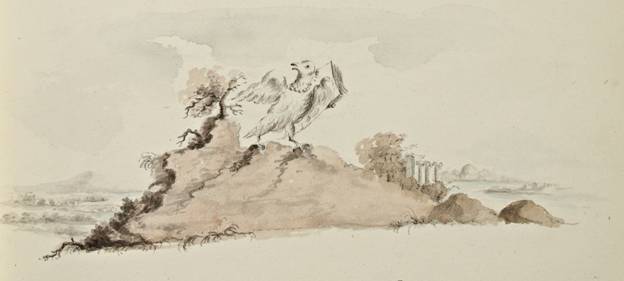 Notes
[1] EDITOR'S NOTE: "The Dove Anacreon Ode 15" does not appear in Psyche, with Other Poems or Mary (or Collected Poems and Journals) and is undated in Verses. Most verse translations of Anacreon's ode on the dove identify it as Ode IX (per Joshua Barnes's 1705 edition) rather than Ode XV (the Vatican MS order that Thomas Moore follows in his 1801 Odes of Anacreon); it seems likely that Tighe's poem is a response to other verse translations (there is no record of Tighe studying Greek as she did Latin, French, Italian and German). Here she refigures Anacreon's beloved Bathylus as the lover of the Greek lyric poet Sappho. BACK
[2] EDITOR'S NOTE: This line ends with a comma and a question mark in the manuscript. BACK