Page 8
The Faded Flowers [1] 
Lovely objects of decay,
Lo! before th'admiring eye,
How your beauties fade away!
How your brilliant colours fly!
Fondly valued, vainly lov'd,
5
Why so quickly must you droop?
E're my envious pencil prov'd
How your lustre mocks its hope.
Yet a little longer live,
'Till my powerless art has tried
10
Immortality to give
To your transitory pride.
Still my imitative care
Sought to keep what I deplore,
And what Nature could not spare,
15
Fain would Art for me restore.
Scarcely sketch'd the outlines lie,
Faintly trac'd with mimic hues,
E're my lovely models die,
And their glowing tints refuse.
20
Image of my joys, alas
E're remembrance marks their stay!
Thus my brilliant pleasures pass,
"Glories of an April day!"
 [2]
Page 9
Memory lend thy magic art,
25
Let thy renovating power,
On the tablets of my heart
Stamp each lov'd, regretted hour.
Images of past delight
May I you at least preserve!
30
Still let joy's illusion bright
Thrill thro' each enchanted nerve!
Paint the voice, the look, the smile,
All that charm'd my cheated soul
All that sorrow could beguile,
35
Soothing cares with soft control.
Ah they fade! the charm is o'er,
Faint, and yet more faint they grow,
Tones belov'd, but heard no more,
Beams of bliss, and Love's own glow!
40
Essence of such subtle power,
Sure no chemic art can seize,
And the sweets which charm this hour
Once exhal'd no more can please.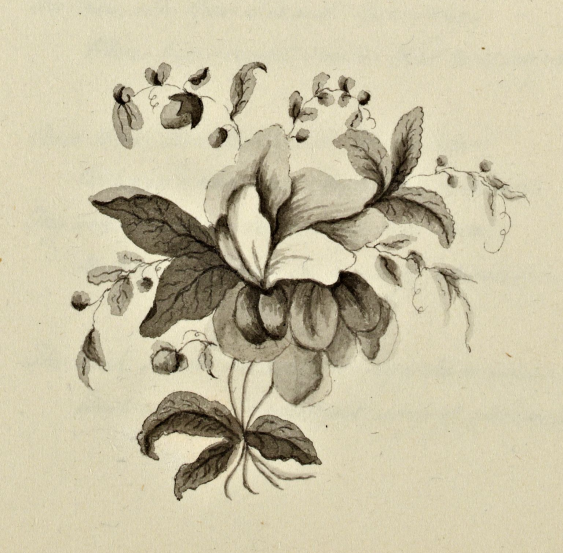 Notes
[1] EDITOR'S NOTE: "The Faded Flowers" does not appear in Psyche, with Other Poems or Mary (or Collected Poems and Journals) and is undated in Verses. BACK
[2] EDITOR'S NOTE: Tighe quotes Proteus from Two Gentlemen of Verona (1.3.84-87)--"Oh, how this spring of love resembleth / The uncertain glory of an April day; / Which now shows all the beauty of the sun, / And by and by a cloud takes all away"--who has just learned he must part from his beloved Julia to obey his father's command that he further his education in Milan. BACK