Madagascar eclogue Imitated from the Chev. du Parney.
Page 27

Madagascar eclogue
Imitated from the Chev. du Parney. [1] 
Ampoina
Fairest of the captive train,
Raise thy silky-curtain'd eye;
Cease thy tears, and speak what pain
Taught thy lovely breast that sigh.
Vaina
Shall the wretched Vaina dare
5
Here her sorrows to deplore?
To her King her fears declare
Those eyes shall see her love no more.
Ampoina
Lovelier than the morn's first ray
Where is thy beloved gone?
10
Vaina, beauteous captive say
Has thy lover faithless flown?
Vaina
In the battle's dreadful day
Fierce and fearful was the fight.
Page 28

There perhaps he breathless lay,
15
Loving freedom, scorning flight.
Ampoina
Vaina, weep his loss no more,
Death, or flight his portion be,
Fate shall love and joy restore,
In thy King thy lover see.
20
Vaina
Let my Sovereign's pitying eye
Mark the tears which bathe his feet,
In the dust his slave would lie
Nor his angry glances meet.
Ampoina
Vaina fearlessly impart
25
Whence thy griefs redoubled rise?
Chosen of thy monarch's heart,
Fairest in thy monarch's eyes.
Vaina
To Vaina's lips with fond consent
Hath not her lover's oft been prest?
30
Those eyes to earth now sadly bent,
To his have all her heart confest.
Hath he not on this breast reclin'd?
Dwells he not ever in this heart?
Page 29

And shall the power of earth combin'd
35
Force his lov'd image to depart?
Ampoina
Captive maid, receive this veil;
Hide thy charms from every eye;
From thy King no wish conceal.
Nothing will he now deny
40
Vaina
Oh permit thy wretched slave,
'Mid the fallen youths to seek
Him who fell a victim brave,
Let her press his pallid cheek.
Ampoina
Maid of sorrow, go in peace,
45
Perish him whose barbarous loves
Could for selfish joys encrease
The woe thy gentle bosom proves.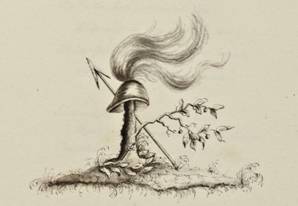 Notes
[1] EDITOR'S NOTE: "Madagascar eclogue Imitated from the Chev. du Parney" does not appear in Psyche, with Other Poems or Mary (or Collected Poems and Journals) and is undated in Verses; it presents a verse translation of Évariste de Parny's "Chanson VI" in his Chansons Madécasses (1787). Tighe changes Parny's "Ampanani" to "Ampoina" and skips the first two lines below ("Young prisoner, what is thy name?" My name is Vaïna."), to begin with Ampanani's compliment "Vaïna, you are as beautiful as the first ray of daylight":
AMPANANI
Jeune prisonnière, quel est ton nom?
VAINA
Je m'appelle Vaïna.
Vaïna, tu es belle comme le premier rayon du jour. Mais pourquoi tes longues paupières laissent-elles échapper des larmes?
VAINA
O roi! J'avais un amant.
AMPANANI
VAINA
Peut-être a-t-il péri dans les combats, peut-être a-t-il dû son salut à la fuite.
AMPANANI
Laisse-le fuir ou mourir, je serai ton amant.
O roi! Prends pitié des pleurs qui mouillent tes pieds!
AMPANANI
Que veux-tu?
VAINA
Cet infortuné a baisé mes yeux, il a baisé ma bouche, il a dormi sur mon sein; il est dans mon coeur, rien ne peut l'en arrachera . . . .
20
AMPANANI
Prends ce voile et couvre tes charmes. Achève.
VAINA
Permets que j'aille le chercher parmi les morts, ou parmi les fugitifs.
Va, belle Vaïna. Périsse le barbare qui se plait à ravir des baisers mêlés à des larmes!
BACK