MELANCHOLY Imitated from L'Abbate Monti. 1804.
Page 77
MELANCHOLY
Imitated from L'Abbate Monti.
1804. [1] 
Oblivion of our ills! solace most sweet
Of the sick mind, when cares, and anxious thought
Disturb its calm! Oh! Solitude beloved.
Come from these torments set my bosom free,
And in the veil of night wrap all my woes.
5
Thee these sad shades invoke with friendly gloom,
And thee, from every leafy, dark excess,
The viewless winds in melancholy sighs
Implore. And wilt thou hear? art thou even now
Hovering around? and 'mid the murmurs hoarse
10
Of these wood-breezes, with inspiring voice
Wilt thou thine own pathetic ardour breathe?
Yes thou art here! parent of sadden'd strains!
Before my eyes I see thy dark brows lower.
I feel my palpitating heart confess
15
Thy well-known presence. my rous'd spirits boil;
My brain inflam'd beholds the shapeless throng
Of wild ideas, as they threatning seem
To rush tumultuous - my unprisoned thoughts
Fly headlong with unbridled sweep, like winds
20
Page 78
Whose sudden fury agitate the waves.
Urged by their force, on what deserted shore
Into what frightful cavern am I plunged?
Is this the path to dreaded Acheron?
 [2]
I hear the mournful sighing of the blast,
25
And the deep murmur of the sullen flood,
While a chill horror creeps upon my soul.
On the rude cliffs, and o'er the mountains brow
The scouring clouds ride imminent, or hang
With menace dark. Oh savage hills! Oh rocks
30
Dreary and desolate! Oh silence! still
As night, and death. and thou black, secret cave,
Fit residence for wolves, receive me now!
Thy darkness suits the sadness of my soul,
And Melancholy here respires more free.
35
Perhaps this sand is by the footsteps marked
Of some despairing lover, whose sad days
Were here cut off. I too, with wandering steps,
To love a prey, am hither led, and seek
No pitying ear to listen to my woes.
40
Relentless monster, cruel, faithless Love!
Hast thou then found who yet will worship thee?
Accursed be the thoughts that I have given
Thine idle dreams! accurs'd the wiles, the charms
Which first seduc'd my soul! accurs'd the shades
45
The conscious witnesses of all the hopes,
Too long in vain indulged, and now destroyed,
With our once happy, now divided loves!
What hast thou said Ah fool! Of the lost good,
Which yet torments thy poor deluded heart,
50
Page 79
Why rouse the stinging memory? Behold
Encreasing horrors blacken all around,
Distemper'd fancy's offspring! gathering clouds
Torn by the angry winds, o'er all the face
Of Heaven their black, funereal mantle spread;
55
While from their bosoms flash the livid fires
'Mid the loud thunders roar: the tempest wild
Burst with devouring fury o'er the woods,
From steep to steep the swelling torrents rush,
While mingled trees, and cottages, and rocks
60
O'erwhelmed in horrid devastation sweep.
Fly images of dread! poor, harassed thoughts
Seek shelter from the gloomy scenes around,
'Till all the fury of the storm is past.
Here, in this mournful, solitary cave,
65
A little calm this agitated breast.
From the dark sod within the hollow'd rock
The opposing spectres start, and flitting by
Funereal groans low murmur in my ear.
Stay mournful shade! whose melancholy voice
70
Seems to confound its sad complaints with mine.
Unburied form, what art thou? nought replies
Save the lone echo of the hollow vault.
Whence is this sudden chill? why stand these drops
Of horror on my brow? & whence is this
75
Tremendous phantom, who before me lifts
High pois'd his threatning lance? support me now
My sinking courage; 'Tis the face of Death!
Hence dreadful Power! spare my congealed blood
Page 80
My stiffning nerves a horror so intense!
80
Art thou here sent my punishment from Heaven,
And must I hail the light of day no more?
Ah see! as yet my days are in their spring
Let not thy fury the untimely fruit
Devouring seize! Pitying I see thee stand,
85
And mercy in thy silent looks I read.
Yet, yet I breathe; some respite is allow'd;
Thou art not then so terrible Oh Death!
Fearless I gaze upon thy form, which now
Brings tears, but no more horror to my eyes.
90
I fly thee then no longer, but approach
Trembling indeed, yet anxious to behold
In thee the image of myself, here then
This skeleton depriv'd of flesh, that fills
The pride of human dust with shuddering awe,
95
These dry and nerveless bones, these frightful jaws,
Those black and hollow caverns of the eyes,
Ah strike upon my soul with mournful light
And tear the curtain from my languid sense.
I too am sprung from dust corruptible;
100
And thee, inexorable Death! ere long
Must fix thy talons on these destin'd limbs,
And burst for me the wide-opposed doors;
Eternal doom! Trembling on each I gaze,
To which of these, ah which! am I decreed
105
My timid hopes? When shall the hand of fate
Seize on the remnant of my days, and strike?
Alas, already o'er my shrinking head
Page 81
The arm is raised, the fatal blow prepared.
While with tremendous voice in dread array,
110
I hear the uttered record of my crimes.
Adieu, delicious images of Life!
Beloved deceits adieu! Lo! Death appears
Even at my side. Ah! yet suspend the stroke
A little while, 'till from these streaming eyes
115
The melting tears of penitence may flow.
Since sweet the bed of Death bedewed with tears.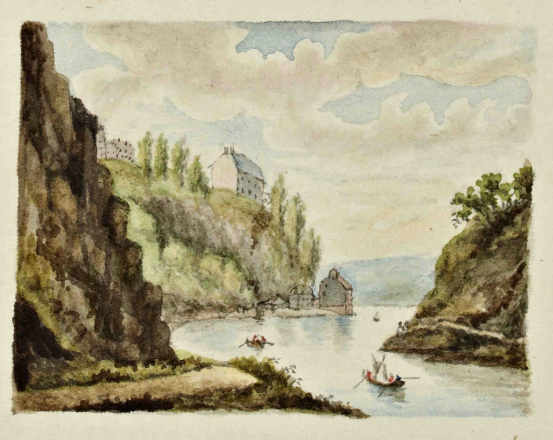 Notes
[1] EDITOR'S NOTE: "Melancholy Imitated from L'Abbate Monti. 1804" does not appear in Psyche, with Other Poems or Mary (or Collected Poems and Journals). It presents a verse translation of Vincenzo Monti's "Entusiasmo Malinconico" (published in Saggio di Poesie, 1779):
Dolce de mali obblio, dolce dell' alma
Conforto, se le cure egre talvolta
Van de' pensieri a intorbidar la calma.
O cara Solitudine, una volta
A sollevar, deh! vieni i miei tormenti
5
Tutta nel velo della notte avvolta.
Te chiamano le amiche ombre dolenti
Di questa selva, e i placidi sospiri
Tra fronda e fronda de' nascosti venti.
Sei tu forse, che intorno a me t'aggiri,
10
E simile alle fioche aure del bosco
Il tuò furor patetico m'inspiri?
Si, tu sei dessa; il tuo sembiante fosco
Risvegliator di lagrimosi carmi,
Io mi veggo su gli occhi, io lo conosco.
15
Sento le membra tutte palpitarmi,
E da bollenti spiriti sconvolto
Il cerebro infiammarsi, e il cor tremarmi.
L'informe dell'idee popolo folto
A fremere incomincia, e m'arronciglia
20
Gli occhi, la fronte, e mi rabbuffa il volto.
Il pensier si sprigiona, e senza briglia
Va scorrendo, qual turbo inferocito,
Che il dormente Oceàn desta e scompiglia.
In quai caverne, in qual deserto lito
25
Or vien egli sospinto? È forse questo
Il sentier d'Acheronte e di Cocìto?
Odo dell' aura errante il fischiar mesto,
E il taciturno mormorar del fonte,
Che un freddo invìa su l'alma orror funesto.
30
Su i fianchi alpestri, e sul ciglion del monte
Van cavalcando i nembi orridi e cupi,
E stan pendenti in minacciosa fronte.
Oh piagge oscure! oh spaventose rupi!
Oh rio silenzio! oh solitarie speco,
35
Segreto albergator d'orsi e di lupi!
Tu mi capisci: il tenebror tuo cieco
Piace al cor mesto; e forza acquista e lena
Da te la doglia, e quel terror che è meco.
Forse un tempo segnar quest'arsa arena
40
L'orme di qualche disperato Amante,
Cui la vita fu tronca dalla pena.
Anch'io qua movo il debil passo errante
D'amor trafitto, e il mio tormento chiede
Confidenza da queste orride piante.
45
Mostro senza pietade e senza fede,
Crudel Amor! tu dunque troverai
Chi t'arda incensi, e ti si curvi al piede?
Maledetto il pensier ch'io ti donai;
Maledette le trecce, e la scaltrita
50
Sembianza, onde sedurre. io mi lasciai;
Maledetta l'infausta ombra romita
Conscia de' miei trionfi, e della spene
Lungo tempo felice, e poi tradita.
Folle, che dissi? D'un perduto bene,
55
Che lo spirto deluso ange e percote;
Chi la memoria a suscitarmi or viene?
Ahi, che l'alma delira; e per le gote
Tremolo va serpendo orror soverchio,
E un altro fiero immaginar mi scuote!
60
Veggo le nubi trascinate a cerchio
Dagli iracondi venti al Mondo tutto
Far di sopra un ferale atro coperchio.
Mugge il tuono fra' lampi e dappertutto
Dal sen de' nembi la tempesta sbalza,
65
E schianta i boschi il ruinoso flutto.
Piombano con furor di balza in balza
Gonfi i torrenti, e tetti e selve e massi
In giù la strepitosa onda trabalza.
Ah voi fuggite, o miei pensieri, e lassi
70
Nascondetevi tutti al triste obbietto,
Finchè del cielo la procella passi!
O flebil antro, o flebile ricetto,
Lascia, che in questa almen nera spelonca
Ricovri alquanto il conturbato petto.
75
Del tufo sotto alla scavata conca
Corrono ad incontrarmi le tenèbre,
E ognuna sul mio crin piove, e si tronca.
Spettri e larve davanti alle palpèbre
Passar mi veggo bisbigliando, e sento,
80
Che gemono d'intorno in suon funèbre.
Oimè! forse d'errante Ombra il lamento
È quel, che dalla cavernosa volta
Emerge mormorando lento lento?
Se nemica non sei, fermati, ascolta:
85
Tu, che meco confondi le querele,
Che vuoi da me, dogliosa Ombra insepolta?
Ma tace l'indiscreta Ombra crudele,
E per l'orror del tenebroso albergo
Sol la cupa risponde Eco fedele.
90
Ahi! chi m'ágghiaccia il cor? di qual m'aspergo
Freddo sudor la fronte? e qual tremendo
Fantasma è quello, che mi vien da tergo?
Sostienmi, o mio coraggio. Ecco l'orrendo
Volto di Morte! Arricciasi ogni pelo,
95
E l'alma al cuor precipita fremendo.
Ah fuggi, ah fuggi, e alle mie vene un gelo
Sì feroce risparmia! In queste grotte
Forse t' invìa per mio supplizio il Cielo?
Deh, che questa non sia l'ultima notte
100
De' crescenti miei di; Guardami, e vedi,
Che innanzi tempo il tuo furor m'inghiotte .
Tu mi guati, non parli, e ritta in piedi
Pietosamente ti soffermi, e alquanto
Respirar dalla tema mi concedi.
105
Oh Morte! oh Morte l Eppur terribil tanto
Non sei qual sembri. Tu su gli occhi adesso
Mi chiami, in vece di spavento, il pianto.
Dunque più non fuggir, vienmi dappresso;
Ah, perchè tremo ancor? Vieni, ch'io voglio
110
Ne' tuoi sembianti contemplar me stesso.
Questo, che stringo d'ogni carne spoglio
Scheltro sventrato, che di rea paura
Empie la polve dell' umano orgoglio;
Questa di coste orribil selva e dura;
115
Queste mascelle digrignate, e questa
Degli occhi atra caverna e sepoltusa,
Quale al pensier mi avventano funesta
Luce lugubre, che all'incerto ciglio
Rompe la benda, e dal letargo il desta!
120
Di putredine e fango anch'io son figlio;
E tu tra poco, inesorabil Morte,
Su queste membra stenderai l'artiglio.
Di due contrarie Eternita le porte
Tu mi spalanchi. Io le riguardo, e tremo,
125
E il pallor cresce delle guance smorte.
A qual di queste, o mie speranze, andremo?
E qual fia l'ora, che la man del Fato
M'abbranchi, e de' miei di tronchi l'estremo?
Lasso! alle spalle ei già mi rugghia, e alzato
130
Tienmi il ferro sul capo, e il colpo affretta,
Gridando orrendamente, il mio peccato.
Addio, dolci lusinghe! addio, diletta
Immagine di vita! Ecco d'accanto
Stammi la Morte, che la falce ha stretta.
135
Deh, la sospenda ancor per poco! e intanto
Dall' aperte pupille mi trabocchi
Fiume d' amaro inconsolabil pianto;
Poichè bello è il morir col pianto agli occhi. (1-139)
Tighe's friend Joseph Cooper Walker commends this poem in his
Historical Memoir on Italian Tragedy
(1799): "In his Versi, the little poem entitled Entusiasmo Malinconico, is worthy the vigorous pencil, and gloomy genius of his favourite Dante: even the 'black melancholy' of Pope, breathing her horrors o'er the deep woods, and falling waters of the Paraclete, must yield, in sublimity, to the Entusiasmo Malinconico of our author" (33).
BACK
[2] EDITOR'S NOTE: Acheron, the river of pain, was thought to flow into Hades. BACK