Song Adapted to an Air by Mozart 1806.
Page 70

Song
Adapted to an Air by Mozart
1806. [1] 
Come May! bring pleasant weather,
And bring the maid I love,
That we, once more, together
May thro' the greenwood rove.
Soft hope returns with thee,
To bless the longing lover
With all he sighs to see.
Like me, with smiles of gladness,
To welcome thee, sweet May!
10
All nature bids her sadness
At thy approach give way;
The year's delicious morning,
For love, and beauty deckt,
Thy smiles the world adorning,
15
The face of Heaven reflect.
Page 71

Shed, from thy lip of roses,
Those sweets that breathe delight,
While Flora's hand discloses
Thy charms all glowing bright.
20
Unveil thy bosom's treasure
And from thine eyes let fall
Those dewy drops of pleasure
That joy to life recall.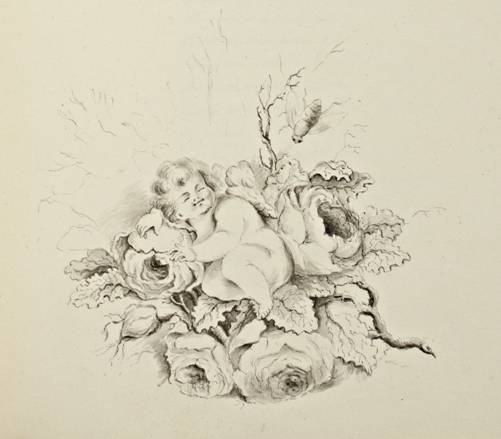 Notes
[1] EDITOR'S NOTE: "Song Adapted to an Air by Mozart 1806" does not appear in Psyche, with Other Poems or Mary (or Collected Poems and Journals). It is the first of the poems in Verses to be dated past the 1805 inscription date of the title page. It presents a verse translation of Christian Adolf Overbeck's 5-stanza 1781 song "Komm, lieber Mai, und mache die Bäume wieder grün" ("Come dear May, and make the trees green again), which Mozart set to music in 1791 (K. 596). Following Mozart, Tighe's lyric attends to stanzas 1, 2 and 5 from Overbeck:
Komm lieber Mai und mache
Die Bäume wieder grün
Und laßt uns an dem Bache
Die kleinen Veilchen blüh'n
Wie möchten wir so gerne
5
Ein Blühmchen wieder seh'n
Ach lieber Mai wie gerne,
Einmal spazieren geh'n
Zwar Wintertage haben
Wohl auch der Freuden viel
10
Man kann im Schnee frisch traben
Und treibt manch Abendspiel
Baut Häuselchen von Karten,
Spielt Blind Kuh und fand
Auch dies wohl Schlittenfahrten
15
Auf's liebe freie Land
Doch wenn die Vöglein singen
Und wir dann froh und flinn
Auf grünem Rasen springen
Das ist ein ander' Ding
20
D'rum komm und bring vor Allem
Uns viele Veilchen mit
Bring auch viel Nachtigallen
Und viele Kuckucks Lied
Mich Lottchens Herzeleid,
Das arme Mädchen lauert
Recht auf die Blumenzeit.
Umsonst hol ich ihr Spielchen
Zum Zeitvertreib herbei,
30
Sie sitzt in ihrem Stuhlchen,
Wie's Hühnchen auf dem Ei.
Ach, wenn's doch erst gelinder
Und grüner draußen wär!
Komm, lieber Mai, wir Kinder,
35
Wir bitten gar zu sehr!
O komm und bring vor allem
Uns viele Veilchen mit,
Bring auch viel Nachtigallen
Und schöne Kuckucks mit.
40
BACK