Page 66
SONG
to
OBERON [1] 
Sweet Sprite! if e'er thy fairy sway
O'er female hearts delight to reign,
Now Oberon, attend my lay
Nor let the votive song be vain!
And tho' my lips can never boast
5
The powers which tuneful Greville's knew,
They speak a heart as sorely crost,
And shrinking from as keen a blow.
I do not ask the fragrant flower,
Tho' its fresh leaves with dew drops shine,
10
For well I know ere one short hour
The thorny stem alone were mine.
For one of ever verdant leaves,
The simple, constant garland form,
Such as the hand of friendship weaves,
15
To bloom in frosts, and brave the storm.
Page 67
And spare this weak, this tender heart,
That throbs with yet remember'd woes,
Reluctant, fearful now to part
With peace which scarce at last it knows.
20
Oh grant me nought that cannot stay,
Nor mock me with ideal joy,
A joy that soon must pass away
And leave regret and memory's sigh!
 [2]
And if thou hast such potent spell
25
Of soft oblivious, healing power,
As witching bards delight to tell
In Midsummer's enchanting hour.
Oh! then propitious o'er my sleep
Distill the soft and kindly dew!
30
And in Lethean dullness steep
Remembrance yet too sadly true.
The transient bliss forever gone,
The sting of self-reproach, and shame,
The moon too bright, the storm of noon,
35
The dreaded blast that withering came;
The smile of pleasure scarce enjoy'd,
That rankling yet in memory stings,
The idle vows, the hopes destroy'd,
The voice which still in Fancy rings;
40
Page 68
All then in silent peace shall lie,
And torture this sad breast no more;
Sweet Spirit haste! the drops apply,
And all my soul to peace restore!
So by the green banks sunny side,
45
And thro' the dark woods' tangled way,
And by each pebbled, moss-fring'd tide,
That loves thro' lonely wilds to stray.
Thy fav'rite haunts my feet shall trace,
Thus grateful lose my peaceful hours,
50
Admiring mark each slighted grace
That decks thy wild uncultur'd flowers.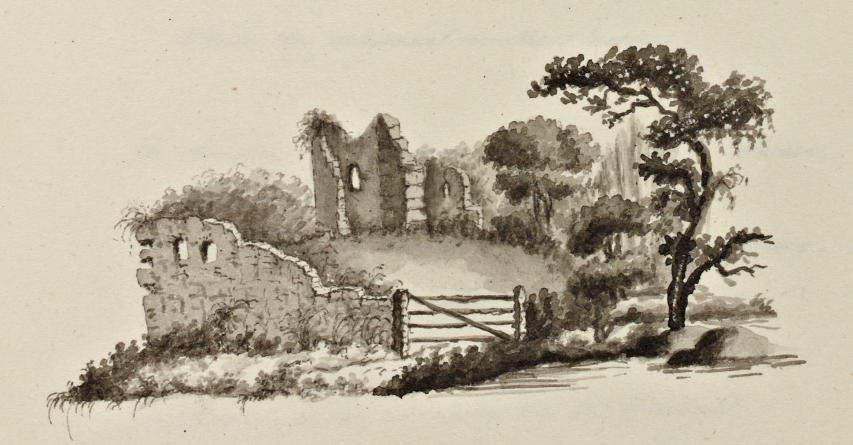 Notes
[1] EDITOR'S NOTE: "Song to Oberon" does not appear in Psyche, with Other Poems or Mary (or Collected Poems and Journals) and is undated in Verses. Addressed to Shakespeare's fairy king Oberon from A Midsummer Night's Dream, the poem follows Frances Greville's "A Prayer for Indifference" (1759): "Oft I've implor'd the gods in vain, / And pray'd till I've been weary; / For once I'll seek my wish to gain / Of Oberon, the Fairy" (lines 1-4). BACK
[2] EDITOR'S NOTE: Tighe breaks the rhyme scheme here (joy/sigh). BACK