SONG Post nublia Phoebus.
Page 15
SONG
Post nublia Phoebus. [1] 
See, my love, yon angry deep,
Hear its wild tumultuous roar,
While the storm with furious sweep
Drives the billows to the shore.
Mark yon vessel rudely tost;
And the mariner distrest
'Midst the 'whelming ruin lost.
Such the storm's distracting power,
Fate prepares for wretched Love,
10
O'er our heads such tempests lower,
Doom'd distress, and fear to prove.
Ah! behold what sudden peace!
View the calm which reigns at last:
How the winds their contest cease
15
Hush'd is every ruder blast.
Page 16
The darkling gloom begins to fly,
The sun shines forth with cheering ray,
The wat'ry mirror of the sky
Brightens in the smiling day.
20
The vale reviving glows again,
Again th'illumined hills shine clear,
The shadowy clouds flit o'er the plain,
And swiftly shifting, disappear.
So, my Love, the Heav'ns for us
25
Shall assume a kinder form,
Our distress shall vanish thus,
Thus shall fly our cruel storm.
Bright the day for us shall shine,
Gloomy doubt shall disappear,
30
Peace shall to our prayers incline
Fled our sorrow, care and fear.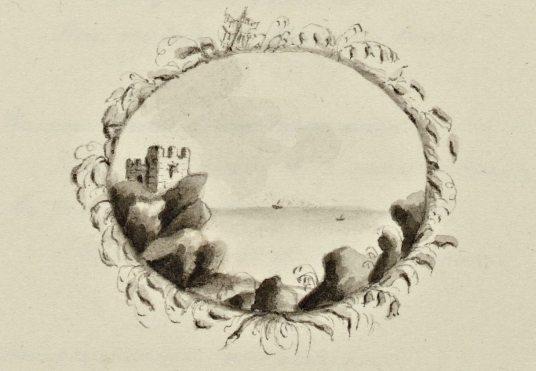 Notes
[1] EDITOR'S NOTE: "Song Post nublia Phoebus" does not appear in Psyche, with Other Poems or Mary, and is undated in Verses. Hamilton copies lines 1-16 and 25-32 in NLI MS 4800 as "Song" (the source text for Collected Poems and Journals). The Latin phrase "post nublia Phoebus" means "after clouds, the sun." Tighe is invoking Phoebus Apollo, the sun god. BACK