The superannuated guide's Farewell to the Seven Churches WICKLOW May 27, 1796
Page 17
The superannuated guide's
Farewell
to the
Seven Churches
WICKLOW
May 27, 1796 [1] 
Farewell, ye awful scenes sublime,
Farewell, long-known, oft trodden spot,
The weary steps once more I climb,
And seek once more my lonely cot.
What hope remains? life's ebbing tide
5
Can scarce suffice to bear me home;
All other prospects are denied,
Save my last rest, the lowly tomb.
No more must I yon brow ascend,
A welcome guide those scenes to trace,
10
My fainting limbs beneath me bend,
I touch the verge of life's short space.
And you, farewell, who gaily now
Press the green sod with footsteps light,
Page 18
Enjoy, while youth will yet allow,
15
Life's transient pleasures ere their flight.
Farewell! alas, you too must part!
You too the parting pang must know!
Each fond indulgence of the heart
You too must forc'd at length forego!
20
How many a band like you I've viewed,
How many a charm'd and charming pair,
The rugged path like you pursued,
With hearts as light, and forms as fair.
How oft I gain'd the frowning steep,
25
And rous'd the echoes from the hill!
How silent now the voices sleep,
Which then the vales with joy could fill!
O'er the clear mirror of the flood
Where now you sportive, careless stray,
30
The lovers oft delighted stood
And smil'd, and charm'd the hours away.
Go thoughtless youth! to yonder brink.
Say have they left one slightest trace,
There now survey thy form, and think
35
How soon will pass the fleeting grace.
Ere yet you quit the sacred pile
The ruin'd heap of reverend stone;
Ah stop with fond regret a while,
And sigh for hours forever gone!
40
Page 19
Farewell! whate'er your future fate,
Still in your minds preserve this day,
On it may dear remembrance wait,
Long in your hearts each image stay.
And if such roses pleasure flings
45
O'er thy sequester'd, tranquil days;
Scorn not her gifts, nor scorch her wings
In dissipation's eager blaze.
Alas! should life protracted long
Give you an age like mine to bear,
50
What transient joys to man belong
You then shall own, how small the share!
The pilgrimage of life's dull road
To others now I leave to trace,
The weary way at last I've trod,
55
And suffering toil'd th'alloted space.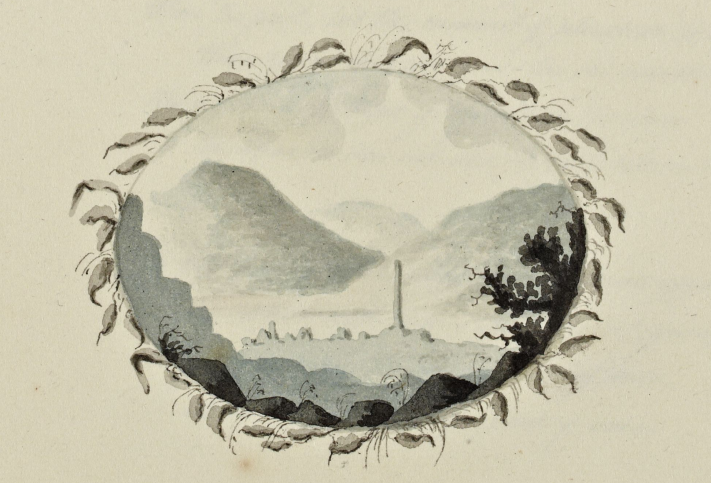 Notes
[1] EDITOR'S NOTE: "The superannuated guide's Farewell to the Seven Churches Wicklow May 27, 1796" does not appear in Psyche, with Other Poems or Mary (or Collected Poems and Journals). The title refers to Glendalough or the Seven Churches (shown in the illustration), a famous monastic site in Wicklow that has attracted pilgrims and tourists since it was founded by St. Kevin in the 6th century. BACK