The Picture Written for Angela. 1802.
Page 52
The Picture
Written for Angela.
1802. [1] 
Yes, these are the features already imprest
So deep by the pencil of love on my heart;
Within their reflection they find in this breast,
Yet something is wanting--ah! where is the art
That to painting so true can that something impart
5
Oh! where is the sweetness that dwells on that lip?
And where is the smile that enchanted my soul?
From those roses no sweet dew of love can I sip,
Nor meet the soft glance which with magic control
O'er the chords of my heart so bewitchingly stole.
10
Cold, cold is that eye! unimpassion'd its beams,
They speak not of tenderness, love, or delight:
Oh! where is the heart-thrilling rapture that streams
From the heav'nly blue of that circle so bright,
That sunshine of pleasure which gladden'd my sight?
15
Page 53
Yet come to my bosom, Oh image ador'd!
And sure thou shalt feel the soft flame of my heart;
The glow sympathetic once more be restor'd,
Once more it shall warm thee, ah cold as thou art!
And to charms so belov'd, its own feelings impart.
20
Oh come! and while others his form may behold,
And he on another with fondness may smile,
To thee shall my wrongs, shall my sorrows be told,
And the kiss I may give thee, these sorrows the while
Like the memory of joys which are past shall beguile.
25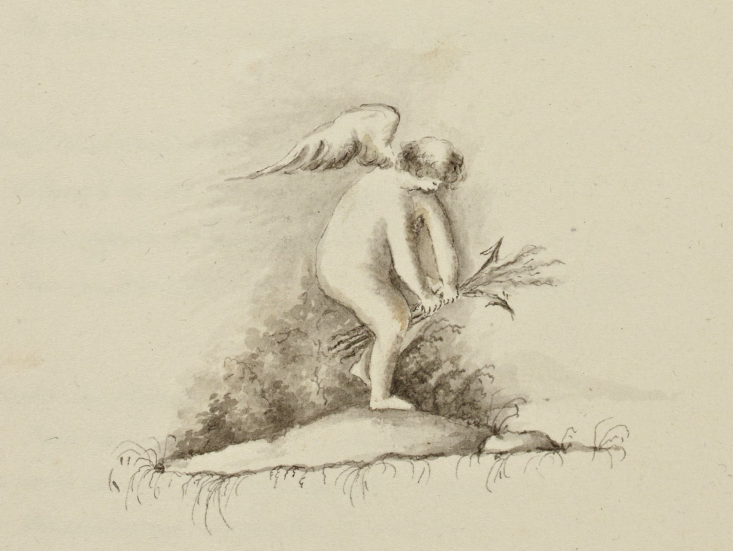 Notes
[1] EDITOR'S NOTE: "The Picture Written for Angela 1802" is printed without a title or date in Selena, where it is attributed to the character Angela Harley (a painter), and is printed with a title (but no date) in Psyche, with Other Poems, which notes "This, with some other poems, belong to a novel written by Mrs. H. Tighe, and which is now in the possession of the editor" (313). The copy in Psyche, with Other Poems faithfully follows the copy in Verses. BACK