To -------- Imitated from Monti 1804.
Page 82
To --------
Imitated from Monti
1804. [1] 
'Tis then ordained by nature, and by fate
That from the troubled spring of all our joys
Evil and pain must flow! Oh Thou! My wise,
My loved support! amid my adverse fate
Best Counsellor! whose eye benevolent
5
From others pain turns not, who rare of speech,
And liberal of deed my woes relieved.
Oh friend most dear! of anguish, and of joy
What wonderous compound is the human heart!
This portion of existence, source unknown,
10
And fugitive of life, that feels and sees,
With what delight, what ardour once it sprung
Thro' nature's wide champaign, and all around
 [2]
Embellish'd fair; now changed, with cruel power
It rules but for my torment, while it threats
15
To burst its fragile tenement, and this
Poor earthly mansion inwardly consumes;
And mines with lingering, but assured decay.
Ah! happy days, in solitude and peace
Pass'd cloudless! say what power hath chased ye hence?
20
Page 83
Broken the golden lamp, whose transient ray
Marked with a momentary flash of light
The drear obscure: now doubled darkness spreads,
While the sad wanderer trembles, and despairs.
Oh! for what crime bright beam are thou extinct;
25
And why must memory turn to bitter gall
All that could once drop honey on my heart?
Oft I recal those hours; then, when the Sun
First o'er the eastern brow appear'd to rouse
The world from sleep, and spread those hues,
30
More lively, and more fresh o'er every scene,
Which eve had seemed to steal; jocund I rose,
And from my humble couch sprung with light heart
To hail his beams, and gaze with fixed eye
On the tall hill which yet concealed his orb,
35
Which o'er its summit shot a lucid crown,
'Till gradually, empurpling all its back
And shaggy sides, dilated light approached
The level plain, where I expectant stood.
Then from her humid bosom earth exhaled
40
On the light pinions of the mattin breeze
A grateful cloud of odours: while elate,
And smiling on his gifts, the star of day
Wheel'd thro' the sapphire vault his flaming car,
Bathing his golden tresses in the dew
45
Of fragrant vapours curling in ascent;
Sublime, amid the applauding cheerful song
Of all created things. Then tranquilly
Page 84
On the fresh margin of the stream reclined,
Where long, and thick the herbs around me rise,
50
And shade me from the view, supinely laid,
Now gazing on the wood which cloathes the bank
On 'tother side; now on the smoking hills,
The scattered flocks that browse upon the heath,
And the sharp rocks which whiten 'mid the trees,
55
Or hanging o'er the stream with placid eye,
I mark the clouds that tremble in the pure
And floating glass, then on the flowery leaf
That canopies my bed contemplative,
And motionless observe the little world
60
That turns amid the thickly-peopled leaves,
The mantling swarm of insects; and admire
Their varied forms and manners: some in groups
Pass in long file, and pomp of martial shew.
Some solitary seem to muse like me;
65
Others in conference close, and deep debate;
Subjects of high import discussed. While one,
Careless of all but pleasure, nectar quaffs,
And hangs enamoured o'er the dewy flower.
Behold a rival comes! contest ensues,
70
The tilting foes emanathe their little limbs,
 [3]
'Till headlong in confusion dire they fall
Together from the fatal combat hurled.
Nor is there wanting in such little breasts
Prudence, or valour, of impassioned love,
75
Foresight, or kindred amity; still prompt
Assistance to each other's wants to lend;*
 [4]
Example rare to man, who oft will war
On his oppressed brother; such were then
The eloquent instructors of my soul,
80
Whose pure philosophy inspired my breast,
While on my placid brow I seemed to feel
The soft sweet breath of an all present God;
That breath which penetrates the ample world
And fans the elemental fire of life;
85
Inspiring matter with strange emotion; prompt
Page 85
To animate the dull, adhesive forms
Inert within the womb of earth, arming
The powers of Nature 'gainst themselves, conflict
From which perpetual harmony results!
90
Thus while contemplating this lovely frame
From all a torrent stream of rapture poured
Upon my heart; as when some silvery lake
Receives the bounding stone impetuous lanced,
Which its pure surface brightening agitates.
95
Or as when first, with sudden extacy,
We view the unexpected form beloved,
Enchanting tumult every sense o'erpowers,
'Till the dear image settling in the heart
Reposing shines for ever there serene.
100
How am I changed! and all around how changed
With my changed hours! excess of joy has reigned
O'er all my soul, excess of pain must now
Usurp the seat; and how with daring hand
Shall I withdraw the veil that hides my woes!
105
A glance of softness, a bewitching smile,
A voice sweeter than each, a gentle sigh!
Can these have power to raise within my breast
A tumult of affections new and strange?
Are these the flowers, the hills, the laughing vales,
110
That once appeared so lovely in my eyes?
What cloud hath dimmed my sight? Or what hath tinged
All with a hue so dark? Alas, the form,
Which as a vapour rises from within,
Spreads o'er the face of nature, and obscures
115
Her charms for me. Ah wretch! for me alone
Page 86
The pleasant earth a wilderness appears;
No cheerful song of birds, but tempests howl,
And torrents roar. Where'er I tread, behold
A desert blackens! and before me shapes
120
Fearful, discoloured, mute and threatening stand.
All is extinct. Eternal grief alone
Survives, nor other comfort have I left
Than thus to raise my weeping eyes to Heaven.
Oh fatally adored! Would I had ne'er
125
Gazed on thy charms with rapture! without thee
This cruel change had never been, my hours
In tranquil course had seen the planets roll,
Or sunk in quiet to my native dust.
But to have hung enamoured on those eyes,
 [5]
130
Yet, yet to feel the intoxicating power
Which stole into my heart at every sound
Of that soft voice that vibrates in my ear.
Thus to have loved, and loved to ecstasy,
And be beloved again! Oh, rapturous bliss
135
Destroyed and lost! Yes all in Heaven conspired
With all on earth against my cherished hopes,
And never more must I indulge the dreams
Which loved to call thee by a name, even yet
More fond, more sacred, more endeared than lover!
140
Must I resign the image of delight?
When in the gentle pressure of thine arms,
Methinks I hang upon that neck adored,
Gaze on thy angel smile, or taste thy kiss?
Forced to abandon thee, to give thee up!
145
Forget thee! hopeless, and for ever lost!
Hence, hence, ye terrible ideas hence!
Page 87
Ah fly! nor thus affright my soul, and turn
My tenderness to fury; from my breast,
All quiet banished, wildly forth I rush
150
And seek the lonely woods, and fill the caves
With lamentations vain. Then it seems sweet
To climb the rock, and 'mid the tangled thorns
With rude-opposing bosom burst my way,
And mark the rugged, new-made path with blood;
155
While the devouring rage that burns within
Throbs high in feverish anguish on my brow,
And labouring heaves my suffocating heart.
Firmer my foot, as rougher grows the path,
'Till all confused, unknowing where I stray,
160
Wandering from steep to steep, even on the brink
I stand of some wild precipice; the sight
With horror suddenly arrests my feet,
'Till by degree subsiding terror yields
To desperate desire. Prone on the verge
165
Of the tremendous gulph I hang, and gaze
On the loud roaring torrent far below;
Thinking that there forever swallowed up
My sorrows might have end. Ah coward wretch!
Canst thou not once with firmness raise from earth
170
The shrinking foot? Fearest thou to mingle yet
With thine own dust? or is it still decreed
That I must yet behold the star of day?
Oh! could I now resign the boasted claim,
The dignity of man, scattered abroad
175
Confused and blended with the passing whirlwind,
Or mount aloft upon the rapid wings
Of the cloud-residing tempest! rouse the storms
Which slumber o'er the billows of the deep.
Page 88
When shall I burst this mortal prison-house?
180
If e'er this spirit shall indeed be free
Ah why prolong this feeble lamp of life?
One only object could delight on earth
And Heaven forbad that wish; and leaves me now
Nought but the hatred of myself and life.
185
Oh! thou more blest, whose mild & placid mind,
Nurtured in wisdom's school, can yet for me,
And for the wretched shed the generous tear,
When on a summer's eve as thou art wont
Thou shalt ascend yon hill, and call to mind
190
Thy friend, whose name the faithful stone preserves.
 [6]
Then wilt thou cast thy tranquil eye below,
And pause to mark the parting sun's last beams
Dwell pitying o'er his tomb? and wilt thou sigh,
As thou shalt view the light breeze wave the grass
195
And tremble 'mid the leaves that shade the grave.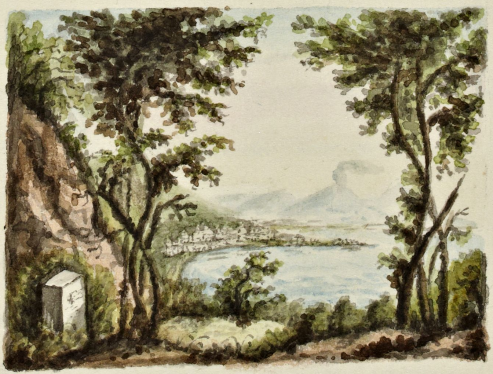 Notes
[1] EDITOR'S NOTE: "To ---- Imitated from Monti 1804" does not appear in Psyche, with Other Poems or Mary (or Collected Poems and Journals). It presents a verse translation of Monti's "Al Principe Don Sigismondo Chigi" (1783):
Dunque fu di natura ordine e fato,
che di là donde il bene ne deriva
del mal pur anco scaturir dovesse
la torbida sorgente? Oh saggio, oh solo
a me rimasto negli avversi casi
5
consolator, che non torcesti mai
dalle pene d'altrui lungi lo sguardo,
e scarso di parole e largo d'opre
co' benefizi al mio dolor soccorri,
Gismondo; e qual di gioie e di martiri
10
portentosa mistura è il cuor dell'uomo!
Questa parte di me che sente e vede,
questo di vita fuggitivo spirto
che mi scalda le membra e le penètra,
con quale ardor, con qual diletto un tempo
15
scorrea pe' campi di natura, e tutte
a me dintorno rabbellía le cose!
Or s'è cangiato in mio tiranno, in crudo
carnefice, che il frale onde son cinto
romper minaccia, e le corporee forze,
20
qual tarlo roditor, logora e strugge.
Giorni beati che in solingo asilo
senza nube passai, chi vi disperse?
Ratti qual lampo, che la buia notte
segna talor di momentaneo solco,
25
e su gli occhi le tenebre raddoppia
al pellegrin che si sgomenta e guata,
qual mio fallo v'estinse? e tanto amara
or mi rende di voi la rimembranza,
che pria si dolce mi scendea sul core?
30
Allorché il sole (io lo rammento spesso)
d'orïente sul balzo compariva
a risvegliar dal suo silenzio il mondo,
e agli oggetti rendea piú vivi e freschi
i color che rapiti avea la sera;
35
dall'umile mio letto anch'io sorgendo,
a salutarlo m'affrettava, e fiso
tenea l'occhio a mirar come nascoso
di la del colle ancora ei fea da lunge
degli alti gioghi biondeggiar le cime;
40
poi, come lenta in giú scorrea la luce
il dosso imporporando e i fianchi alpestri,
e dilatata a me venía d'incontro
che a' piedi l'attendea della montagna.
Dall'umido suo sen la terra allora
45
su le penne dell'aure mattutine
grata innalzava di profumi un nembo;
e altero di sé stesso e sorridente
su i benefizi suoi l'aureo pianeta
nel vapor che odoroso ergeasi in alto
50
gía rinfrescando le divine chiome,
e fra il concento degli augelli e il plauso
delle create cose egli sublime
per l'azzurro del ciel spingea le rote.
Allor sul fresco margine d'un rivo
55
m'adagiava tranquillo in su l'erbetta,
che lunga e folta mi sorgea dintorno
e tutto quasi mi copriva: ed ora
supino mi giacea, fosche mirando
pender le selve dall'opposta balza,
60
e fumar le colline, e tutta in faccia
di sparsi armenti biancheggiar la rupe;
or rivolto col fianco al ruscelletto,
io mi fermava a riguardar le nubi
che tremolando si vedean riflesse
65
nel puro trapassar specchio dell'onda:
poi, del gentil spettacolo già sazio,
tra i cespi, che mi fean corona e letto,
si fissava il mio sguardo, e attento e cheto
il picciol mondo a contemplar poneami
70
che tra gli steli brulica dell'erbe,
e il vago e vario degli insetti ammanto
e l'indole diversa e la natura.
Altri a torma e fuggenti in lunga fila
vengono e van per via carchi di preda;
75
altri sta solitario, altri l'amico
in suo cammino arresta, e con lui sembra
gran cose conferir: questi d'un fiore
l'ambrosia sugge e la rugiada, e quello
al suo rival ne disputa l'impero;
80
e venir tosto a lite, ed azzuffarsi,
e avviticchiati insieme ambo repente
giú dalla foglia sdrucciolar li vedi.
Né valor manca in quegli angusti petti,
previdenza, consiglio, odio ed amore.
85
Quindi alcuni tra lor miti e pietosi
prestansi aita ne' bisogni; assai
migliori in ciò dell'uom, che al suo fratello
fin nella stessa povertà fa guerra:
ed altri poscia, da vorace istinto
90
alla strage chiamati ed agl'inganni,
della morte d'altrui vivono; e sempre
del piú gagliardo, come avvien tra noi,
o del piú scaltro la ragion prevale.
Questi gli oggetti e questi erano un tempo
95
gli eloquenti maestri che di pura
filosofia m'empian la mente e il petto;
mentre soave mi sentia sul volto
spiar del nume onnipossente il soffio,
quel soffio che le viscere serpendo
100
dell'ampia terra, e ventilando il chiuso
elementar foco di vita, e tutta
la materia agitando e le seguaci
forme che inerti le giaceano in grembo,
l'une contro dell'altre in bel conflitto
105
arma le forze di natura, e tragge
da tanta guerra l'armonia del mondo.
Scorreami quindi per le calde vene
un torrente di gioia; e discendea
questo vasto universo entro mia mente,
110
or come grave sasso che nel mezzo
piomba d'un lago, e l'agita e sconvolge
e lo fa tutto ribollir dal fondo;
or come immago di leggiadra amante,
che di grato tumulto i sensi ingombra
115
e serena sul cor brilla e riposa.
Ma piú quell'io non son. Cangiaro i tempi,
cangiar le cose. Della gioia estremo
regnò sull'alma il sentimento: estremi
or vi regnano ancora i miei martiri.
120
E come stenderò su le ferite
l'ardita mano, e toglieronne il velo?
Una fulgida chioma al vento sparsa,
un dolce sguardo ed un piú dolce accento,
un sorriso, un sospir dunque potero
125
non preveduto suscitarmi in seno
tanto incendio d'affetti e tanta guerra?
E non son questi i fior, queste le valli,
che già parver sí belle agli occhi miei?
Chi di fosco le tinse? e chi sul ciglio
130
mi calò questa benda? Oimè! l'orrore
che sgorga di mia mente e il cor m'allaga,
di natura si sparse anche sul volto
e l'abbuiò. Me misero! non veggo
che lugubri deserti; altro non odo
135
che urlar torrenti e mugolar tempeste.
Dovunque il passo e la pupilla movo,
escono d'ogni parte ombre e paure,
e muta stammi e scolorita innanzi
qual deforme cadavere la terra.
140
Tutto è spento per me. Sol vive eterno
il mio dolor, né mi riman conforto
che alzar le luci al cielo e sciormi in pianto.
Ah che mai vagheggiarti io non dovea,
fatal beltade! Senza te venuto
145
questo non fòra orribil cangiamento.
Girar tranquilli sul mio capo avrei
visto i pianeti, e piú tranquilla ancora
la mia polve tornar donde fu tolta.
Ma in que' vergini labbri, in que' begli occhi
150
aver quest'occhi inebrïati, e dolce
sentirmi ancor nell'anima rapita
scorrere il suono delle tue parole;
amar te sola, e rïamato amante
non essere felice; e veder quindi
155
contra me, contra te, contra le voci
di natura e del ciel sorger crudeli
gli uomini, i pregiudizi e la fortuna;
perder la speme di donarti un giorno
nome piú sacro che d'amante, e caro
160
peso vederti dal mio collo pendere,
e d'un bacio pregarmi e d'un sorriso
con angelico vezzo; abbandonarti...
Obblïarti, e per sempre... Ah lungi, lungi,
feroce idea; tu mi spaventi, e cangi
165
tutta in furor la tenerezza mia.
Allor requie non trovo. Io m'alzo, e corro
forsennato pe' campi, e di lamenti
le caverne riempio, che dintorno
risponder sento con pietade. Allora
170
per dirupi m'e dolce inerpicarmi,
e a traverso di folte irte boscaglie
aprir la via col petto, e del mio sangue
lasciarmi dietro rosseggianti i dumi.
La rabbia che per entro mi divora,
175
di fuor trabocca. Infiammansi le membra,
l'anelito s'addoppia, e piove a rivi
il sudor della fronte rabbuffata.
Piú scaltrezza al sentier, piú forza al piede,
piú ristoro al mio cor; finché smarrito
180
di balza in balza valicando, all'orlo
d'un abisso mi spingo. A riguardarlo
si rizzano le chiome, e il piè s'arretra.
A poco a poco quel terror poi cede,
e un pensiero sottentra ed un desío,
185
disperato desío. Ritto su i piedi
stommi, ed allargo le tremanti braccia
inclinandomi verso la vorago.
L'occhio guarda laggiuso, e il cor respira;
e immaginando nel piacer mi perdo
190
di gittarmi là dentro, onde a' miei mali
por termine, e nei vortici travolto
romoreggiar del profondo torrente.
Codardo! ancora non osai dall'alto
staccar l'incerto piede, e coraggioso
195
in giú col capo rovesciarmi. Ancora
al suo fin non è giunta la mia polve,
e un altro istante mi condanna il fato
di questo sole a contemplar l'aspetto.
Oh! perché non poss'io la mia deporre
200
d'uom tutta dignitade, e andar confuso
col turbine che passa, e su le penne
correr del vento a lacerar le nubi,
o su i campi a destar dell'ampio mare
gli addormentati nembi e le procelle!
205
Prigioniero mortal! dunque non fia
questo diletto un dí, questo destino
parte di nostra eredità? Qualunque
mi serbi il ciel condizïon si spirto,
perché, Gismondo, prolungar cotanto
210
questo lampo di luce? Un sol potea,
un sol oggetto lusingarmi: il cielo
al mio desire invidïollo, e l'odio
mi lasciò della vita e di me stesso.
Tu di Sofia cultor felice, e speglio
215
di candor, d'amistade e cortesia,
tu per me vivi, e su l'acerbo caso
una stilla talor spargi di pianto,
o generoso degli afflitti amico.
Allorché d'un bel giorno in su la sera
220
l'erta del monte ascenderai soletto,
di me ti risovvenga, e sul quel sasso,
che lagrimando del mio nome incisi,
su quel sasso fedel siedi e sospira.
Volgi il guardo di là verso la valle,
225
e ti ferma a veder come da lunge
su la mia tomba invia l'ultimo raggio
il sol pietoso, e dolcemente il vento
fa l'erba tremolar che la ricopre. (1-229)
Tighe includes lines 130-47 in
Selena
as a translation of the lines her character Sidney Dallamore quotes in the novel (150-65).
BACK
[2] EDITOR'S NOTE: Champaign: countryside. BACK
[3] EDITOR'S NOTE: Emanathe: emanate. BACK
[4] EDITOR'S NOTE: Tighe's note: "See Page 139." The last page of the manuscript (139) provides nine "Lines omitted Page 84 after 'Assistance to each other's wants to lend'" and before "To animate &c &c -------" included above. BACK
[5] EDITOR'S NOTE: In Selena this line is the beginning of Sidney's translation. BACK
[6] EDITOR'S NOTE: In the illustration the tombstone appears to be inscribed with the initials "E S" or "C S." "C S" could refer to Carlotta Stewart, the beloved who inspired Monti's "Al Principe Don Sigismondo Chigi" and "Pensieri d'amore." BACK