Page 108
Poor, fond deluded heart! wilt thou again
Listen enchanted to the syren song
Of treach'rous pleasure? Ah deceiv'd too long
Cease now at length to throb with wishes vain!
Ah cease her paths bewildering to explore!
5
Betray'd so oft, yet recollect the woe
Which waits on disappointment; taught to know
By sad experience, wilt thou not give o'er
To rest deluded on the fickle wing
Which Fancy lends thee in her airy flight,
10
But to allure thee to some giddy height,
And leave thee there a poor forsaken thing.
Hope warbles once again, truth pleads in vain,
And my charm'd soul sinks vanquish'd by her strain.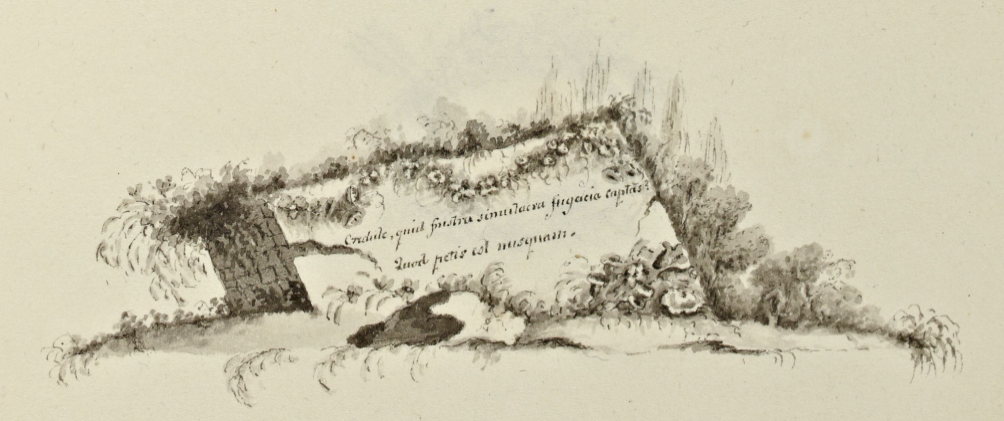 Notes
[1] EDITOR'S NOTE: "Poor, fond deluded heart! wilt thou again" is printed as "Sonnet" in Psyche, with Other Poems (undated) and Mary, where it is dated March 1798. The words inscribed on the stone in the illustration--"Credule, quid frustra simulacra fugacia captas? / Quod petis est nusquam."-- come from Ovid's Echo and Narcissus, Metamorphoses 3.432-3: "O fondly foolish boy, why vainly seek to clasp a fleeting image? What you seek is nowhere" (Frank Justus Miller translation). BACK