Verses Written at the Devil's Bridge in CARDIGAN.
Page 20
Verses
Written at the Devil's Bridge in
CARDIGAN. [1] 
Hic licet occultos proferre impune dolores.
When pleasure departs what a blank there remains,
How dreary each object around us appears!
While the soul sick of life from each solace refrains,
And in solitude longs to indulge in vain tears.
If the eye of compassion has ceas'd to look kind,
5
If the voice which delighted no longer is heard,
If sorrows unutter'd oppress the sad mind,
And the labouring breast by no comfort is cheer'd.
When 'tis past, and the moment of pleasure is o'er,
When to joys that are gone the sad mourner returns,
10
While memory faithful yet guards in her store
The hopes he has lost, and the friend whom he mourns.
Oh bear him to scenes, where rude nature appears,
Let Solitude sooth him, and pensive repose,
No eye to restrain the sweet freedom of tears,
15
No ear to forbid the expression of woes.
Page 21
Near woods, interrupted by white jutting rocks,
Oh! place him beside some rivers dark course;
Where the torrents impetuous gush thro brown oaks,
And the steep groves re-echo their murmurings hoarse.
20
In a glen deep sequester'd, surrounded by woods,
By mountains o'er-top'd inaccessibly high,
Let him view the swell'd stream's irrestible floods
Unappall'd by the tempest which roars thro' the sky.
Oh! there let him wander thro' underwoods dark,
25
Unmolested by man, by no comforter teaz'd,
No stranger unfeeling his sorrows to mark,
And unheard be the groans which his bosom have eas'd.
When Nature deplores her lost beauty and pride,
Her drear lamentations more soothing shall sound,
30
The voice of complaint to his heart is allied,
And in desolate scenes is sad sympathy found.
Let Fancy to May's rosy bosom retire,
And quit the sad season, and shun the sad heart,
In the soft vacant breast let her passion inspire,
35
And double each pleasure by magical art.
For treacherous power! while seeming to cheer,
To sooth his distress, and to soften his woes,
The scenes thou recallest but rouse the sad tear,
And thy warm, glowing pictures destroy his repose.
40
In the regions of sorrow thy lustre is vain,
It there on no exquisite prospects can shine,
Page 22
Oh! add not to anguish, nor magnify pain
But the wretched to wisdom, and reason resign.
Thy aid he requests not, he asks not relief
45
From the cruel assistance which thou can'st impart.
The image of joy but awakens his grief,
Of joy, which no longer inhabits his heart.
But thou, cheering Hope! sweet peace-breathing guest,
Assure him bright joy on his days soon shall shine,
50
Dispel this sad gloom, and revisit his breast,
And whisper "Soft pleasure again shall be thine--"
'Tis thou can'st pour balm on his anguish alone,
Tho' nought can restore, yet thou canst relieve,
For his losses compensate, his sorrows atone,
55
And teach him with calm resignation to grieve.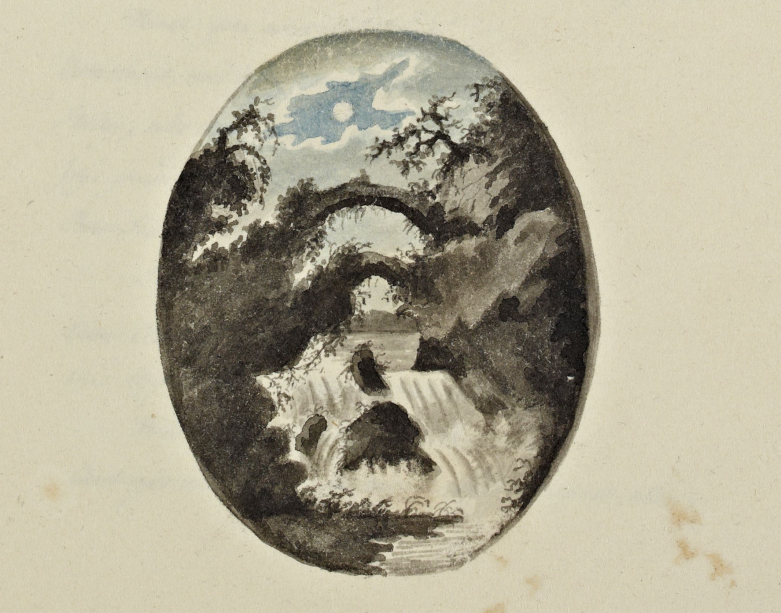 Notes
[1] EDITOR'S NOTE: "Verses Written at the Devil's Bridge in Cardigan" does not appear in Psyche, with Other Poems or Mary; Henry and Lucy Moore include a copy of it from Verses in their 1811 Album (the source text for Collected Poems and Journals). The title refers to the Devil's Bridge that spans the Mynach river in Ceredigion, Wales (Cardiganshire county), an area that was once part of the Hafod Estate owned by Thomas Johnes. Tighe's illustration shows the first two bridges (a third was built in the early 1900s). BACK
[2] EDITOR'S NOTE: Propertius, Elegies, 1.18.3: "Here may I freely speak my secret anguish." BACK