XXI. To Cowper and his Mary Aug
Page 123
XXI.
To Cowper and his Mary
Aug
t

17.

th

1803. [1] 

Mild Spirits ye are gone, together gone,

Where ye shall feel the heavy weight no more

That presses on humanity. tis o'er,

The sympathising pang, the patient groan,

The cold, dark cloud is past! bright day has shone,

5

And Mary never shall again deplore,

Or vainly bid mysterious Heav'n restore

The wounded heart, the "

noble mind o'erthrown

."

And thou, sweet Boy!

 [2] 

whose pure and spotless page,

So early clos'd, thy God approving ey'd!

10

The infant critic, and the blooming guide

Of suff'ring genius, and disabled age;

Thou! with a cherub smile rejoic'd to hail

Thy friends at length releas'd from life's deep shadowy vale.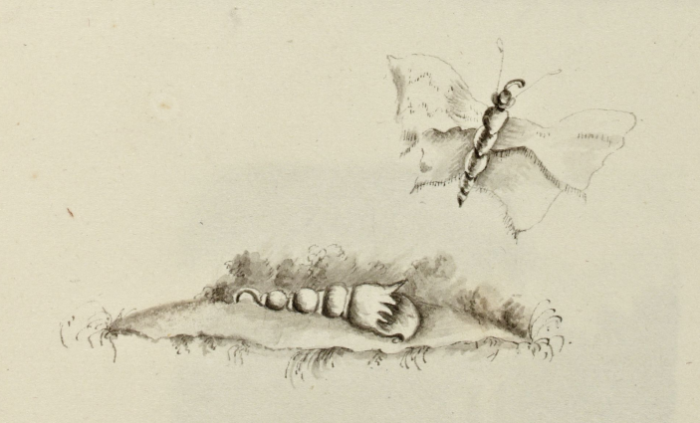 Notes
[1] EDITOR'S NOTE: "To Cowper and his Mary Augt 17.th 1803" does not appear in Psyche, with Other Poems or Mary; Tighe sent a copy of it in a letter to Walker postmarked August 13, 1803 (the source text for Collected Poems and Journals) when she had finished reading William Hayley's Life and Posthumous Writings of William Cowper (1803). The sonnet was inspired by the description of Hayley's son Tom taking Cowper's disabled companion Mary Unwin about the garden (and refers to the deaths of all three as well as Cowper's bouts of madness). The illustration shows a butterfly (image of the soul) emerging from a caterpillar's carapace. BACK
[2] EDITOR'S NOTE: Tighe's note: "Thomas Hayley. See Hayley's life of Cowper." BACK