The Ballad of Songbirds and Snakes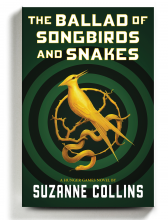 In Suzanne Collins's The Ballad of Songbirds and Snakes (2020), the prequel to the Hunger Games trilogy, a major character is named Lucy Gray. In chapter 26, another character references the "really old [song] by some man named Wordsworth" and sings a version of the poem which the protagonist, Coriolanus Snow, cannot understand: "He couldn't make sense of it...It reminded him of the time he hadn't understood a poem in rhetoric class and Livia Cardew had humiliated him in front of everyone. What a dreadful song."
In addition, the novel includes epigraphs from Wordsworth's "The Tables Turned" and Mary Shelley's Frankenstein.