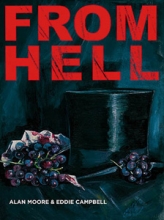 Publication Information:
Top Shell Productions (US), Knockabout Comics (UK)
William Blake also becomes an important figure in Moore's later work, and is a featured character in From Hell (1991–98) and Angel Passage (2001). In From Hell, Blake appears as a mystical and occultic foil to William Gull's aristocratic plot to murder the prostitutes of Whitechapel in London. Gull appears to Blake in two visions over the course of Moore's comic, and becomes the inspiration for "The Ghost of a Flea."