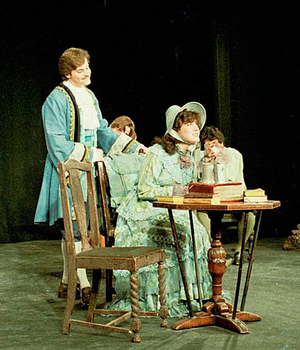 COLUMN:

They can't hurt me, more than making me constable or taking away the parish business. Hah! "My crop of corn is but a field of weeds." Says Jerome: "Happiness is not for us poor crawling reptiles of the earth." Talk of Happiness and happiness! It's no such thing. [looks at GIMBLET] Every person has something.

Hear then the pride & knowledge of a Sailor,

His spirit sail, fore sail, main sail, & his mizen.

A poor frail man! God wot, I know none frailer.

I know no greater sinner than John Taylor.

If I had only myself to care for I'd soon make Double Elephant look foolish and Filligree work. [loudly] I hope I shall live to see "The wreck of matter and the crush of worlds," as Young says.
OBTUSE ANGLE:

[enters] What's new, Column?
COLUMN:

I am reading Theron and Aspasio.
OBTUSE ANGLE:

I don't find it here.
COLUMN:

O no, it was the MEDITATIONS!
OBTUSE ANGLE:

[begins to read]

[SCOPPRELL and Ms. GITTIPIN enter arm- in-arm, slowly proceeding to center table, where SCOPPRELL seats GITTIPIN]
SCOPPRELL:

[picks up book] An Easy of Huming Understanding, by John Lookye Gent.
OBTUSE ANGLE:

John Locke.
SCOPPRELL:

O, ay, Locke.