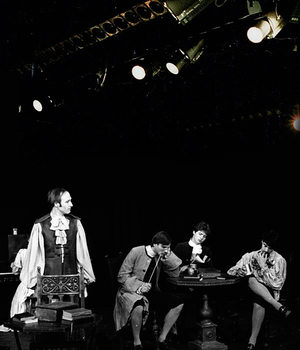 TILLY LALLY:

In the moon, there is a certain island on a mighty continent which seems to have some affinity to England and, what is more extraordinary, the people are so much alike and their language so much the same, that you would think you were among your friends.

In this island dwell three philosophers: SUCTION the Epicurean, QUID the Cynic, and SIPSOP the Pythagorean. I call them by the names of these sects, though the sects are not ever mentioned there, being quite out of date; however, the things still remain, and the vanities are the same.

The three philosophers sit together thinking of nothing. ETRUSCAN COLUMN, the Antiquarian comes in and after an abundance of enquiries to no purpose, sits down and describes something that nobody listens to. And so they were employed, as usual, when Ms. GIMBLET comes in, tipsy. The corners of her mouth seem, I don't know how, but very odd, as if she hopes you have not an ill opinion of her (to be sure, we are all poor creatures . . .). Well, she sits down and seems to listen with great attention while COLUMN seems to be talking of. . . what? [listens] virtuous cats. But it is not so; she is thinking of the shape of her eyes and mouth, and he is thinking of his eternal fame. And the three philosophers, well, by this time they are trying to conceal their laughter, not at them, but at their own fantasies.

Such is the situation of this improving company when in a great hurry enters INFLAMMABLE GASS, the Wind-finder. Everyone seems to rise and salute each other. COLUMN and GASS fix their eyes on each other; their tongues go into question and answer, question and answer, question and answer, but their thoughts were otherwise employed.