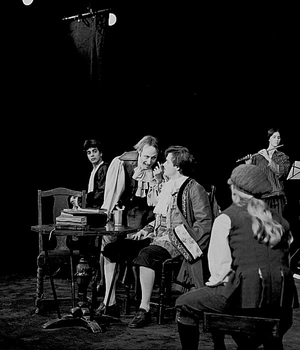 TILLY LALLY: 

Oh I say, well there you have it, "Away the vapour flew." Where is Gass anyway? He has my hanky don't you know? [hears the piano chords and is "on"; attempts to lift his pub audience's spirits] 

Oh I say, you Joe, 
Throw us the ball 
I've a good mind to go 
And leave you all.

[to SCOPPRELL] 

I never saw such a bowler 
To bowl the ball into a turd 
And to clean it with my handkerchief 
Without saying a word.

[to PHILOSOPHERS] 

That Bill's a foolish fellow, 
He has given me a black eye. 
He does not know how to handle a bat 
Any more than a dog or a cat.

[to COLUMN] 

He has knock'd down the wicket 
And broke the stumps, 
And runs without shoes to save his pumps.

[returns to his bar, disgusted with the gloomy group]
GITTIPIN: 

Leave, O leave me to my sorrows, 
Here I'll sit & fade away, 
Till I'm nothing but a spirit 
And I lose my form of clay.