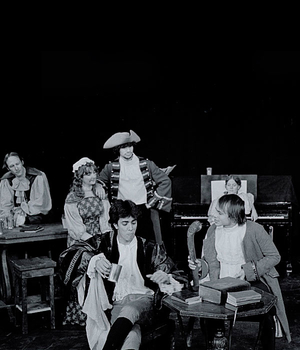 OBTUSE ANGLE:

[grinning at SIPSOP] Voltaire understood nothing of mathematics, and a man must be a fool not to understand mathematics.
GASS:

Mathematics! He found a number of Queries in Philosophy.
OBTUSE ANGLE:

[staring at the head of his walking stick] I always understand better when my eyes are closed. Now, in the first place, it is of no use for a man to make queries but to solve them, for a man may be a fool and make queries, but a man must have a good sound sense to solve them. A query and an answer are as different as a straight line and a crooked one. Secondly . . .
SUCTION:

I, I, I, aye! Secondly, Voltaire's a fool.
SIPSOP:

Pooh! [scratching his head violently] It's not worth quarreling about.
COLUMN:

Ah-hem, ah-hem [loudly]. But, my good sir, Voltaire was immersed in matter and seems to have understood very little but what he saw before his eyes, like the animal upon the Sipsop's lap always playing with its own tail.
GASS:

[laughs, stroking the neck of a bottle like a cat]
TILLY LALLY:

He was the glory of France. [SINAGAIN enters with a bottle of wine for OBTUSE ANGLE]
GASS:

[leaves GIMBLET and addresses SINAGAIN] I have a bottle of air that would spread a plague. [chases her off stage]
QUID:

In the Moon, as Phebus stood over his oriental Gardening . . . Oh, hi, come, I'll sing you a song.
[ARADOBO enters]