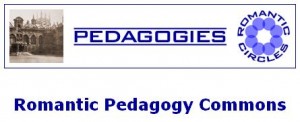 In an effort to make the Romantic Circles Pedagogies section a true commons, we are looking for a crew of commentators with varying levels of experience for our new blog and pedagogies group.  We hope to launch the blog with several regular contributors of various interests and experience, creating a space for sharing ideas on teaching, texts, and techniques.  We may be able to offer the participants a small stipend for their efforts.  These bloggers will offer one or two posts per week, offering dispatches from the front that reflect on their own Romantic pedagogy and the pedagogy of Romanticism.
Essentially the blog will be the first set in a series of proposed changes to the Pedagogies section of the Romantic Circles website.  We will continue to produce peer-edited volumes of essays, and we hope soon to feature interactive digital projects, interviews, notes on using digital tools such as Wikis and databases, along with the arsenal of syllabi and other teaching materials the site already has to offer (http://www.rc.umd.edu/pedagogies/).  We are imagining this site as a place where professors and students of all levels can debate approaches to particular texts, explore innovative classroom techniques, and report on new Romantic topics.
Interested techno-Romanticists should send a short paragraph of interest to Kate Singer at ksinger[at]mtholyoke[dot]edu, by Sept 3rd.  Please feel free to send any questions as well.