Here's what the British Museum has to say about an ongoing exhibition on currency and the industrial revolution: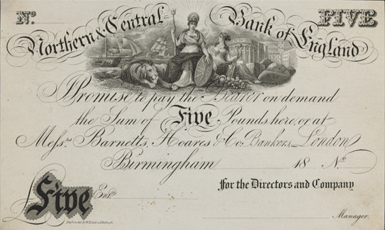 An extraordinary exhibition providing an insight into the economy and society of nineteenth century Britain.
The face of Britain changed beyond recognition in the nineteenth century following intense industrialization and urbanization, advances in agriculture and developments in international trade and finance. New private banks employed celebrated engravers to create intricate and beautiful banknote illustrations, portraying aspects of the changing Britain and illustrating a sense of national pride and civic identity.
This extraordinary exhibition of banknotes, tokens, medals, paintings, prints, silverware, pottery and models of locomotives and ships reflects those monumental changes and provides an invaluable insight into the economy and society of the time.
This exhibition is part of an ongoing collaboration between the British Museum and the Barber Institute. The exhibition also features items on loan from the Science Museum, Birmingham Museums and Art Gallery, Wolverhampton Art Gallery and the Cadbury Collections of nineteenth century Britain.
Barber Institute, Birmingham
7 March 2008 – 6 March 2009