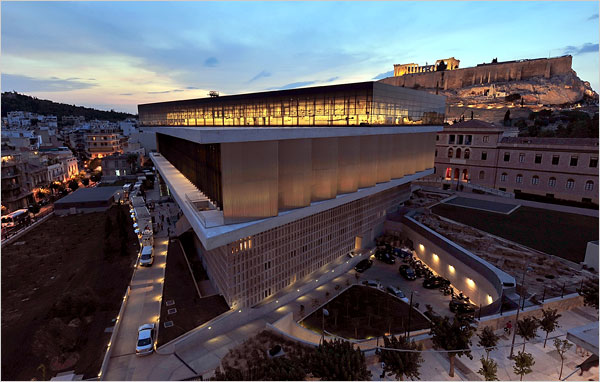 Britain and Greece have marked their roughly two hundred-year stalemate surrounding the ownership of the Elgin Marbles with a new salvo. The occassion: the June 20 opening of the new $200 million, 260,000 square foot Acropolis Museum in Athens. The museum's opening can be seen as a rebuttal to claims by the British Museum, which holds more than half of the frieze's total length, that Greece did not have a sufficient space to keep them. Indeed, Claire Soares of  The Independent sees this massive undertaking as a very deliberate demonstration of Greece's ability to keep the frieze safe:  "Unlike any other museum in the world, it was designed to house something it didn't own."
The gaps in the Greek collection are completed with plaster casts of the originals, made to look by some reports conspicuous in their artificiality. As Sean Newsom of The Times of London argued recently , "We can argue all we like about how we saved the sculpture from years of turmoil in Greece, but with this room finally completed, it's obvious where they now belong."
Though no permanent loan requests or bequeathals seem to be in the offing, Greek officials have taken on a triumphal tone. The inevitable, it seems, has finally come, according to Greek Culture Minister Antonio Samaras: "For 200 years, the Parthenon Marbles have been amputated, now they must be reunited. The Parthenon frieze speaks through its totality; this voice should be heard not be silenced,"
Numerous other commentators have chimed in on Greece's behalf--among them Christopher Hitchens and Michael Kimmelman of the New York Times. Compare these with responses from the Romantic period by Lord Byron, Felicia Hemans, Percy Shelley, and John Keats, among others. The striking thing, even with the opening of the new museum, is how little the debate has changed.