Keats House given Full Registered Museum status
It was recently announced that the The Keats House in Hampstead has achieved full Registered Museum Status from The Museums, Libraries and Archives Council (MLA--but not to be confused with the Modern Language Association in the US).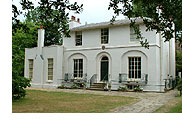 The Registration Scheme for Museums and Galleries in the United Kingdom was introduced in 1988, and a second phase was launched in 1995. It measures museum performance against accepted professional standards and, according to the Scheme, has the following aims:
Encourage all museums and galleries to achieve agreed minimum standards in museum management, collection care and public services.
Foster confidence in museums as repositories of our common heritage and managers of public resources.
Provide a shared ethical basis for all bodies involved in the preservation of the heritage which meet the definition of a "museum."
SJ