Kerry Sinanan, University of Texas at San Antonio
Since the murder of George Floyd on 25 May 2020, and the subsequent global Black Lives Matter protests, police violence and hate crimes in the US against Black people have continued, unabated. As Stacey Patton wrote on 22 June, drawing words Billie Holiday made famous, "America's trees are bearing a strange and bitter fruit—dead black bodies." Tragically, the list of the names of African Americans recently found hanging from trees keeps growing:
May 31: Malcolm Harsch 38, Victorville, California.
June 9: Dominique Alexander, 27, Manhattan, New York.
June 10: Robert Fuller, 24, Palmdale, California.
June 17: unnamed boy, 17, Spring, Texas.
Although Malcolm Harsch's death has now been accepted as suicide by his family, they initially feared he had met the same fate as "thousands of blacks who were lynched." On Tuesday 16 June, the attorney for Robert Fuller's family, Jamon R. Hicks, explicitly linked the hangings to the practice of lynching: "For African-Americans in America, hanging from a tree is a lynching. Why was this cavalierly dismissed as a suicide and not investigated as a murder?" Many see these hangings as a punishment for Black Lives Matter protests and calls to abolish the police. As Patton asserts, "These recent incidents do follow the historical pattern of displaying black bodies publicly to intimidate black communities." Since these deaths, nooses have been found hanging from trees in Oakland, California, Harlem, New York, Las Vegas, and elsewhere.
The June 1 anniversary of the Tulsa massacre in 1921 reminded us of this pattern of extreme violence as a response to Black articulations of independence and freedom. As Karlos K. Hill writes, "[T]he Tulsa Massacre was not an exceptional event. Over the course of American history, more than 250 episodes of collective white violence against black communities have occurred." Just as Tulsa was a punishment for Black achievement, recent hangings can be seen as a punishment for further Black success: the peaceful, ongoing, mass protests against police brutality and systemic racism in every US state, especially because many non-Black people have joined to push for real changes that might prevent the ongoing death of Black people. This success, albeit only partial at this point, still marks a real shift: BLM in 2020 has, as Blair L.M. Kelley states, "raised the floor of what's possible" as evidenced by the Minneapolis City Council recently voting to abolish its police department and replace it with community-led programs.
White supremacy's reassertion of itself in response to Black resistance must be situated in the context of slavery's legacies. As Christina Sharpe asserts, "chattel slavery continues to animate the present." The long history of white violence begins with Caribbean slave revolts. The brutal punishment of rebellion on slave plantations aimed to obliterate Black freedom and recuperate liberty according to colonial norms. When enslaved people, as Olaudah Equiano testifies, "still retain so much of their human nature about them as to wish to put an end to their misery, and retaliate on their tyrants," they were most viciously punished. Equiano details the extremity of white violence tolerated by slave laws: "I was present when a poor fellow was tied up and kept hanging by the wrists at some distance from the ground, and then some half hundred weights were fixed to his ancles, in which posture he was flogged most unmercifully." The lynchings that we see now have clear precedents in the kind of "hanging" that Equiano painfully details. This long history of excessive white violence tells us something clearly: it was, in fact, slave rebellion and Maroon resistance that articulated the freedom par excellence that white Romanticism claimed, and continues to claim, as its own.
John Stedman's Narrative of a Five Years Expedition against the Revolted Negroes of Surinam (1796) presents a record of the legalized brutality that the white Dutch colonists in Suriname visited on enslaved people and Maroons. Maroon wars in Suriname would be a thorn in the Dutch side for decades after the British ceded Suriname in 1667. The colony frequently lost slaves to the dense forests as they freed themselves. By the early 1770s Suriname's Governor Nepveu asked for more troops and Stedman arrived as a paid mercenary for the Dutch with the rank of Captain. The battles he participated in were part of "The First Boni War" (1765-77). He witnessed mutilations and maimings, and represented them in words and images. An engraving by William Blake based on a sketch by Stedman, A Negro hung alive by the Ribs to a Gallows, shows why parts of his Narrative became powerful Romantic-era abolitionist tracts, despite Stedman's own preference for amelioration. He accompanies this gruesome image with transcribed testimony from a white spectator: "I saw a black man hang'd alive by the ribs, between which with a knife was first made an incision, and then clinch'd [by] an Iron hook with a Chain. . . ." Here, violence is deliberately staged as a spectacle to crush Black resistance. The pronouncement of the punishment to be given to the rebel Saramaka Maroon, Joosie, in 1730 shows that the language of the colonial judiciary institutionalized extreme white violence as a response to resistance:
[He] shall be hanged from the gibbet by an Iron Hook through his ribs, until dead; his head shall then be severed and displayed on a stake . . . As for the Negroes Wierrie and Manbote, they shall be bound to a stake and roasted alive over a slow fire, while being tortured with glowing Tongs. The Negro girls . . . will be tied to a cross to be broke alive . . .
The terms of present-day lynching, licensing white violence as a response to Black freedom, are established in the legal sentencing of the slave colony.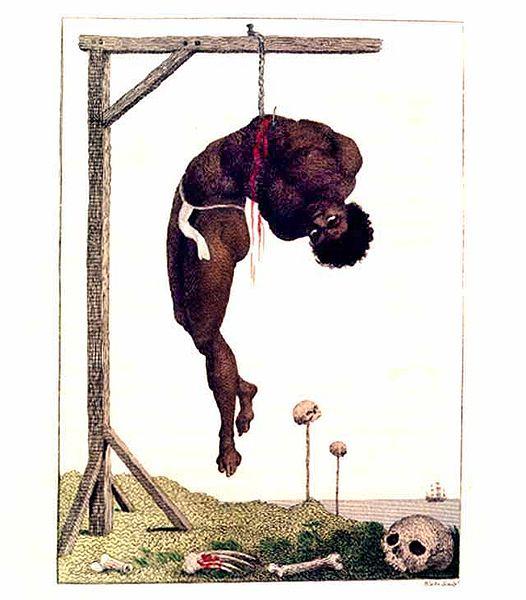 Stedman's position is deeply compromised: he sympathizes with Maroons and enslaved people, but maintains his belief in white power, even while he lambasts it as corrupt. Ultimately, his Narrative became a powerful argument against his stated ameliorationist position. Stedman reveals that the spectacle of the mangled and lynched Maroon rebel's body serves specifically to dehumanize Black rebellion, just as today's lynchings attempt to punctuate BLM protests for freedom with a punishing end that reinstates white power. We must reject this white teleology.
In his conclusion, Stedman admits that the
Acts of Barbarity I have so frequently Related through out this Work, are Assuredly Sufficient to melt the Heart of the most unfeeling with Compassion, nor is it to be Wondered that Armies of Rebels at every Hazard Assemble in the forest to Seek Revenge & Liberty[.]
The justified resistance of the Maroons makes Stedman's loyalty to white power untenable, forcing him to acknowledge that liberty is their domain.
From Stedman's journals to now, then, the lynched Black body is produced by white failure. Black emancipation remains extraneous, "in the forest," physically and philosophically, ironically figuring what Romanticism would like to imagine of itself. Francesco Bartolozzi's engraving for Stedman, A Rebel Negroe Armed and on his Guard, presents an alternative image of Black resistance: competent, whole, free, running out of the print's frame. White power needs the spectacle of the lynched Black body to forge its own ties of kinship, but nevertheless envies Black resistance, figured by the running Maroon, who remains persistently, subversively outside the imposed borders of white violence.