Bishopsgate
On 3 August 1815, Percy Shelley signed a lease for a house at Bishopsgate, at the eastern entrance to Windsor Park. (The image below is a photo of the house reported to be the Shelleys', as it looked in the 1930s.)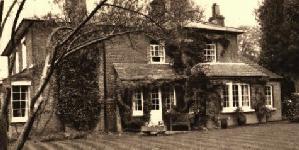 Shelley and Mary lived there for nearly a year, spending time with Thomas Love Peacock, Thomas Jefferson Hogg, and others, walking and reading in the wooded park and boating on the Thames--including one particularly extended expedition up the river in August (an experience that contributed to Shelley's Alastor). This period clearly inspired the idealized setting of much of The Last Man.
Notes
[1]See G. Bebbington,Notes & Queries 216 (May 1971), 163-65.
The photograph is by G. E. Chambers and appears in The Life of Shelley, Vol. II, ed. Humbert Wolfe. London: Dent, 1933, p. 105.
---