Eton
Across a footbridge from Windsor is the town of Eton, home of Eton College (est. 1440), the largest and most prestigious of England's public schools. Percy Shelley attended Eton, and in 1829 Mary Shelley sought to have their son Percy attend as well (but her father-in-law, Sir Timothy Shelley, refused).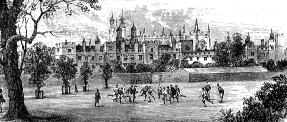 Shelley had been unhappy there, as we see from the biographical sketch Mary Shelley was working on at the time she began to compose The Last Man. Her notes were later used as a source for Thomas Jefferson Hogg's Life of Shelley.
In the novel, Lionel Verney's son Alfred attends Eton.