Dove Cottage for the Unconverted: General Education Workshops at the Wordsworth Trust
Over the past half-century, study abroad programs at North American universities have shifted from semester- or year-long immersions in another nation's language and culture to short-term, professionally focused offering sponsored by students' majors. Acknowledging these trends, this essay shows how immersive literary experiences like the Wordsworth Trust's rare book and manuscript workshops can continue to play central and formative roles in study abroad programs designed not only for English majors but students with a range of disciplinary and professional interests.
Dove Cottage for the Unconverted: General Education Workshops at the Wordsworth Trust
Nicholas Mason
Brigham Young University
1. Unlike the Romanticism-themed and English-major-oriented study-abroad trips featured elsewhere in this collection, this essay focuses on teaching British Romanticism during programs designed for a disciplinarily diverse cross-section of students from my relatively selective, 30,000-student, private university in Provo, Utah. Marketed specifically as "general education" programs, Brigham Young University's most popular UK-based study-abroad programs are housed at its London Centre, which is located on the border of the Bayswater and Notting Hill neighborhoods, or roughly midway between Kensington Palace and Portobello Road. Home to four 40-student programs per year, the London Centre spans two converted Victorian row-houses which the university acquired in 1977.
2. Given the imperative to fill a large facility and the location's natural appeal for students, the university has thus far largely resisted the trend toward smaller, department- or major-based study-abroad trips in London. For almost 40 years now, the operative model at BYU's London Centre has featured two or three professors from diverse disciplines using cultural heritage sites in London and across the UK to teach introductory surveys of British literature, history, politics, and fine arts.
3. Over time, the prevailing stereotype that has emerged of the BYU London Centre student is of a wealthy, 20-year-old woman whose priorities are (in descending order) 1) shopping, 2) taking photos in famous places, 3) attending all the West End musicals, and 4) learning about British history and culture. While both demonstrably inaccurate and understandably offensive to the many students who save for years to pay their own way and relish every experiential and academic opportunity the program affords, this caricature exists for a reason. However noble it may be to run horizon-expanding, liberal arts-based programs for students from all corners of campus, even the best teachers struggle to get dietetics majors to care about the Stuart Restoration, pre-dental students to feel invested in Constable's technique, or aspiring elementary school teachers to feel passionate about Mrs. Dalloway, Saturday, and other books they'll never possibly teach.
4. Yet, as I'll argue in what follows, offering non-majors an immersive education in British literature and culture is one of the most valuable and fulfilling academic services literature professors can offer. Before devoting most of this essay to recapping the memorable experiences BYU professors, including myself, have had taking students of diverse aptitudes and interests to the Wordsworth Trust, I'd like to frame what follows in terms of the current realities of study abroad at most North American colleges and universities. After detailing the general trend away from humanities-based study-abroad programs, I will recap experiences my students have had at the Wordsworth Trust. In the end, I hope to have shown how professors of British literature in general and Romanticism in specific might still offer crucial cultural, philosophical, aesthetic, and life lessons for today's North American study-abroad students, 90% of whom currently hail from majors outside the humanities.
The New Realities of Study Abroad
5. Throughout much of the latter half of the twentieth century, study abroad for North American university students generally followed one model: traveling to one of Europe's grand cities for a semester or year of language immersion accompanied by a steady diet of museums, cafes, palaces, cathedrals, and pilgrimages to authors' homes. A last vestige of the British Grand Tour and the German wanderjahr, the once-common "year out" or "junior year abroad" offered an ideal finishing experience for students intent on becoming global citizens. [1] With the gradual professionalization of the college experience and the rising costs of a university education, however, spending an entire year studying European languages and cultures in situ increasingly appears a thing of the past. According to the Institute of International Education's Open Doors report for 2014, only 3.2% of US study-abroad experiences now fill an entire academic or calendar year, with 36.5% lasting a single semester and 60.3% fewer than nine weeks.
6. Even more dramatic than the turn from long- to short-term programs is the shift away from liberal-arts-based study-abroad programs. Although most English, history, or French professors might still imagine study abroad as a modern analog to the Grand Tour, the reality for some time now has been that humanities-based programs constitute a small and steadily shrinking slice of the study-abroad pie. In 2012–13, 22.5% of US study-abroad students came from STEM (Science, Technology, Engineering, and Mathematics) fields, 22.1% from the social sciences, and 20.4% from business. Humanities students, by contrast, constituted only 10.4% of Americans studying abroad, down from 14.2% in 2005–06.
7. Interestingly, though, the shift away from language- and culture-based study abroad has not made Europe any less desirable a setting for these programs. Quite the opposite, in fact, as in 2012–13 the top four study abroad destinations for US college students—including those participating in programs catering to the likes of engineers, nurses, and accountants—were 1) the United Kingdom, 2) Italy, 3) Spain, and 4) France. As counterintuitive as it might seem in a moment when the developing economies of the BRICs and MINTs are "in" and Europe's outmoded PIGS are "out," [2] Europe's market share in the US study-abroad industry has actually increased of late. Case in point, in the year between 2011–12 and 2012–13, the number of American university students completing study abroad in the dowdy old UK rose by 4.5%, while the number traveling to economically booming, tech-friendly China declined by 3.2%.
8. What these figures seem to suggest is that, although American university students might no longer consider art, history, and culture as the be-all and end-all of studying abroad, they still overwhelmingly prefer their "real-world" adventures in globalization to occur in the sorts of safe, efficient, and culturally-rich destinations Europe can readily supply. While by day they might want to tour hospitals and factories, study high-speed rail networks, and meet with captains of global industry, by night they would much prefer cruising the Seine, taking in a flamenco show, or exploring the British Museum than going back to a dingy apartment powered by a fickle power grid.
9. Given the enduring appeal, then, of educational experiences in Europe with at least some high-cultural trappings, study abroad would seem an ideal site for humanities professors to reassert themselves as key contributors to the education of students in all fields. Moreover, study abroad also offers scholars in the humanities opportunities to collaborate meaningfully with colleagues from the other side of campus, many of whom would relish the opportunity to add a historical or cultural component to their European programs. [3]
Pilgrimages to Grasmere
10. It is in this spirit that four times per year BYU sends forty students drawn from virtually every major on campus to London to study British literature, history, and culture with professors from the liberal arts. While the core BYU London Centre curriculum has remained largely unchanged since the late 1970s, the university has increasingly urged faculty to facilitate more meaningful interactions between our students and British scholars and institutions.
11. With this administrative and pedagogical priority in mind, my colleague and fellow Romanticist Paul Westover and I began laying the foundations for our current partnership with the Wordsworth Trust during a 2011 trip we made to Grasmere with three BYU undergraduates to research our since-published Romantic Circles edition of William Wordsworth's Guide to the Lakes. During an afternoon tea break with Jeff Cowton, the Wordsworth Trust's head curator, we began brainstorming ways to offer future BYU students the sort of transformative archival experiences our current students were having that day. Fortunately, I was scheduled to return to the UK the following year to direct two general-education study-abroad programs at BYU's London Centre. And, thus, over the next nine months, Jeff and I sketched out a one-day course that would draw upon the Trust's collections and appeal to students majoring in a range of disciplines. Since then, some five hundred BYU students have participated in these workshops, and through trial and error, Jeff has developed a series of demonstrations and hands-on exercises that leave students of all backgrounds with a heightened appreciation for the craft of poetry, a deeper reverence for rare books and manuscripts, and a newfound understanding of how labor-intensive writing can be even for the likes of William and Dorothy Wordsworth.
12. Given the scarcity of classroom time on study abroad and the survey-like curriculum of a general education program, our faculty can rarely devote more than a single class period to the Wordsworths in advance of traveling to Grasmere. At a minimum, though, Jeff asks BYU professors to provide a basic overview of the lives of William and Dorothy, their most famous writings, and their contributions to British poetry, nature writing, and environmentalism. Suggested advance readings include excerpts from Dorothy's Grasmere Journals and a sampling of those poems students will likely encounter in manuscript at the Trust ("Michael," "Old Man Traveling," "Home at Grasmere, " "Ode: Intimations of Immortality," and "Elegiac Stanzas").
13. Of course, as almost anyone who has directed a study abroad program in London or another world capital can attest, it's unrealistic to expect students experiencing what Wordsworth himself once called "the shock / Of the huge town's first presence" (Prelude [1850] VII:66–67) to glean much from formal classroom lectures on Romantic poetry. More often than not, then, having students perform a hard reboot of their systems is the first pedagogical challenge of taking them to the Wordsworth Trust. Fortunately, the landscape itself does much of the preparatory work, as evidenced by the dozens of class journal entries my students have submitted over the years that adopt the language of conversion or transformation when describing their first impressions of the Lake District. And, once in the heart of Wordsworth country, undergraduates who a week earlier daydreamed through my lectures on "spots of time" and "loss and recompense" frequently find themselves reaching for their poetry anthologies. On one memorable trip, a dozen students, most novitiates in poetry, spent their first night in the Lake District reading poems aloud by moonlight. The following morning at breakfast, several made a point of informing me that their most powerful experience with literature while in Britain had come while their professor was fast asleep.
Aura in the Twenty-First Century
14. On the heels of this initial exposure to what William Wordsworth called the "spirit in these woods" ("Nutting," l.54), the aspiring accountants, physical therapists, and web designers in my groups have tended to be slightly less wary of spending four hours poring over the manuscripts of long-dead Lake District poets. Still, the opening moments of these workshops have proven crucial for getting student buy-in. Consequently, Jeff Cowton and his fellow curators tend to frontload sessions for an audience of non-specialists, opening with an hour of hands-on show-and-tell featuring some of the treasures of their collection.
15. Even—or, perhaps, especially—in an age when high-resolution images of many of these books and manuscripts can be pulled up with a few keystrokes, holding the actual thing almost unfailingly proves a transcendent experience for students. After taking a group of BYU students to Grasmere in early 2015, a colleague of mine reported how,
[Jeff Cowton] began to win the group over when he pushed a 1798
Lyrical Ballads
in front of one student and coaxed her to open the case and unfold the wrappings. She felt as if she were handling a fragment of the True Cross; and since in class I had made enough of a fetish of the
Lyrical Ballads
("the book that is the very turning-point of all English poetry"), everybody else was drawn into the sense of awe.
This colleague went on to recount,
Of all the poems we had read in class, it was "Michael" that had made the deepest impression. So there was a sharp intake of breath when, as Jeff was leading us through a manuscript passage from her journals, they found Dorothy writing of coming upon a certain sheepfold in Greenhead Ghyll. When Jeff produced one of Dorothy's actual notebooks, they were mesmerized.
Other literary relics that reliably produce gasps from students are Wordsworth's marginal notes in an edition of
Paradise Lost
; Coleridge's annotations ranking Shakespeare 's sonnets; and the 1818 edition of
Frankenstein
, the mere presence of which has brought several BYU students to tears. When surveyed about their memories of the Wordsworth Trust workshops three years after the fact, my 2012 students invariably noted their sense of awe in viewing or holding these artifacts.
[4]
"It might sound crazy," one student reported, "but I almost felt closer to Wordsworth as I held early editions of his works and flipped through the pages. It was like he was still there in those pages." Another wrote, "My connection to Wordsworth seemed so much deeper when I was able to see things he actually penned. I struggled to interpret his handwriting and was thrilled that his poetry existed in forms other than a neatly printed literature book." Even more vividly, a third student recalled,
Sitting in the Jerwood Centre, surrounded by the incredible manuscripts, books, and letters, made me almost giddy. To an outside observer, giddiness over old, yellowed pieces of paper probably seems silly. However, I truly believe that reading an original manuscript of
The Prelude
—with the author's notes and scribbles—brought Wordsworth and his words to life in a way I could have never experienced merely reading the poem in a sterile classroom in Utah. For students of literature, I do not think there is anything more satisfying or transcendent than reading the author's work in its original setting.
16. Stepping back from such comments, it is relatively easy to question the "assessable outcomes" of auratic experiences or interrogate those ideologies that engender reverential feelings for decaying books. Before heading too far down those critical paths, however, we might pause and remember that the responses cited above are those of twenty-first century, general-education students from a college in Middle America—the same demographic cultural commentators routinely denigrate for supposedly preferring the crass, sensational, and banal to the transcendent and timeless. By not only devoting four solid hours to textual studies of long-dead writers but also continuing to rhapsodize over the experience three years later, these students hardly conform to narratives about the demise of refined sensibilities in an anesthetized age.
17. And, if these surveys are to be trusted, we are not just talking about a fleeting contemplative moment devoid of long-term impact. A wide range of my 2012 students report carryover effects of the emotions they felt for poetry, rare books, and the Wordsworths at the Jerwood Centre. A political science major who has since completed law school says that the Jerwood Centre's book-lined walls inspired him to begin building his own library of old books. A special education major tells how, prior to visiting Grasmere, she "completely refused to look at poetry outside of class, minus the occasional glance at Where the Sidewalk Ends"; three years later, she routinely includes poetry in her recreational reading, a change she attributes to her single day at the Wordsworth Trust. And a film student now working in the social media industry reports, "I find myself turning to poetry and classic literary works in my free time when I need peace or when I want to feel connected to that place. I think Wordsworth has become a part of me —and that is an outcome I was not expecting." Again, such testaments of passion and aura can seem trite or fuzzy; but given how quickly the contents of entire courses are forgotten by many students, it is difficult to quibble with reports of lives changed as a result of a single afternoon in rural northwestern England.
Transferable Knowledge and Skills
18. Of course, one would be hard-pressed to find a learning-objectives document from an engineering, marketing, or public health study-abroad program that aspires to provide students with transcendent, awe-inspiring, or tear-inducing experiences. It is consequently important to step back and ask what transferable knowledge and skills archival sessions like these can provide the typical North American student and how faculty directors of short-term programs not focused primarily on literature can justify the time and expense of such a workshop. In concluding this essay, then, I want to consider a few key lessons students from across the disciplines might glean from participating in archival workshops in general and those at the Wordsworth Trust in particular.
19. The first and most basic takeaway is perhaps the one we might least expect students to learn at the home of a poet commonly associated with spontaneous, free-flowing, and emotive verse—namely, just how much work goes into good writing. Among the most effective exercises I have observed during these workshops is one where Jeff Cowton assigns two or three students to pore over the messy, fragmentary, and generally bewildering manuscript of "The Ruined Cottage," trying to trace how this roughest of drafts evolved into the highly polished, mellifluous poem now found in major poetry anthologies (see Figure 5.1).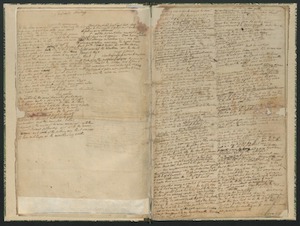 20. At times this half-hour exercise has seemingly made a stronger impact than a semester's worth of on-campus lectures about the necessity of revision in serious writing. As one of my students from 2012 reported, "In classes we always study the 'perfect' typeset versions; but seeing Wordsworth's handwriting, mistakes, and thoughts makes you realize that even the most gifted of writers struggle." Thinking of this same exercise, one program director recalled,
I happened to be sitting next to a student who, in our ordinary classes, had been a bit obnoxious and indifferent. Yet she was fascinated with the facsimiles, and the two of us sat together for twenty minutes or so, trying to work out in what order the poet might have written the various bits and what grounds we could give for thinking so. In other words, an uninspired and uninspiring student momentarily transformed into an eager textual critic. In fact, I daresay Jeff made the biggest impression on our less-studious students, who were particularly struck by the emphasis on the physicality and labor of literary production: the paper, the ink, the bookmaking, and bookbinding.
While it would be difficult, and perhaps impossible, to measure this single exercise's lasting impact on these students' reading and writing, one can reasonably presume that they left Grasmere with a newfound appreciation for how even the most naturally gifted writers need draft upon draft before feeling a work is close to finished.
21. An entirely different exercise —and one with particular appeal for business-minded students —is one where Jeff asks the group to step into his role as curator of a major archive and make difficult decisions regarding the acquisition of newly available books and manuscripts on a fixed budget. With one of my groups, for instance, he showed them an 1817 first-edition Biographia Literaria he had recently been loaned by a dealer who was hoping the Trust might purchase it. After explaining the rarity of this edition, its importance for Coleridgeans and other scholars of British literature and philosophy, and that the Trust already owned several copies of this edition, Jeff asked the students to brainstorm reasons why he might possibly spend several thousand pounds to acquire yet another copy. This forced them to think on the spot about issues of distinctiveness and scarcity (i.e., potential discrepancies in the condition, provenance, and marginalia of copies from the same print run); opportunity cost (i.e., the wisdom of spending limited acquisition funds on this book versus others that might come to market); and brand management (i.e., the expense and competitive necessity of maintaining the world's premier collection of Wordsworth and Coleridge editions). Perhaps most importantly, seeing a bookish Wordsworth expert in a remote corner of England having to make difficult budgetary decisions reinforced the necessity of gaining a basic education in economics and financial management. Far from an abstract "case study" or "story problem," this was a real-world, real-time business decision Jeff was asking our students to help him make.
22. Besides these decidedly pragmatic lessons, sessions at the Wordsworth Trust also provide students with more generalized philosophies, insights, and tools for life. After studying Dorothy's diary at the Jerwood Centre, an elementary education major in my 2012 group was inspired to begin keeping a daily journal. "I have no expectations of becoming a great poet (or great anything!)," she reported, "but I do want to keep an accurate and engaging history about my own life. This has been the greatest enduring impact from my experience at the Wordsworth Trust." Another student from this group, a geography major now working as a flight attendant, traces much of her philosophy of travel to this trip:
I constantly look back on my study abroad and specifically the trip to the Lake District when I am planning my visit to a new place. This study abroad taught me that wandering through a new place, whether it be through the streets or through the landscape, can only be supported when reading books, poems, or other documents pertaining to the location.
Perhaps most crucially for denizens of the twenty-first century, a trip to the Lakes organized around archival workshops almost inevitably instills an ethic of conservation —preserving books, manuscripts, and historical sites to be sure, but also continuing to protect an entire region which, by embracing the Wordsworths' conservationist ideals, remains much the same as when William and Dorothy rambled its hills. Especially for North American students all-too-habituated to once-picturesque regions now despoiled by condominiums, power watercraft, and parking lots, simply observing the painstaking preservation of both rare books and landscapes can subtly shape their attitudes toward conservation.
23. Given the time and expense it takes to travel from London to the Lake District, such workshops will not be an option for all UK-based study abroad. While the Wordsworth Trust offers the unparalleled experience of studying centuries-old literary artifacts in a region that remains largely unchanged, several of the core lessons taught by Jeff Cowton and his colleagues at the Jerwood Centre might be replicated through similar exercises at the British Library, the British Museum, and archives and galleries across Europe. Although the experience of peering through thick museum glass at a draft of a Keats ode or a Beethoven sonata might fall short of holding a first-edition Frankenstein or a love letter from William to Mary Wordsworth, both can provoke stimulating discussions about the power and aura of great art and the labor that goes into polished writing. And lest we professors of literature think such activities are of little interest or value to general education and pre-professional study-abroad students, we need only look at the data about where programs catering to these students tend to be based (i.e., Europe) and what types of cultural experiences they aim to provide. In sum, whether as a featured part of a general-education study abroad or a supplemental excursion built into a STEM or business-oriented program, participating in an archival or textual studies workshop like those offered by the Wordsworth Trust continues to rank among the most intellectually and culturally formative experiences a North American student can have while studying overseas.
Works Cited
DeWinter, Urbain J., and Laura E. Rumbley. "The Diversification of Education Abroad Across the Curriculum." A History of US Study Abroad: 1965–Present, edited by William W. Hoffa and Stephen C. DePaul, Forum on Education Abroad, 2010, pp. 55–113.
Hoffa, William. A History of US Study Abroad: Beginnings to 1965. Forum on Education Abroad, 2007.
Hoffa, William W., and Stephen C. DePaul, editors. A History of US Study Abroad: 1965–Present. Forum on Education Abroad, 2010.
Institute of International Education. "Fast Facts." Open Doors Report on International Educational Exchange, Institute of International Education, 2014, www.iie.org.
---. "Fields of Study of US Study Abroad Students, 2000/01–2012/13." Open Doors Report on International Educational Exchange, Institute of International Education, 2014, www.iie.org.
---. "Top 25 Destinations of US Study Abroad Students, 2011/12–2012/13." Open Doors Report on International Educational Exchange, Institute of International Education, 2014, www.iie.org.
Twombly, Susan B., et al. Study Abroad in a New Global Century: Renewing the Promise, Refining the Purpose. Wiley, 2012.
Wordsworth, William. "Nutting." The Major Works, edited by Stephen Gill, Oxford UP, 1984, pp. 153–54.
---. The Prelude: A Parallel Text. Edited by J. C. Maxwell, Penguin, 1971.
Notes
[2] For much of the new century, conventional wisdom in the financial world has been to invest in high-growth BRICs (Brazil, Russia, India, and China) and up-and-coming MINTs (Mexico, Indonesia, Nigeria, and Turkey), while unloading all holdings in the debt-ridden PI(I)GS (Portugal, Italy, Ireland, Greece, and Spain) of Old Europe. BACK
[3] Contrary to the stereotype, many professors and students in the sciences and professions not only enjoy studying the humanities but recognize how essential it is to understand other people and cultures—including their languages, art, and history—to succeed in a globalized economy. As the American Chemical Society reported to the US House Committee on Science and Technology in 2007, "while globalization does not affect the chemical principles or scientific process that undergraduate chemistry students must master, it does impact the world that students must be prepared to work and live in when they finish their degree." Alluding specifically to study abroad programs for chemistry students, the Society went on to argue, "When students interact with people from other cultures and build their STEM knowledge in a foreign environment, they stretch their abilities and gain new perspective—perspective that only comes from leaving the place where they grew up" (qtd. in DeWinter and Rumbley 71). BACK
[4] In May 2015 I e-mailed the eighty former students from the two study abroad groups I took to Grasmere in 2012, asking them to offer candid, on-the-record reflections on the Wordsworth Trust workshops. Besides soliciting general memories, I asked: "Has there been any long-term impact of the educational experiences we had at the Wordsworth Trust? In other words, was it just a fun set of activities, or has it had carry-over effects in your academic or professional life in perhaps unexpected ways?" This was admittedly a less than scientific survey, and I recognize that the most academically-engaged, literature-loving students from my groups are likely overrepresented in the twenty-one responses I ultimately received. The purpose of the survey, however, was less to produce a rigorous assessment of the workshops than to understand better the types of things students remembered three years after the experience. All quotations below come from private responses to my e-mail and are reproduced with the permission of the respondents. BACK