Wild Romanticism: North America in the British Romantic Imagination, 1780–1830
Wild Romanticism: North America in the British Romantic Imagination, 1780–1830
—syllabus PDF—
Carmen Faye Mathes
University of Central Florida
Course Description
In her Memoirs, the eighteenth-century poet, essayist and actress Mary Robinson recounts an event that was as formative as it was ruinous: "A scheme was suggested to my father, as wild and romantic as it was perilous to hazard, which was no less than that of establishing a whale fishery on the coast of Labrador, and of civilising the Esquimaux Indians."
Such a naïvely self-serving colonial endeavor, while from our twenty-first century perspective unsurprising, nevertheless reveals some of the assumptions and cultural attitudes of this historical era. The hierarchy assumed by the desire to "civilize" Labrador's Indigenous population (the Innu and Inuit) and to exploit Canadian natural resources for British gain fails to recognize the local people as people, or as stewards of their land. Robinson's characterization of the scheme as "wild and romantic" suggests both her father's susceptibility to a masculine ideal of adventuring heroism, as well as the aestheticized distance she feels from it: for the Briton who remained at home, such a scheme was "perilous" and therefore, exciting.
Robinson's account touches on three major topics of this course—exploration, Indigeneity and colonialism—in the context of the British Romantic response to the North American continent. It also suggests our thoroughgoing concern with the status and meaning of the term "wild," in a variety of contexts. We will ask questions about "wildness" in terms aesthetic (the sublime; the gothic), moral and ethical (the "noble savage"; Anglo-American depictions of Indigenous peoples), and ecological (the wilderness as alternatively threatened or threatening). This course is historical and transatlantic in nature: it pairs late eighteenth- and early nineteenth-century primary sources such as travelogues, aesthetic treatises, and scientific and ethnographic writings, with literary ones (poems and novels). It does so in order to discover links between first-hand accounts of North America, like those of James Cook and William Bartram, and British interpretations from Romantic writers like Mary Shelley, Charlotte Smith, William Wordsworth, Samuel Taylor Coleridge and John Keats. The aim of our course is to shed new light on these interchanges in order to generate a theory (or theories) of "Wild Romanticism."
SYLLABUS
Assignment Overview:
Major Assignment # 1: a close-reading of Charlotte Smith's sonnet, "The Captive Escaped in the Wilds of America"
Major Assignment #2: research proposal
Major Assignment #3: research paper
Participation in classroom activities and class discussions
Weekly Schedule:
Each week contains required readings and assignments. It's up to you to keep organized, and to record the HIGH STAKES TERMS for each week. So that you may look ahead, here is an overview of what we will cover in each Module (which may take either one or two weeks):
Module I: In the "Wild"?
William Cronon's essay, "The Trouble With Wilderness; Or, Getting Back to the Wrong Nature."
HIGH STAKES TERMS: 1. wilderness; 2. the sublime; 3. Romanticism
ASSESSMENT: Discussion
Module II: What is Romanticism? What is the Sublime?
Lecture, "Wordsworth, Friedrich, Burke: the Pursuit of the Sublime" (which is the next page in this Module)
Excerpts from Edmund Burke's "A Philosophical Enquiry Into the Origins of Our Ideas of the Sublime and Beautiful" available on Project Gutenberg *Please read "Part I, Section VII: Of the Sublime" and "Part II, Sections I through XXII"
Roger Meyenberg and Patrick Vincent's "Wordsworth's Route Over the Simplon in 1790: A Reconstruction" on Romantic Circles Praxis (Links to an external site.)
William Wordsworth's The Prelude **I've uploaded a PDF as the next page in the MODULE ** Please read lines 426 - 572.
HIGH STAKES TERMS: last week I listed three: wilderness, the sublime, and Romanticism. I wanted you to watch out for them as you read. This week's terms are the same ones!
ASSESSMENT: Reading Quiz and Discussion
Module III: Nature, from Britain to North America
Lecture, "Indigeniety Vocabulary, Then and Now" (which is the next page in this Module)
Kevin Hutching's "The Forest and the City: Savagery and Civility in the British Atlantic World." Wordsworth Circle, no. 3, 2010, pp. 164-67. *You will need to use your article-finding skills to track this down on UCF Library Website!
Thomas Campbell's "The Pleasures of Hope"
Wesley Morris's "The Cost of Being 'Savage' in a Supposedly Civilized World." New York Times Magazine
HIGH STAKES TERMS: 1. savage; 2. civilization; 3. improvement
ASSESSMENT: Reading Quiz and Discussion
Module IV: William Bartram and the Idea of Nature
Video lecture, "William Bartram and the Alachua Savanna"
Excerpts from Bartram's Travels (1791): "Introduction" (xii to xxxiv) and description of the Alachua Savanna, which begins on page 199 with these words: "PASSING through a great extend of ancient Indian fields." You can stop reading when you get to the end of page 241.
Alan Bewell's "Preface" (xi-xiv) and "Chapter 5: William Bartram's Travels" (198 -225) in Natures in Translation: Romanticism and Colonial Natural History (Johns Hopkins UP, 2016).
HIGH STAKES TERMS: 1. Enlightenment theory of "stable nature"; eighteenth century primitivism (this is different from the primitivism associated with visual artists like Paul Gauguin)
ASSESSMENT: Reading Quiz and Discussion
Module V: The Road to Xanadu: Reading Samuel Taylor Coleridge Reading William Bartram
Lectures, "Who was Samuel Taylor Coleridge?" and "'Kubla Khan' and its History"
Coleridge's poems, "This Lime-Tree Bower my Prison" and "Kubla Khan."
Excerpts from John Livingston Lowes's The Road to Xanadu
HIGH STAKES TERMS: 1. organic unity; 2. imagination; 3. association (in the Freudian sense)
ASSESSMENT: VIDEO RESPONSE! This week's participation assignment involves making a video of yourself reading "Kubla Khan" and then answering the following question:
According to John Livingston Lowes, Samuel Taylor Coleridge was influenced by William Bartram's Travels. Having now read the poem aloud, with all its hypnotic rhythms, how would you characterize the "the operations of the shaping spirit of [Coleridge's] imagination" (Lowes 4) on Bartram's account?
Module VI: Charlotte Smith and the Wilds of America
Lecture, "Charlotte Smith and the Captivity Narrative"
Charlotte Smith's "The Captive Escaped in the Wilds of America"
HIGH STAKES TERMS: 1. captivity narrative; 2. elegiac sonnet; 3. Agency
ASSESSMENT: "Marking Up" Assignment:
What should the MARKED-UP poem look like when I upload it for this week's Participation Assignment? Well, it will be unique to you, but it should also communicate to me (your academic reader) the significant patterns that you've found. Here is an example of a poem by Charlotte Smith (different from the one we are reading!) that I marked up the other day. You can see that I have included a KEY to help my reader understand my patterns: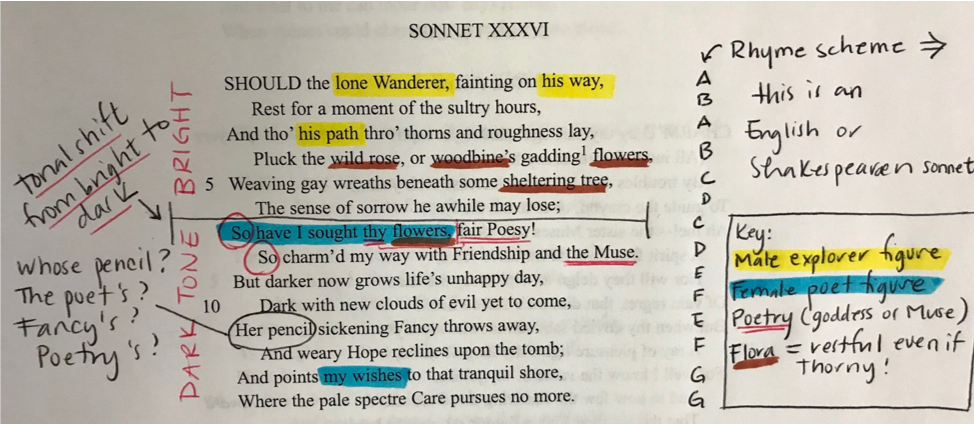 Pro Tip: if I were going to mark myself here, I don't think I would get an A, because I don't really find many HIGH STAKES TERMS from our course . . . I imagine that you will do a much better, more interesting job of finding patterns that pertain to our course content!

Module VII: James Cook and the Cannibals
Lecture, "Introductory Prezi: Preparing to Read A Voyage to the Pacific Ocean"
Selection from Cook's Voyages
Preview the document. *the edition we are reading is this one (pre-formatted for you in MLA :-) ... Cook, James. A Voyage to the Pacific Ocean. London, W. and A. Strahan, 1784.
Noel Currie's chapter "Cook and the Cannibals: The Limits of Understanding" from Constructing Colonial Discourse: Captain Cook at Nootka Sound (McGill-Queen's UP, 2005)
HIGH STAKES TERMS: 1. cannibalism as a discourse; 2. empirical evidence; 3. argument by analogy
ASSESSMENT: Reading Quiz and Discussion

Module VIII: Mary Shelley's Frankenstein and the North
Lecture, "Introductory Prezi: Mary Shelley, Polar Ice, and 'The Year Without a Summer'"
Marilyn Butler's "Introduction" to Frankenstein (1818) (Oxford UP)
Mary Shelley's Frankenstein (1818), plus Appendix A, pp. 192-197, and Appendix B, pp. 198-228 (Oxford UP)
Bernard O'Reilly's "Preface" and "Chapter IV: Of the Arctic Ice" in Greenland, the Adjacent Seas, and the North-west Passage to the Pacific (1818): pp. i-vi and pp. 75-83
John Barrow's review of O'Reilly, from "Sketch of the British Fur Trade in North America," in Quarterly Review (1818)
Siobhan Carroll's "Crusades Against Frost: Frankenstein, Polar Ice, and Climate Change in 1818" in European Romantic Review, vol 24, no. 2 (2013): pp. 211-230
HIGH STAKES TERMS: 1. explorer; 2. polar ice debates
ASSESSMENT: Reading Quiz and Discussion

Module IX: The Transatlantic Slave Trade
Lecture, "Introductory Prezi: the Transatlantic Slave Trade and Abolitionism"
Excerpts from Thomas Clarkson's Essay on the Slavery and Commerce of the Human Species, Particularly the African, 2nd ed. (1788).
Olaudah Equiano's The Interesting Narrative of the Life of Olaudah Equiano (1789) (Broadview UP, 2001).
HIGH STAKES TERMS: 1. enslaved people; 2. Abolitionism; 3. agency (again!)
ASSESSMENT: Prezi-Network Assignment and Response

Module X: Mexico in the British Romantic Imagination
Lecture, "John Keats Dreams of Spanish America"
Keats's sonnet, "On First Looking into Chapman's Homer"
Charles J. Rzepka's "'Cortez: Or Balboa, or Somebody like That': Form, Fact, and Forgetting in Keats's 'Chapman's Homer' Sonnet" Keats-Shelley Journal 51, 2002, pp. 35-75.
HIGH STAKES TERMS: 1. belatedness; Spanish America vs. Mexico; negative capability
ASSESSMENT: Reading Quiz and Discussion