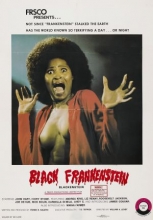 Blackenstein, also known as Black Frankenstein, is a low budget 1973 blaxploitation horror film loosely based on Mary Shelley's Frankenstein. It was made in an attempt to cash in on the success of Blacula, released the previous year by American International Pictures. However, Blackenstein fared poorly in comparison to its predecessor, with most reviews agreeing that the movie was "a totally inept mixture of the worst horror and blaxploitation films".
--description from Wikipedia
Directed by William A. Levey, starring John Hart, Ivory Stone, Liz Renay, Roosevelt Jackson, Andrea King, and Nick Bolin.