Dirk Gently's Holistic Detective Agency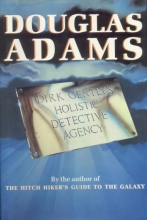 Publication Information:
UK: William Heinemann Ltd.; US: Pocket Books
"The Coleridge incident appears in chapters 6 and 35, although Dirk Gently disturbs STC intentionally, not by accident." —J. Lynch. Lynch suggests that this might be the story described by N. Fraistat "in which a contemporary (to us) lover of 'Kubla Khan' goes back in time and stands guard at STC's door while he sleeps, determined to stop the man from Porlock. Well, he waits and waits and no man from Porlock appears. Finally, worried, he knocks at the door to find out if the man from P has somehow got round him only to discover that, dum de dum dum dum, HE is the man from Porlock."