Dracula vs. Frankenstein (El Hombre que vino del ummo, Dracula jagt Frankenstein, Los Monstruos del terror, Assignment Terror)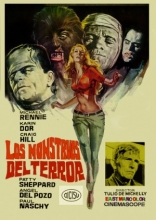 Publication Information:
Jaime Prades/Eichberg Film/International Jaguar
Los Monstruos del Terror (English: The Monsters of Terror), also known as Dracula vs. Frankenstein, Reincarnator and Assignment Terror, is a 1970 Spanish-German-Italian horror film directed by Tulio Demicheli, Hugo Fregonese and Eberhard Meichsner. The last two were uncredited in the film's original print. It is the third in a series of movies featuring the werewolf Waldemar Daninsky, played by Paul Naschy. It was originally slated to be called The Man Who Came From Ummo, referring to the Michael Rennie character.
--description from Wikipedia
Also starring Karin Dor, Craig Hill, Patty Shepard, and Angel del Pozo.