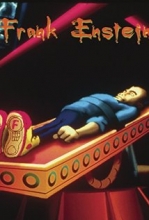 Publication Information:
International Family Classics (USA)
Frank is a mechanical human-like son created by Dr. Max Enstein to retrieve a scientific formula which was stolen from him by his competitors. With the help of a TV journalist, Frank is convinced that his father is not a good man and Frank is unable to complete his father's mission effectively. In his search for the formula, Frank is caught in many hilarious situations in which he responds like the "big clumsy kid" that he actually is.
Starring Laura Gabriel, David Nettheim, Lee Perry, and Alan Glover.
--description by IMDB.com