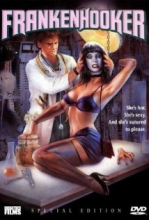 Publication Information:
Levins-Henenlotter, Shapiro-Glickenhaus Entertainment (USA)
After his attractive fiancée is cut into pieces in a freak accident involving a lawnmower, aspiring mad scientist Jeffrey Franken is determined to put her back together again. He sets about reassembling his girlfriend using parts from a variety of New York prostitutes. However, his bizarre plan goes awry when his reanimated girlfriend no longer wants just him, but for money will take on anybody, and afterwards try to kill them.
Starring James Lorinz, Patty Mullen, Shirley Stoler, Louisa Lasser, Charlotte Helmkamp, and Lia Chang.
--description from Wikipedia