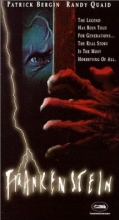 Publication Information:
Turner Pictures (UK, USA, and Poland)
Dr. Victor Frankenstein creates his creature, who escapes into the countryside to find that humanity has only pain and sorrow for him. But a psychic link between created and creator draws the two ever nearer, until their paths must inevitably cross again...
Starring Patrick Bergin, John Mills, Randy Quaid, Lambert Wilson, Fiona Gilles, and Jacinta Mulcahy.
--description by IMDB.com