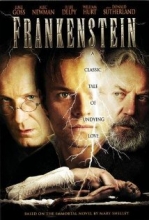 Publication Information:
Hallmark Entertainment (USA)
Another adaption of Mary Shelley's novel about a scientist who brings life to a creature fashioned from corpses and various body parts. To date it is likely the most accurate film or mini-series adaptation of the novel. The mini-series was nominated for ASC award for Outstanding Achievement in Cinematography in Movies of the Week/Mini-Series/Pilot (Basic or Pay). It was also nominated for an Artios award for Best Mini Series Casting.
Starring Donald Sutherland, William Hurt, Julie Delpy, Nicole Lewis, Alec Newman, and Luke Goss.
--description by Wikipedia