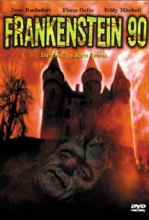 Publication Information:
A.J. Films/TF 1 Films/AMLF (France)
Yet another incarnation of Mary Shelley's 1818 Frankenstein, this uneven spoof by Alain Jessua casts Victor Frankenstein as a cybernetics wizard who constructs his monster with a notable lack of aesthetic sense but invests him with great microprocessors, and the newly-minted ogre finds life rather lonely until he sees Frankenstein's lover and is smitten. In the meantime, the warped doctor has also created a lithesome female out of the sundry body parts of slain go-go dancers who went-went, and he falls in love with his creation. The original odd couples then flounder a little as director Jessua loses his grip on the story, and the cybernetic protagonist heads for Frankenstein's castle.
Starring Jean Rochefort, Eddy Mitchel, Fiona Gelin, Herma Vos, Ged Marlon, and Serge Marquand.
--description by the New York Times Watch on YouTube here