Frankenstein Meets the Space Monster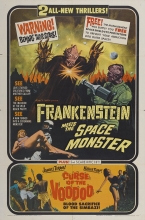 Publication Information:
Vernon Films/Seneca/Futurama Entertainment
Frankenstein Meets the Space Monster (1965) is a science fiction cult film, directed by Robert Gaffney and starring Marilyn Hanold, James Karen, and Lou Cutell. It was filmed in Florida and Puerto Rico in 1964. The film was released in the United Kingdom as Duel of the Space Monsters. It is also known as Frankenstein Meets the Space Men, Mars Attacks Puerto Rico, Mars Invades Puerto Rico, and Operation San Juan. Released by the Futurama Entertainment Corp., it was released on DVD by Dark Sky Films in 2006. In the United States, it was initially released on a double bill with Curse of the Voodoo. The film tells the story of a robot who combats alien invaders. Despite the title, neither Dr. Frankenstein nor Frankenstein's monster appear in the film. --description from Wikipedia. Also starring Nancy Marshall, David Kerman, and Robert Reilly.