Frankenstein's Bloody Terror (La Marca del hombre lobo)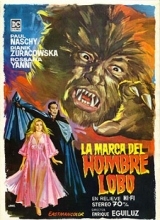 Publication Information:
Maxper/Independent-International
La Marca del Hombre Lobo (Mark of the Wolfman), is a 1968 3-D Spanish horror film, the first in a long series about the werewolf Count Waldemar Daninsky, played by Paul Naschy. The film was also known as Hell's Creatures: Dracula and the Werewolf, The Nights of Satan and Frankenstein's Bloody Terror (despite the fact that there is no Frankenstein monster in this film). Naschy followed up this film with his 1968 Nights of the Wolfman (which is today a lost film) and his 1969 Monstruos del Terror.
--description from Wikipedia
Directed by Henry Egan, also starring Diane Konopka, Julián Ugarte, Rossana Yanni, Michael Manz, and Joseph Morton.