Graham Tyler's spring 2020 fashion collection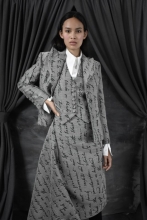 Fashion Designer Graham Tyler's spring 2020 fashion collection, which debuted at New York Fashion Week in September 2019, was inspired by Mary Shelley's Frankenstein. Tyler used letter manuscripts held at the New York Public Library's Pforzheimer Collection as a design motif.
According to Vogue: "Tyler infused all of the tender intricacies of Shelley and her life into his Spring 2020 collection, which included plenty of nods to Victorian silhouettes, with their tightly fastened nuances. The letters between Shelley and her husband, Percy Bysshe Shelley, took center stage. Tyler blew up one of the letters and used it throughout the collection, embroidering it on shirts and printing it on dresses. 'I picked one letter that was written on my birthday. When Shelley's husband died, she re-transcribed all of his letters, which is horrible and mournful,' says Tyler. 'I like the idea of Shelley being able to wrap herself in his words—it was a really lovely thing, and also kind of sad.' The best moment here was a light gray dress made from 360 feet of tulle that looked as if it were plucked from a sketchbook."