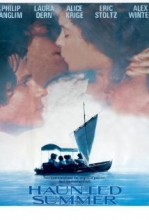 "Laura Dern as Claire Clairmont (which would you least want to be pursued by, Byron and PBS or a clutch of velociraptors?), Eric Stoltz as PBS, Alice Krige as MWGS" —A. Richardson.
"Alex Winter (Bill of Bill & Ted fame) as Byron's excellent doctor" —W. Jewett.
"Alice Krige as MWS!!! I get a distinct sense of satisfaction from the idea that the woman who played the Borg Queen also played the woman who gave us Frankenstein." —M. Sites.
"...the best aspect of this film for me ... is how appropriately young the actors look. I have shown Haunted Summer to my classes, and always the students are shocked to see that these long-canonical figures were barely older than themselves. They may know it from their assignments, but to see it is a different matter. It casts their experimentation, sexual and chemical ... in a very different light from Gothic, which makes them out to be decadent and haggard. ..." —R. Nanian