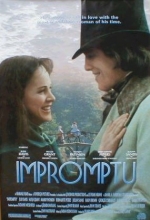 Publication Information:
Stuart Oken, Daniel. A. Sherkow
"Impromptu is a 1991 British-American period drama film directed by James Lapine, written by Sarah Kernochan, produced by Daniel A. Sherkow and Stuart Oken, and starring Hugh Grant as Frédéric Chopin and Judy Davis as George Sand. The film was shot entirely on location in France as a British production by an American company. The main location used was at the Chateau des Briottières outside of Angers, in the Loire Valley." -Wikipedia
"George Sand, whose real name was Amandine Aurore Lucie Dupin, became famous for taking a man's name, wearing trousers, and smoking cigars in public. That would hardly get her into the papers today, but during her lifetime (1804-1876) she was one of the most famous women in the world, and her simple refusal to "act like a woman" helped set the stage for the women's revolution that is still underway.
Sand did not simply smoke cigars and walk around with her hands in her pockets, however. She also generated enormous scandal by marrying a baron, then when she was 27 leaving him and their two children, and moving to Paris - where she wrote novels, moved in cafe society, and had notorious affairs with the writer Alfred de Musset and the composer Fredric Chopin.
Sand's affairs inevitably inspired many duels, which have been seized upon by the makers of "Impromptu" as a way to lead into, and out of, the various chapters of her life. They also illustrate that Sand was more competent than some of the men who adored her...
The film has little serious interest in George Sand, and almost none in the novels that are all that remain of her, but diverts itself with scandal, atmosphere, location, and witty repartee (Mallefille: "You promised to love me!" Sand: "I didn't promise to succeed!") There are also episodes of dubious historical accuracy, as when a horse defecates on Sand's writings." -Roger Ebert
"this 19th-century romance achieves the usual decorousness of its genre and goes well beyond that into the realm of classical celebrity farce, whereby the great talents of Sand's day -- Franz Liszt, Frederic Chopin, Eugene Delacroix and others -- share endless outings, visits, duels and sexual intrigues. The film's style is so merrily and unapologetically contemporary that all of these events might easily be taking place in the present day, most likely on 'Dallas.'" -Janet Maslin, New York Times