Penny Dreadful Season 1, Episode 6: "What Death Can Join Together"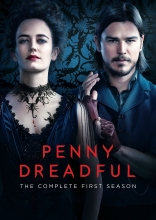 "Adonais" is quoted in this episode: "Do you believe in fate? I don't mean justice. I mean retribution. Facing the consequences of your actions that have produced catastrophe. A sin that is everlasting, one that you have made immortal. There is a line from Shelley that haunts me, a single line from Adonais. I cannot get it out of my head. 'No more let life divide, what death can join together.'"
Show creator John Logan credits romantic poetry as the show's inspiration (see NPR).