Royal Mail "Romantic Poets" collection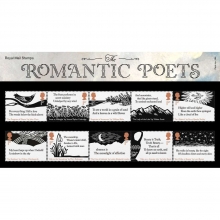 In 2020 the Royal Mail in the U.K. issued a series of "Romantic Poets"
stamps, postcards, and collectible coins. Some of the promotional material
reads:
"On the 250th anniversary of William Wordsworth, born on 7th April 1770,
exactly 250 years to the day of the stamp issue, this striking pack
celebrates the renowned poet and his romantic poetry with a set of ten
stamps. William Wordsworth is regarded as having launched the 'Romantic
era' of British poetry, he was Poet Laureate and remains one of the our
most popular poets. This Romantic Poets Stamp Card Pack is just a part of the
range that celebrates the work of key romantic poets.
The Romantic Poets Stamp Card Pack contains ten postcards. Each one is an
enlarged reproduction of one of the special first class stamps in this issue.
These stamp cards are an ideal size for framing, sending as post cards or
simply to enjoy these striking postage stamps in all their detail. The ten
special stamps depicted on these cards are:
1st Class 'The Progress of Rhyme' by John Clare
1st Class 'Frost at Midnight' by Samuel Taylor Coleridge
1st Class 'Auguries of Innocence' by William Blake
1st Class 'The Lady of the Lake' by Walter Scott
1st Class 'To a Skylark' by Percy Bysshe Shelley
1st Class 'The Rainbow' by William Wordsworth
1st Class 'Ode to the Snowdrop' by Mary Robinson
1st Class 'The Fate of Adelaide' by Letitia Elizabeth Landon
1st Class 'Ode on a Grecian Urn' by John Keats
1st Class 'She walks in Beauty" Lord Byron