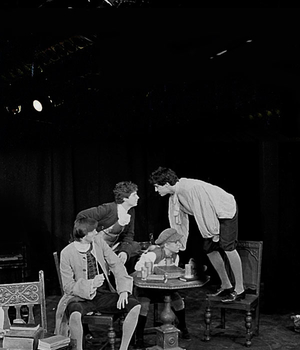 SUCTION:

Was Pindar a better poet than Giotto was a painter?
SIPSOP:

Plutarch didn't write the life of Giotto.
QUID:

[from the bar] No, to be sure, he was an Italian.
SUCTION:

Well, that is not any proof.
QUID:

[marches into the fray] Plutarch was a nasty ignorant puppy. I hate your sneaking rascals. Here's Aradobo [pounds him on the back] who, in 20, 10, or 12 years, will be a far superior genius.
SIPSOP:

Ah! Aradobo [pounds him on the back] will make a very clever fellow.
QUID:

Of course, any natural fool would make a clever fellow, if he was brought up properly. [pounds him on the back]
SUCTION:

Hang your reasoning! I hate reasoning. I do everything by my feelings.
SIPSOP:

Ah! I only wish Jack Tearguts had the cutting of Plutarch. He understands anatomy better than any of the ancients. [stands on his chair] He'll plunge his knife up to the hilt in a single drive and thrust his fist in, and all in the space of a quarter of an hour. He doesn't mind their crying, though they cry ever so. [leans on ARADOBO] He'll swear at them and keep them down with his fist, and tell them that he'll scrape their bones if they don't lay still and be quiet.
QUID:

[eye to eye with SIPSOP] Why the Hell should people who get it for nothing make such a fuss anyway?