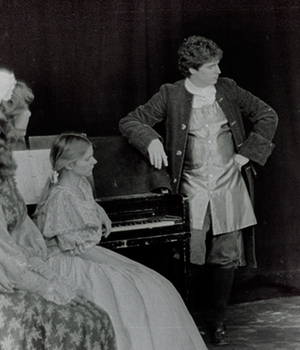 QUID (cont.):

And when the child began to swell,

He shouted out aloud,

"I've found the dropsy out, & soon

Shall do the world more good."

He took up Fever by the neck

And cut out all its spots,

And thro the holes which he had made

He first discover'd guts.
[Quid grabs SIPSOP'S cat]
SIPSOP:

Ah, you think we are rascals, and we think you are rascals. I do as I choose. What is it to anybody what I do? I'm always unhappy, too, when I think of surgery; I don't know, I do it because I like to. My father does what he likes and so do I. I think, somehow. . . let it be. There was a woman having her cancer cut, and she shrieked so that I was quite sick. Good night. [puts head down on table]
SUCTION:

Good night.
QUID:

Good Night. 
I think that Homer is bombast, and Shakespeare is too wild, and Milton has no feelings. They might be easily outdone. [grabs ARADOBO out of his seat] Chatterton, though, never wrote those poems! A parcel of fools, going to Bristol . . . if I were to go, I'd find it out in a minute [whispers] but I've found it out already  . . . now if I don't knock them all up next year in the exhibition, I'll be hanged.
SUCTION:

Hang Philosophy! I don't give a fart for it. Do all by your feelings, man, feelings, and never think at all about it.
QUID:

I'm hanged if I don't get up tomorrow morning at 4 o'clock and work Sir Joshua. Before ten years are up, I will teach his poor milk sop devils, [lifts SIPSOP'S sleeping head by the hair; it belches] an ignorant pack of wretches, to illuminate the manuscript.

[COLUMN has been half reading, half staring at the PHILOSOPHERS, who have been staring intermittently at him and his side of the pub. He gets up and joins TILLY LALLY and GIMBLET at the bar]